We may earn money or products from the companies mentioned in this post.
Avao Bay Wreck (photo of Dive Savai'i is courtesy of TripAdvisor)
This is the one hundred and eightieth in a series of reviews of the best diving destinations around the world.  In this post, the focus is on Samoa. In addition to this series on dive resort locations, the best worldwide liveaboard diving locations and services are reviewed in their own series.  To check them out, or others in this series, click on Liveaboards/Resorts on the menu at the top and choose a title from the list.
Have you ever been diving in Samoa before?  If so, I'd love to know about your experience.  What dive shop or liveaboard did you use?  Which dive spots are the best and what are the conditions there regarding the visibility, current, water temperature, sealife attractions, etc.?  Please post your response in the comments section at the bottom and we'll all learn something we can use.
Scuba Diving Samoa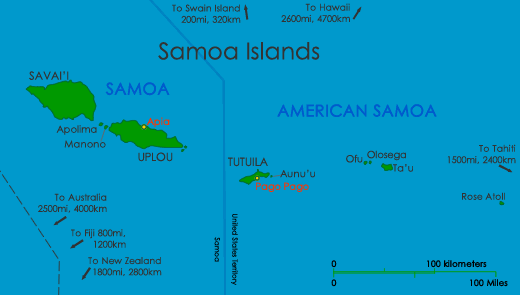 Background – The Lapita people originally settled in Samoa 2,900 years ago and the language and cultural identity of the Samoan people began development from that period.  The first contact with western influences began in the early 1800s when traders and missionaries first landed.  Quickly gliding past a lot of interesting history, independence was gained from New Zealand in 1962.  As a member of the Commonwealth of Nations, it was known as Western Samoa until 1967 when it became known as simply Samoa thereafter.
Consisting of two main islands, Upolu and Savai'i, and nine much smaller islands and islets, the population is around 200,000 with more than that living overseas primarily in New Zealand, Australia, and the U.S.  The topography consists of narrow coastal plains with volcanic mountains (none active) on the interior.  The original forests that covered the islands are practically all gone replaced by farms and semi-cultivated forest crops.
Local economic activity is mostly driven by agriculture for food crops and export as well as growing tourism with around 160,000 visitors in 2017 which is low when compared to other relatively nearby locations in Polynesia and Melanesia.  Remittances from overseas Samoans and development aid are also major factors.  Overfishing by locals and the Japanese factory trawler fleet, unfortunately, continues to be a problem.
The southern coast of Upolu also suffered significant damage and a number of deaths from a tsunami in 2009.
Samoan and English are both national languages with English widely spoken except by some in outlying villages.
For further demographic, cultural, economic, and historic information, check Wikipedia-Samoa.
Undersea World – Due in part to its remote location and in spite of overfishing concerns, Samoa has a healthy tropical reef with more than 200 coral and 900 fish species.  With beautiful shallow lagoons, deep water current swept pinnacles, walls, and passages, and barrier reefs set on an intriguing volcanic terrain there is a nice variety of 35 or more dive sites to enjoy.  Upwelling and currents bring rich nutrients that encourage major pelagic species and megafauna possibilities like silky, leopard, silvertip and whale sharks, spinner dolphins, humpback whales from August to September, manta and eagle rays, and game fish like tuna.  Other major reef attractions are very common green and hawksbill turtles, giant trevallies, Napoleon wrasses, barracuda, grey, whitetip, and blacktip reef sharks, pufferfish, sweetlips, snappers, groupers, a big variety of reef tropicals and macro critters like scorpionfish, lionfish, shrimps and shrimp gobies, scallops, moray eels, blennies, pipefish, nudibranchs, and many more.  In addition, there are some historic and purposely scuttled wrecks to enjoy.
Seasons and Conditions – Diving is possible year-round in Samoa.
Average daily air temperature highs are around 30°C (90°F) all year.
Water temperature ranges from 28-30°C (82-85°F) with highs in March and lows in August.
The heaviest rain is from November through March with a greater risk of cyclones in that period. The driest time is from June through August.
Visibility is usually excellent at 30 meters (100 feet) or greater. In the rainy season, there are increased swells, surface chop, and more run-off potentially affecting visibility.
Typically the currents are mild but there are times and locations where it can be strong.
Samoa has sites suitable for all levels of diver.  There are several dive shops in Apia and one on Savai'i offering the full range of diving coursework, equipment rental, guiding, and boat cruises.
There is not a liveaboard available that directly cruises the Samoan dive sites, but there are boats that go to French Polynesia, the Solomon Islands, Fiji, and Papua New Guinea.  Here are my reviews and links to those liveaboards: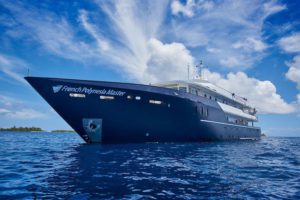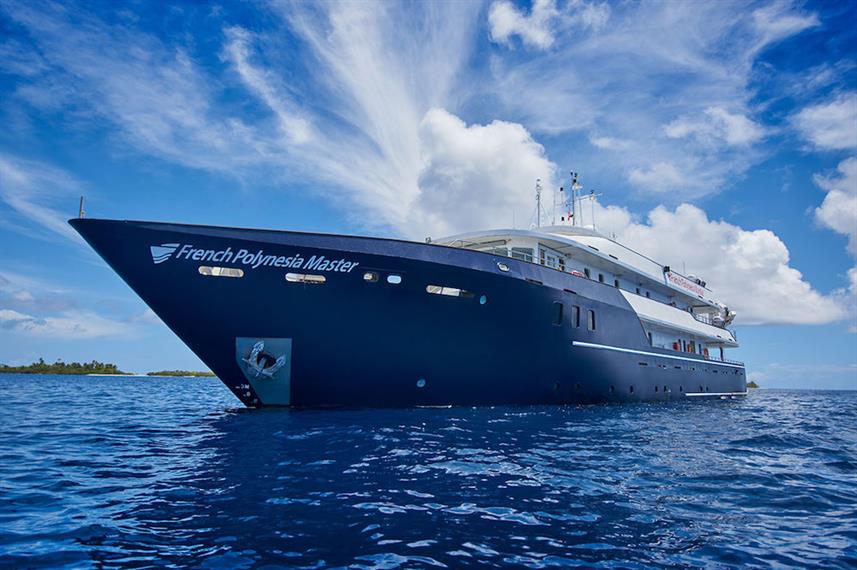 French Polynesia Master, French Polynesia Liveaboard – Check the Price & Details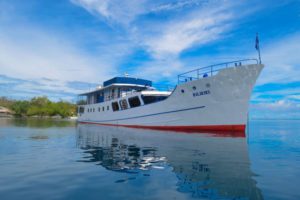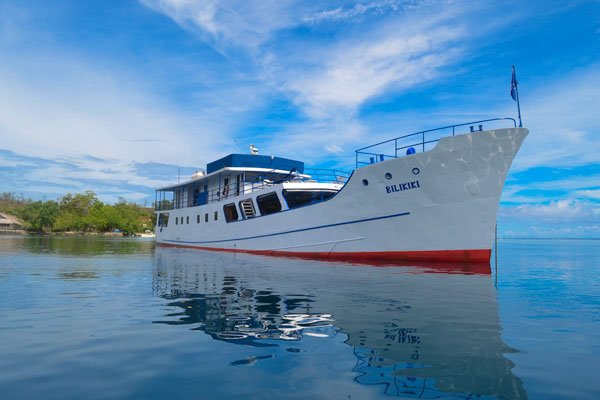 Bilikiki, Solomon Islands Liveaboard – Check the Price & Details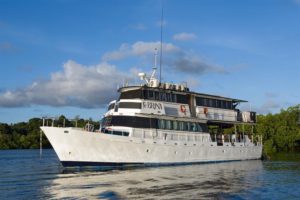 MV Febrina, Papua New Guinea Liveaboard – Check the Price & Details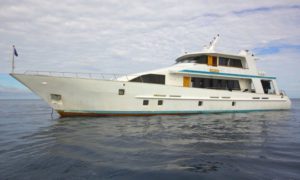 Fiji Aggressor, Fiji Liveaboard – Check the Price & Details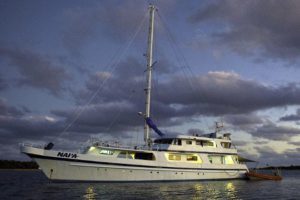 Nai'a, Fiji & Tonga Liveaboard – Check the Price & Details
Here are my reviews of other South Pacific diving destinations:
Selected Samoan Dive Sites
The Rock: 12-30 meters (40-100 feet), in the channel between Apolina Island and Savai'i, pinnacle with a sloping plateau from 12-18 meters, (40-60 feet) that drops off from there, reef of hard and soft corals, and gorgonians, look for giant clams, anemones, fusiliers, unicornfish, clown triggerfish, jacks, Napoleon wrasses, schools of barracuda, snappers, tuna, whitetip and grey reef sharks, eagle rays, and stingrays, suitable for experienced divers
Apolima Gardens: 5-20 meters (16-68 feet), a coral garden just off Apolima Island, many species of hard and soft corals, look for anemones, fusiliers, rainbow runners, unicornfish, Napoleon wrasses, turtles, bluefin jacks, lobsters, and reef sharks, mild current is possible, suitable for all levels
Juno Wreck: 25 meters (82 feet), off Savai'i in Lelapa Bay, 3-mast missionary sailing ship that sank in 1881, rich coral and marine life including parrotfish, yellow snappers, big-eye jacks, trumpetfish, stingrays, and turtles, suitable for all levels
Turtle Minefield: 15-25 meters (50-82 feet), Upolu site, large area with a topography of swim-throughs and canyons on sandy and volcanic bottoms, juvenile to large adult turtles are guaranteed, lots of reef tropicals, batfish, stingrays, and eagle rays, currents are mild, suitable for all levels
Opperer House: 7-30 meters (23-100 feet), Upolu site, named for the diver who found the location, ledge from 7 meters (23 feet) that drops off, rich soft and tube corals, macro critters, lots of reef tropicals, and pelagics,  suitable for intermediate levels
Tavae Wreck: 20 meters (68 feet), Upolu site, 28-meter (92-foot) Samoan tug scuttled to become an artificial reef in 2013, resting upright, twin-props are in place, some invertebrate incrustation has started, lots of resident marine life, penetration is possible, suitable for experienced divers
Giza: 18+ meters (60+ feet), Upolu site, pinnacle topping at 18 meters (60 feet), rich marine life, a great spot for passing pelagics, schools of trevally, eagle rays, and grey, whitetip, and blacktip reef sharks, currents can be strong, suitable for advanced levels
Gilligan's: 10-20 meters (33-68 feet), western Manono Island site, series of pinnacles, canyons, and swim-throughs, a variety of hard corals including table and staghorn corals, sponges, and soft corals, strong current possible, suitable for intermediate levels
Samoa Resorts, Transportation, and Dive Shops
Air – A 45-minute drive from Apia, Faleolo International Airport (APW) has regularly scheduled connections to Auckland, Sydney, Brisbane, Townsville, Melbourne, and Fiji.  Fagali'i Airport (FGI) just to the east of Apia has 5-6 daily connections to American Samoa and twice-weekly connections to Tonga.
Bus service is cheap on Upolu and Savai'i.  There are a few set points of departure with pick-ups along the route.  Pay at the end of the journey.
Taxis are unmetered, so agree on the price before departure, but the pricing is cheap and booking for a day usually runs about the same as a car rental rate.
Car Rental – Take note that since 2009 driving is on the left.  You need a temporary local license obtainable from a police station or a number of car rental agencies.
Cycling is possible with a few hilly or steep sections.
For further transportation and tourist information, please check Wikitravel-Samoa.
Lodging and Dive Shops – There are only a handful of dive shops in Samoa with one on Savai'i and the rest in Apia.  They offer full services including equipment rental, dive courses, guiding and boat dive cruises.  There are lodging options from $59 to $157 per night.  The website linked below has the details and can arrange the booking.  You can easily find the location on the map provided on this site.  Their rates are guaranteed to be the lowest and it is free to cancel or change dates.
Things to do in Samoa (aside from scuba diving)
The natural beauty and cultural and historical sites are many.  Here are some to check out:
waterfalls, beaches, swimming with turtles, visit a village, go to market,  hiking, bus tours, sleep in a fale, churches, National Museum, surfing, go fishing, bike tour, get a traditional tattoo or massage, slap dance, Paia Dwarf's Cave, Aloofaaga blowholes, Sale'aula lava fields, conservation areas, national parks, forest preserves, Samoan Cultural Center, kayaking, stand-up paddleboarding, golf, Robert Louis Stevenson Museum, fire dancing, Pulemelei Mound.
This video is a nice introduction and gives a feel for life as a tourist in Samoa.
Photography in Samoa
With the interesting undersea terrain, lagoons, beautiful hard and soft corals, sea fans, a variety of fish, turtles, rays, sharks, wrecks, scenic beaches, forests, waterfalls, and historical and cultural sites as well, there are many excellent photo opportunities.  For information and reviews of dive cameras, click here:
A cushion for emergencies provides peace of mind when on vacation.  I recommend this diving insurance as they have worldwide coverage and provide scuba divers a quality insurance and medical assistance service.
Feedback and Comments
I hope you found this post on Samoa scuba diving interesting and useful. If you have any questions or ideas, please feel free to share them in the comments section.  I'd love to know of any experience you have.  If there is no comments section directly below, click here:   >>comments<<