We may earn money or products from the companies mentioned in this post.

Moai Sculpture – Easter Island (Photo courtesy of Orca Diving Center & TripAdvisor)
This is the one hundred and sixty-third in a series of reviews of the best dive resort locations around the world.  In this post, the focus is on Easter Island, Chile. In addition to this series on dive resort locations, the best worldwide liveaboard diving locations and services are reviewed in their own series.  To check them out, or others in this series, click on Liveaboards/Resorts on the menu at the top and choose a title from the list.
Have you been diving on Easter Island before?  If so, I'd love to know about your experience.  What dive shop or liveaboard did you use?  Which dive spots are the best and what are the conditions there regarding the visibility, current, water temperature, sealife attractions, etc.?  Please post your response in the comments section at the bottom and we'll all learn something we can use.
Scuba Diving Easter Island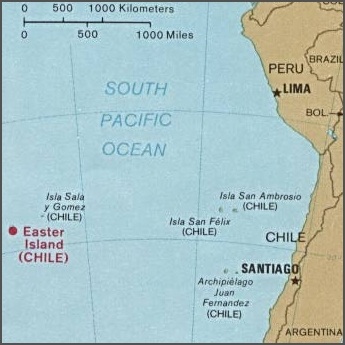 Background – Easter Island (Rapa Nui in the local language or Isla De Pascua in Spanish) is the southeastern-most point of the Polynesian Triangle 3,512 kilometers (2,195 miles) from mainland South America.  Easter Island is a volcanic high island formed by three extinct coalesced volcanoes with a maximum elevation of 507 meters (1,663 feet), an area of 163.6 km2 (63.2 square miles), and a tropical rainforest climate with moderate temperatures.  Recent research indicates that the first known settlers were of Polynesian origin arriving from the west around 1,200 AD.  They developed a rich civilization as evidenced by the 1,000 huge monumental statues called moai which were there in a mostly toppled state when Dutch explorers first arrived on Easter Sunday in 1722.  At that time there was a population of 2,000-3,000 down from an estimated 15,000 a century earlier.  The island was deforested for food cultivation and that along with an imported rat infestation had put the civilization into decline.  Disease, slave-raiding, and emigration further decreased the indigenous population to 111 by 1877.  In 1888 the island was annexed by Chile and eventually became its special territory in 2007.  By 2017 the population was 7,750 with 45% considering themselves Rapa Nui.  Spanish is the official language with estimates that as few as 800 are fluent speakers of Rapa Nui, a dialect closely related to others in Eastern Polynesia.  Approximately 100,000 tourists come to Easter Island annually.  For more historic, cultural, geographic, and demographic information, please check Wikipedia-Easter Island.
Undersea World – Easter Island has a subsea topography formed through volcanic activity that includes some steep drop-offs, arches, swim-throughs, big boulders, and coral bommies.  It has a relatively drab reef dominated by a limited number of hard corals and 142 endemic species of marine life.  Fish life is sparse, probably mostly due to overfishing.  In 2018 the government put into place the Rapa Nui Marine Protected Area covering 740,000 km2 (286,000 square miles) around the island.  Hopefully, it will eliminate fishing and spur a major regeneration of marine life.  I included a National Geographic video below of diving around Sala y Gomes 415 kilometers (258 miles) to the northeast which would be a great place to go for some dives and provides a look at what Easter Island could conceivably become.  All that said, there is a supply of interesting things to see that include Christmas tree worms, lobsters, moray eels, damselfish, wrasses, cowfish, butterflyfish, pufferfish, lizardfish, filefish, scorpionfish, squirrelfish, trumpetfish, surgeonfish, amberjacks, trevallies, turtles, and the possibility of Galapagos sharks, pelagics like swordfish and tuna, and seasonal humpback whales from December to March.
Seasons and Conditions – Diving is possible all year around Easter Island.
Air temperatures reach average daily highs of 27°C (80°F) from January through March dropping to 21°C (70°F) from July through September.
It rains all year but there is a bit more from April through September.
The water temperature has annual highs in February and March of 25°C (77°F) and lows of around 20°C (68°F) from August through October.  When the water is at its warmest many divers will be happy with a 3-5mm wetsuit.  At its coolest 7mm wetsuits or thicker with hoods and gloves or even drysuits may be suitable.
Visibility is usually excellent at 15-40 meters (50-130 feet) or greater at times.  When it rains heaviest the visibility decreases.
Current can be moderate to strong at times depending on the site, season, and tide.
There are sites suitable for all levels of diver from beginner to advanced levels.  A dozen or more dive shops are available to offer a full range of diving coursework, equipment rental, guiding and boat cruises.
Here is my review regarding the range of gear suitable for cold water diving:
There aren't any liveaboard diving cruises to Easter Island.  The closest liveaboard locations served are the Galapagos Islands and French Polynesia.  Here are my reviews and links to one of the liveaboards to each.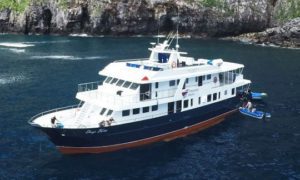 MY Galapagos Master – Galapagos Liveaboard Diving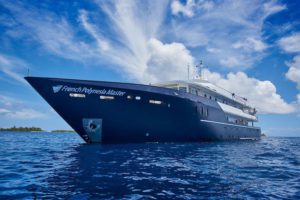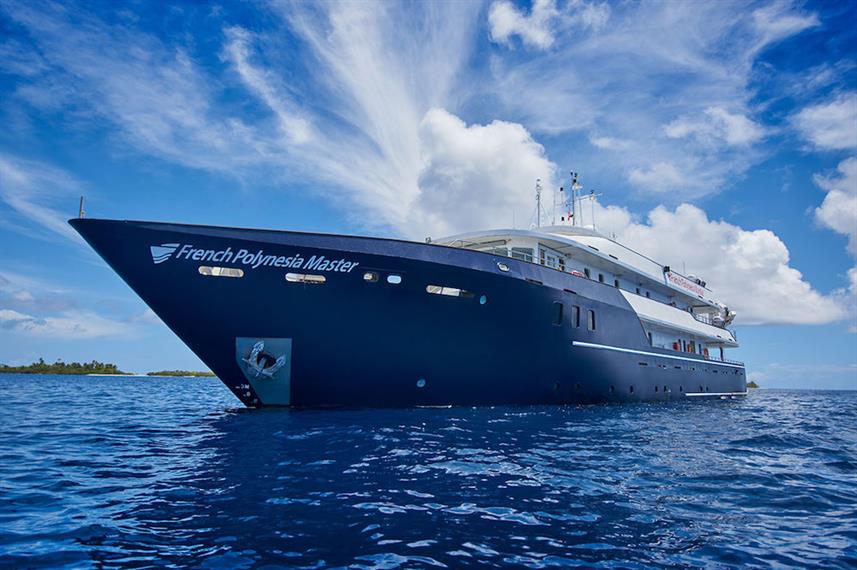 French Polynesia Master – French Polynesia Liveaboard Diving
Selected Easter Island Dive Sites
Moai Site: 21-23 meters (68-75 feet), a 7-meter (23-foot) replica of a Moai statue in Hanga Roa Bay on the southwest side where most of the popular diving takes place, sitting in a tilted position with the face angled upward on a volcanic slope, there are several stories to explain it, the most common is that it was a prop made for a Chilean TV show in the 1990s that was filled with cement and sunk there as an attraction, suitable for all levels of diver
Vai a Heva:  10 meters (33 feet), near Hanga Roa, series of easy to access coral pinnacles with the standard Easter Island reef tropicals, suitable for all levels of diver
Motu Nui: 55 meters (180 feet) maximum depth, one of three small islets behind the Rano Kau volcano off the southeast tip, the undersea terrain includes smooth grey rocks, pinnacles, and hard corals, known for great visibility up to 70 meters (230 feet), look for a number of endemic reef tropicals, it's a good spot to view passing pelagics like tuna, suitable for all levels of diver depending on depth attempted.
The Cathedral: series of caverns, arches, and swim-throughs located just below the Matu Tuatara lava tube on the island, some current is possible, suitable for experienced divers
Things to Do in Easter Island (aside from scuba diving)
The remnants of an ancient culture, volcanic terrain, and isolation have created a unique setting for discovery.  Here is a sample of sights and activities to consider:
Anthropological Museum, Photography Tour, Sunrise at Ahu Tongariki, Quarry at Rano Raruku, Ana Kakenga Cave, Stargazing, Orongo (site of the ancient 'Birdman' competition), Ana Kena Beach, Traditional Dance Show, Surfing, Horseback Riding, Explore the Coastline, Kaloa Restaurant, Get a Polynesian Tatoo, Ancient Petroglyphs, Volcanic Crater at Rano Kau, Hanga Roa Village Catholic Church, Ahu Akahanga, Local Fast Food, Sunset at Tahai, Swim with Turtles, in Hanga Roa Harbor, Ahu Aivi Moais, Pito Kura Navel of the World, Botanical Gardens, Island Lifestyle (slower), Ana Te Pahu Cave, Pakaos at Puna Pau, Ahu Vinapu Stonework.
This video gives a representative glimpse of the natural and cultural attractions and some useful travel tips.
Air – Mataveri International Airport (IPC), located at Hanga Roa connects to Santiago, Chile daily and weekly to Tahiti and Lima, Peru on LATAM Airlines.
Taxis are cheap and plentiful, but otherwise, there is no public transportation.
Rentals – Cars, including jeeps and larger cars, are available from several agencies in Hanga Roa.  It is also possible to rent dirt bikes, other motorbikes and scooters, and bicycles.
For more details related to all of the above transportation options and other tourist information, go to Wikivoyage-Easter Island.
Hotels and Diving – On Easter Island, there are more than 130 lodging options ranging from $15 to $686 per night and a number of dive shops in operation.  They offer a full range of services that include equipment rental, diving certification classes, dive guides, and boat tours.  The website linked below has the details for the lodging and can arrange a booking.  You can easily find the location on the map provided on their site.  The rates are guaranteed to be the lowest and it is free to cancel or change dates.
Photography in Easter Island
With the colorful coral reefs, a variety of fish, turtles, pelagics, and beautiful historic and natural onshore targets, as well, there are many excellent photo opportunities.  For information and reviews of dive cameras, click here:
A cushion for emergencies provides peace of mind when on vacation.  I recommend this diving insurance as they have worldwide coverage and give scuba divers a quality insurance and medical assistance service.
Feedback and Comments
I hope you found this post on Easter Island scuba diving interesting and useful. If you have any questions or ideas, please feel free to share them in the comments section.  I'd love to know of any experience you have.  If there is no comments section directly below, click here:  >>comments<<