We may earn money or products from the companies mentioned in this post.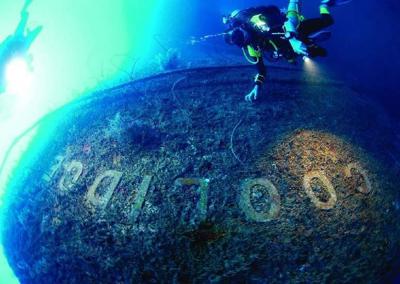 This is the eighty-fourth in a series of reviews of the best dive resort locations around the world.  In this post, the focus is Vanuatu. In addition to this series on dive resort locations, the best worldwide liveaboard diving locations and services are reviewed in their own series.  To check them out, or others in this series, click on Liveaboards/Resorts on the menu at the top and choose a title from the list.
Have you ever been diving in Vanuatu before?  If so, I'd love to know about your experience.  What dive shop or liveaboard did you use?  Which dive spots are the best and what are the conditions there regarding the visibility, current, water temperature, sealife attractions, etc.?  Please post your response in the comments section at the bottom and we'll all learn something we can use.
Vanuatu Scuba Diving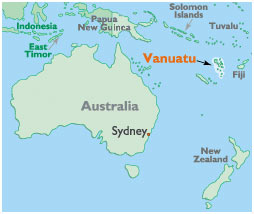 Background – Vanuatu is an archipelago of 82 islands (65 inhabited) situated southeast of the Solomon Islands, west of Fiji and northeast of New Caledonia.  The islands cover 1,300 kilometers (810 miles) from north to south and are volcanic in origin with active volcanoes on land and undersea in the vicinity.  Mount Tabwemasana on the island of Espiritu Santo is the highest point in Vanuatu at 1,879 meters (6,165 feet). Tropical forest covers most of the islands though there is a relatively small number of flora and fauna species.  Archeological evidence indicates that Austronesian peoples arrived there 4,000 years ago.  The first European contact came when Portuguese explorer (representing Spain) Pedro Fernandes de Queirós landed on Espiritu Santo in 1606.  Captain Cook arrived during his epic voyage in 1768.  The major intervention occurred in the 1860s when up to half of the adult males were taken as indentured laborers to Australia, Fiji, and New Caledonia, most not to return.  In 1906 a joint ruling partnership known as the British French Condominium was formed.  The 1940s saw some challenges to foreign rule start to arise and with the entrance of the U.S. military, a notion of nationalism started to come to life along with the new "Cargo Cult" religion that placed messianic significance on the arrival of never before seen bulk supplies of goods.  In 1980 during the brief "Coconut War," the Independent Republic of Vanuatu was formed.  Today, broadly speaking, the economy is based on agriculture, tourism, offshore financial services and raising cattle.  The population of 245,000 is 98.5% Melanesian with Bislama, English, and French the official languages.  Bislama is a form of Pidgin English which is the second language for most.  There are actually 113 languages in use with roughly 2,000 people using each.  Christianity is the major religion today with Presbyterianism practiced by 1/3 the population.  The Cargo Cults have dwindled, but the John Frum group version is still practiced by a sizable minority, especially on Tanna, including some parliament members.  There is a rich diversity of cultural practices from island to island and village to village.   For a more detailed introduction to Vanuatu, click here:  Wikipedia – Vanuatu
Undersea World – The volcanic terrain has provided an interesting habitat for exploration with a number of major caverns, steep drop-offs, swim throughs, big rocks, and coral bommies and underwater shoals.  There is great diversity in invertebrate life, especially the number of hard corals to go with soft corals, sponges, gorgonians and whips.  The other marine life is also pretty rich, but this is not a location for a lot of spectacular lifelike whale sharks, manta rays and pelagics that typify many of the South Pacific areas.  Reef sharks, hawksbill and green turtles are often seen, though, and infrequently dugongs.  The situation on shore is that people eat fish every day that is caught nearby tending to deplete populations on the reef and unbalance the ecology.  In addition, fresh water is scarce, waste management is primitive and slash and burn farming decreases ground cover and soil quality promoting more run off of the soil, all of which doesn't enhance marine life.  All that being said, there are a lot of interesting big and small creatures to visit including big black snappers, schools of fusiliers and bannerfish, Napoleon wrasse, soldierfish, butterflyfish, regal angelfish, surgeonfish, damselfish, triggerfish, pipefish, moray eels, peacock flounders, lionfish, scorpion fish, octopus, cuttlefish, batfish, barracuda, jacks, anemones, many species of mollusk, crabs, shrimp, nudibranchs and many more.  The main attraction for divers in Vanuatu is the number of spectacular wrecks, with the most famous being the President Coolidge, off Espiritu Santo.  There are plenty of other wrecks suitable for all level of divers in both the Santo and Vila vicinities.
Seasons and Conditions – Diving is always good with air and water temperatures warm all year.  Air temperature daily averages range from 22°C (72°F) in April to September to 28°C (82°F) in the summer starting in October.  Water temperature runs from 24-30°C (75-86°F) requiring around 3 mm of thermal insulation when the water is at its coolest.  The rainy season is from January to March.   Cyclones are a possibility and there was a category 5 storm in 2015. Visibility is typically quite good at better than 15 meters (50 feet) and ranges out to 50 meters (168 feet).  Most sites have little to no current, but strong current is occasionally possible on some sites.  There are dozens of sites to enjoy within easy range of Port Villa and Luganville.  Both areas have a number of dive shops, with new ones opening regularly, that can provide a full range of diving coursework, equipment rental, guiding and boat cruises.
There is not a liveaboard that directly cruises the Vanuatu dive sites, but there are boats that go to the Solomon Islands, Fiji and Papua New Guinea.  Here are my reviews and links to those liveaboards: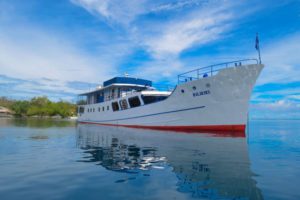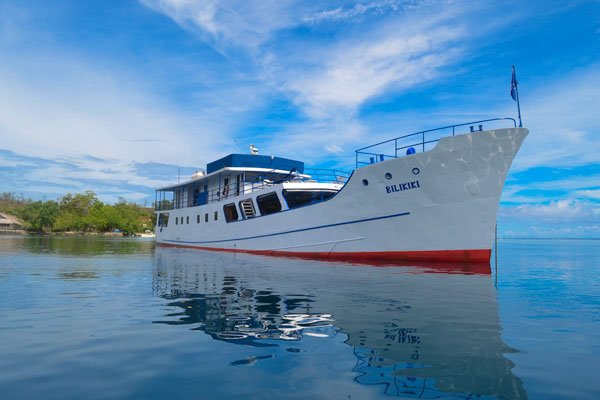 Bilikiki, Solomon Islands Liveaboard – Check the Price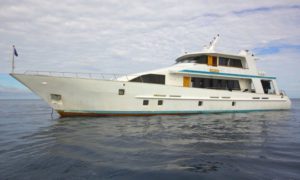 Fiji Aggressor, Fiji Liveaboard – Check the Price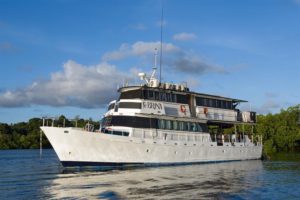 MV Febrina, Papua New Guinea Liveaboard – Check the Price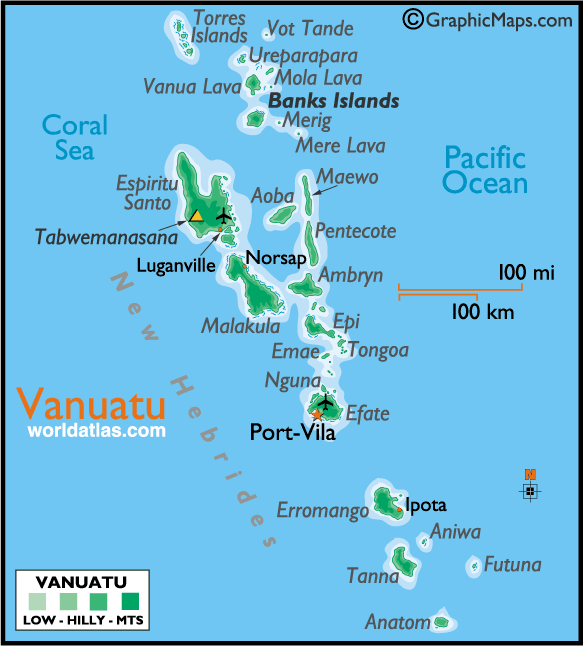 Selected Vanuatu Dive Sites
SS President Coolidge (Espiritu Santo): 20-70 meters (68-235 feet), 200-meter (675-foot) luxury liner accidentally sunk by mines in 1942, fully loaded with people's belongings and military supplies, all went down and much is there to see today, well encrusted with invertebrates, lots of fish and macro critters, Boris, the 200 kg grouper who has been there for 25 years, many penetration opportunities, gas masks, tools, cannons, guns, and trucks are still intact, experienced to technical levels
Million Dollar Point (Espiritu Santo): 40 meters (130 feet) maximum depth, WWII dump site for jeeps, trucks, airplane engines, bulldozers and other military equipment that they couldn't sell, shore access, lots of encrusting invertebrates and corals, lots of fish and macro life, all levels
USS Tucker (Espiritu Santo): 17-21 meters (57-70 feet), 104-meter (341-foot) destroyer sunk by a mine in 1942, nearly torn in two, ransacked over the years, many pieces and component parts, lots of fish and corals, all levels
Tutuba Point (Espirtu Santo): 24 meters (80 feet), the northern tip of Tutubu Island a short distance from Luganville, beautiful hard and soft corals, Napoleon wrasse, turtles, reef sharks, all levels
Mele Reef (Port Vila): coral shoal rising to 6 meters (20 feet) in the middle of Mele Bay, a marine sanctuary, a large reef with many buoys, lots of invertebrate life and many fish, a steep wall in one section with shallow reef top, all levels
The Cathedral (Port Vila): 26 meters (87 feet), big cavern off Pango peninsula, swim through with light passages to the back with a chimney passageway to a surface area inside the reef, from there can pass to the outside of the reef and a wall, experienced level
MV Konanda (Port Vila): 26 meters (87 feet), island trading vessel scuttled to become an artificial reef in 1987 after being damaged in a storm, sits on a sandy bottom, derricks and rigging protrude to within 10 meters (35 feet) of the surface, has been prepared for safe penetration into cabins and holds, experienced level
Star of Russia (Port Vila): 33 meters (110 feet), 80-meter (260-foot) sailing ship, famous for racing a steamship in the early 1900s, perhaps sunk in 1953, rests in Port Vila Harbor, teak deck has rotted away, hull intact, safe, easy penetration, wheel, rudder and anchor machinery intact, experienced level
MV Semle Federsen (Port Vila): 40 meters (130 feet) to the cabins and wheelhouse, ready to be scrapped this old steel 43.5 meter (145 foot) cargo vessel was scuttled in 1985 to become an artificial reef in Mele Bay along the Pango coast, rich marine life, experienced level
Tasman (Port Vila): 40 meters (130 feet), Qantas S23 Sandringham bulk plane, 33-meter (110-foot) wingspan, dumped in the harbor after an accident made it unserviceable, discovered in 1978, largely intact, penetration possible into the cockpit, experienced level
Vanuatu Photos
With the interesting undersea terrain, walls, beautiful hard and soft corals, variety of fish, moray eels, turtles and spectacular wrecks, scenic beaches, forests and mountains, and historical and cultural sites as well, there are many excellent photo opportunities.  For information and reviews of dive cameras, click here:
Transportation – The main international airport in Port Vila has regular flights to and from Australia, New Zealand, Fiji, New Caledonia, and the Solomon Islands.  Air Vanuatu handles traffic between Luganville and Sydney and Brisbane and a number of domestic flights.  Regular ferries cover the Port Vila-Espiritu Santo route.  There are a variety of cargo vessels to all the inhabited islands that will take passengers.  Bus (mini-bus) and taxi service are readily available in Port Vila.  In other places, not so much. Flagging down trucks is possible.  For fuller details of all the options, please click here:  Wikitravel – Vanuatu
Lodging and Dive Shops – There are a number of dive shops in Vanuatu with several in Port Vila and several in Luganville.  The dive shops available are accredited by training organizations and offer full services including equipment rental, dive courses, guiding and boat dive cruises.  Port Vila has over 60 lodging options ranging from $11 to $616 per night.  Around 16 are available in the Luganville area running from $7 to $188 per night.  At least one there has an in-house dive shop, the Coral Quays Fish and Dive Resort.  The website linked below has the details and can arrange the booking.  You can easily find the location on the map provided on this site.  Their rates are guaranteed to be the lowest and it is free to cancel or change dates.
For a look at life in Port Vila and Luganville, please check out the video below the Things to Do section.
Things to Do in Vanuatu (aside from scuba diving)
With 82 Islands Vanuatu has a vast number of locations to visit.  Focusing more on the Port Vila and Luganville areas, here is a short list of options for places to go:  Millenium Cave, National Museum of Vanuatu, Mele Cascades, Port Olry, Market Meal Booths, L'Houstalet, Wahoo Bar, Kesorn's Exotic Thai Kitchen, Nambawan Cafe, Natangorea Cafe, Jill's Cafe, Hideaway Island, Loru Conservation Area, Oyster Island Restaurant, Ekasup Cultural Village, Chief Roi Mata Burial Site, Velit Bay Plantation, Aore Island, Deco Stop Restaurant, Slipway Sports Bar & Grill, Champagne Beach, War Horse Saloon, Million Dollar Point, Erakor Island, Au Faré, Vila Outdoor Market, Summit, Tu Restaurant, Spice, Ringi Te Suh Marine Conservation Area, Chill, Secret Garden, Brewery Bar & Restaurant, Little Paradise Restaurant, Cape Foreland Lighthouse, Lenakel Wharf.  This video will give you a good feel for Vanuatu life and conditions:
A cushion for emergencies provides peace of mind when on vacation.  I recommend this diving insurance as they have worldwide coverage and provide scuba divers a quality insurance and medical assistance service.
Feedback and Comments
I hope you found this post on Vanuatu scuba diving interesting and useful. If you have any questions or ideas, please feel free to share them in the comments section.  I'd love to know of any experience you have diving in Vanuatu.  If there is no comments section directly below, click here:  >>comments<<