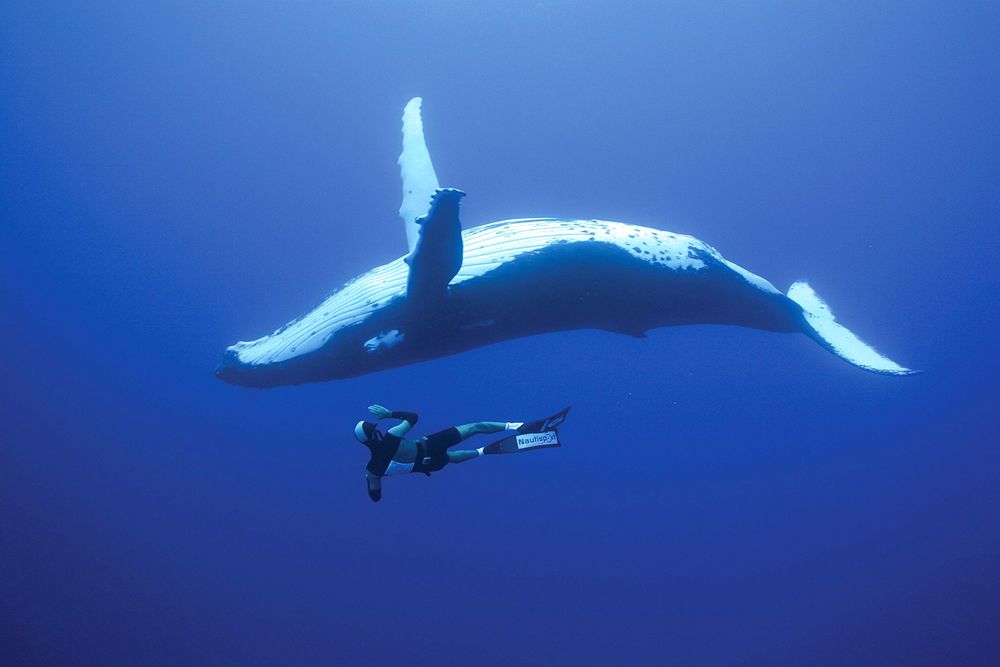 Updated May 27, 2021
This is the eighty-sixth in a series of reviews of the best dive resort locations around the world.  In this post, the focus is on Tonga. In addition to this series on dive resort locations, the best worldwide liveaboard diving locations and services are reviewed in their own series.  To check them out, or others in this series, click on Liveaboards/Resorts on the menu at the top and choose a title from the list.
Have you ever been diving in Tonga before?  If so, I'd love to know about your experience.  What dive shop or liveaboard did you use?  Which dive spots are the best and what are the conditions there regarding the visibility, current, water temperature, sealife attractions, etc.?  Please post your response in the comments section at the bottom and we'll all learn something we can use.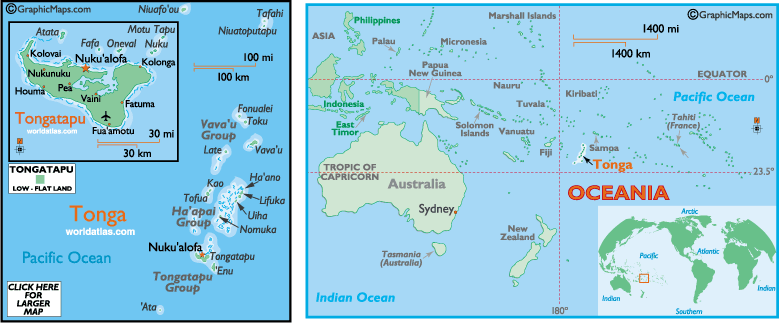 Scuba Diving Tonga
Background
Set in the South Pacific with Fiji to the northwest and Samoa to the northeast is the Kingdom of Tonga.  It consists of 176 islands (36 inhabited) with a land area of 750 square kilometers (290 square miles) covering a distance from north to south of 1,800 kilometers (1,100 miles) and has a population of 107,000.
There are several island groups that have somewhat differing geological origins and topography based primarily on volcanic activity and coral reef growth.
The original inhabitants arriving from 1,500-1,000 BC were Austronesian speakers of the Lapita Complex.  The first western contact came with Dutch explorers in 1616 followed by Captain Cook in 1773.  Chroniclers of that encounter dubbed Tonga "the Friendly Islands."  The Spanish explorers followed with London missionaries arriving in 1797.  Tonga became a British "Protected State" in 1900 lasting with that status until 1970 when it became a member of the British Commonwealth.  In 2010 they left the British to become an Independent Constitutional Monarchy.
The economy is poorly developed relying on remittances with half the citizens living abroad, mostly in Australia, New Zealand, and the United States.  Tourism is underdeveloped and traditional forestry, agriculture, and fisheries do not produce much in export income.  The market in copra, which was once important, has evaporated due to lower world prices.
98% of the people are of Polynesian ethnicity, with 1.5% mixed, and the rest European.  Tongan and English are the national languages.  90% are Christian while maintaining strong cultural traditions.  Tongans have made a significant mark in the world of rugby with national teams performing well in many international competitions and dozens of individuals playing on top-level teams in Australia and New Zealand.
For a more detailed introduction to Tonga, click here:  Wikipedia – Tonga
Undersea World
For many westerners, Tonga barely makes a blip on the radar.  Rugby aficionados take note of the large number of very good players in Australia and New Zealand that happen to be Tongan.  Others were scratching their heads when they saw that Tonga sent a contingent to fight in the first Gulf War.
Now scuba divers and whale watchers are becoming aware that Tonga is one of the very best places to swim and dive with large numbers of humpback whales.  These creatures reaching lengths of 12-15 meters (40-50 feet) as adults make the long journey from feeding grounds in Antarctica to the lagoons of Tonga in numbers from 500 to 1,500 from July to November every year to breed and give birth.  Oftentimes swimming in close proximity to them is very easy due to their frequently very tranquil demeanor.
These remote islands are known for exceptionally clear water and great variety among the 169 islands.  The underwater terrain is diverse location to location from lagoons to fringing reefs to steep drop-offs, crevices, archways, caves and caverns, and pinnacles.
Pristine reefs include a large array of hard corals with huge sea fans and rich soft corals, sponges, and other encrusting invertebrates.  Some reefs have forests of big black coral trees.
Variety of macro life and reef fish is also rich with the likes of lionfish, lobster, pipefish, stonefish, moray eels, porcupine puffers, squid, cuttlefish, octopus, sea kraits, mantis shrimp, nudibranchs, trumpetfish, goatfish, schools of fusiliers, snapper, and surgeonfish, sweetlips, butterflyfish, and emperor angelfish.
Larger highlights are stingrays, schooling jacks and barracuda, whitetip and grey reef sharks, whale sharks, manta rays, green and hawksbill turtles, and pelagics including tuna, wahoo, and marlin.
There is even a convenient 65-year-old wreck sitting upright at 30 meters (100 feet), the Clan McWilliam.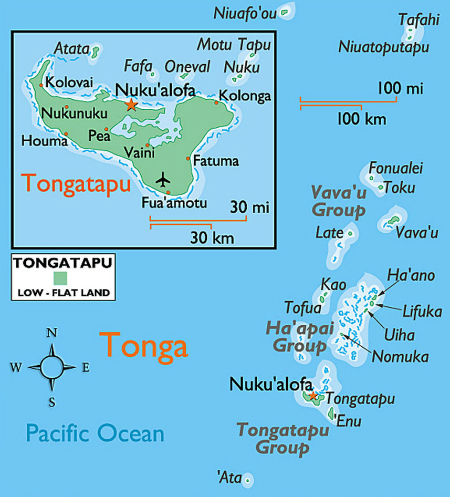 Tonga Island Group Diving
In terms of organizing your dive itinerary, there are three groups of islands, the Tongatapu, Ha'apai, and Vava'u Groups.  The whales are famously known to go to the Vava'u Group, but in fact, dive shops and tour organizers are able to reliably put divers on whales in all three areas.
Tongatapu Area – There is a large lagoon and fringing reef protected by five marine reserves and two island parks.  The reefs off the outer islands are healthy and pristine with rich marine life that includes 1,500 species of fish and 700 species of corals and anemones.
Ha'apai Group – The underwater topography is diverse with coral gardens, caves, caverns, canyons, tunnels, and walls, and passes fueled by the occasionally strong currents.  Reefs have abundant hard corals with beds of large yellow sea fans and soft corals, and a variety of marine life with interesting macro critters in the nooks and crannies.
Vava'u Group – This area has the same level of marine diversity as the other groups on a large number of dive sites. There are beautiful corals and big gorgonian fans on intriguing walls and drop-offs often with significant drift.  The wreck of the copra steamer Clan McWilliam is located here off the city of Neiafu.
Seasons and Conditions
Conditions are pretty good for diving all year in Tonga.
The average daily air temperatures are 26-27°C (79-81°F).
The water temperature stays in a range of 24-28°C (75-83°F) with the highs in March and lows in August. At the coolest, some divers will consider a 3-5 mm wetsuit.
Visibility is typically stupendous at 25-40 meters (83-130 feet) and sometimes extending to 70 meters (230 feet).  It rains a bit more from December through April with a greater possibility of cyclones from the end of January to mid-March.
Current is variable from location to location with all levels possible.
The humpback whales arrive in the winter months (south of the equator) for mating and giving birth.
There are a number of dive shops, most of which are on Tongatapu and Vava'u, though new shops are opening all the time in new locations.  Most offer a full range of diver training, equipment rental, guiding, and boat cruises to local and more distant sites.  Humpback whale cruises emanate from both these locations.
Liveaboard Diving
There is not a liveaboard available that directly cruises the Tonga dive sites this year, but there are boats that go to French Polynesia, the Solomon Islands, Fiji, and Papua New Guinea.  (In the past, the Nai'a liveaboard at the bottom of the photos made the journey, but not this year.)  Here are my reviews and links to those liveaboards: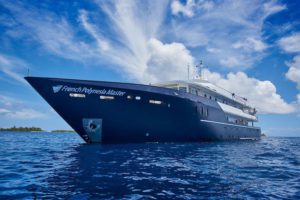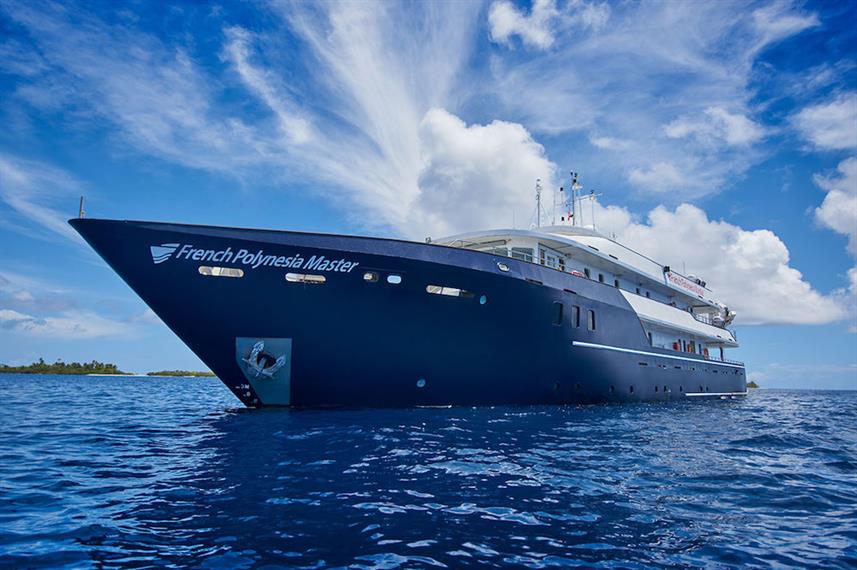 French Polynesia Master, French Polynesia Liveaboard – Check the Price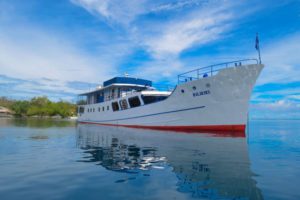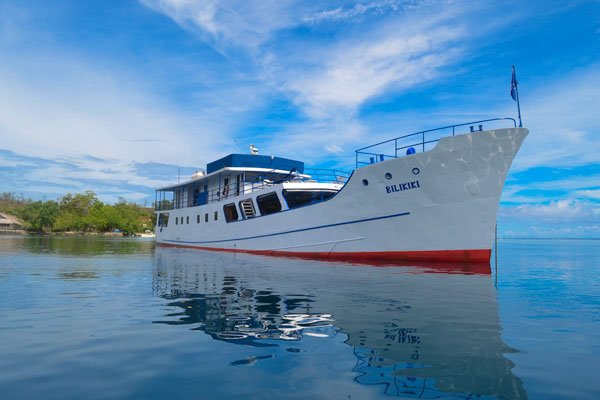 Bilikiki, Solomon Islands Liveaboard – Check the Price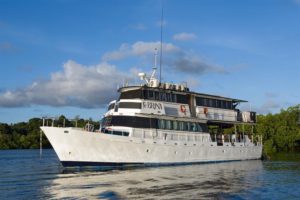 MV Febrina, Papua New Guinea Liveaboard – Check the Price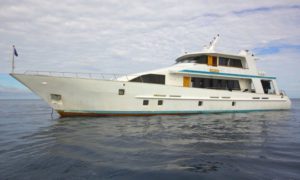 Fiji Aggressor, Fiji Liveaboard – Check the Price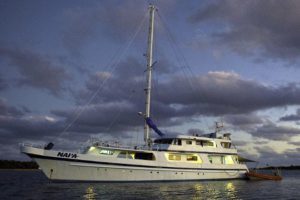 Nai'a, Fiji & Tonga Liveaboard – Check the Price
Tonga Photos
With the interesting undersea terrain, walls, lagoons, beautiful hard corals, and sea fans, a variety of fish, sharks, humpback whales, turtles, and mantas, scenic beaches, forests, and mountains, and historical and cultural sites as well, there are many excellent photo opportunities.  For information and reviews of dive cameras, click here:
Tonga Transportation, Lodging, and Dive Shops
Transportation
Air – Fua'amotu Airport, a half-hour from Nuku'alofa has five weekly flights from Auckland on Air New Zealand, twice-weekly flights from Sydney and Auckland on Virgin Australia, four times weekly flights from Apia, Samoa and Pago Pago, American Samoa on Talofa Airways, flights from Nadi and Suva, Fiji on Fiji Airways, with connections to Somoa, Australia, Hong Kong, and the USA from there.  Many taxis and mini-busses meet flights for transit to accommodations. Real Tonga Airlines handles domestic service between the major islands with flights from Tongatapu to 'Eua, Ha'apai, and Vava'u and from Vava'u to Niuatoputapu and Niuafo'ou.
Boat – Vava'u is a frequent stop for private yachts.  There are also a number of ferries providing service between islands.
Ground – Buses are available to many locations around Tongatapu and there is also a taxi service there.  Bicycles, motorbikes, and scooters are for rent on Ha'apai, Vava'u, and Tongatapu.  Cars can also be rented on Tongatapu.
Lodging and Dive Shops
Most of the dive shops are located around Nuku'alofa and Vava'u.  Several are associated with resorts.  They offer full services including equipment rental, dive courses, guiding, and boat dive cruises.  There are lodging options starting at $11 per night in Nuku'alofa and Vava'u.
The website linked below has the details and can arrange the booking.  You can easily find the location on the map provided on this site.  Their rates are guaranteed to be the lowest and it is free to cancel or change dates.
Things to do in Tonga (aside from scuba diving)
The natural beauty and cultural and historical sites are many.  Here are some to check out:  Ha'amonga'a Maui Trilithon, Bellavista Café & Restaurant, Talamahu Market, St. Joseph's Cathedral, Friend's Café, Mapu'a'a Vaea Blowholes, Mariner's Café, Ha'atafu Beach, Tiger Inn, Aquarium Café, Centenary Church, Free Church of Tonga, Ene'io Botanical Gardens, Royal Tombs, Kingdomkoffie, Basilica of St. Anthony of Padua, Royal Palace, Anahulu Cave, Luahoko Robinson Island, Mt. Talau, Utakalongalu Market, Abel Tasman Landing Site, Ancient Royal Tombs of Lapaha, Hufuangalupe Natural Land Bridge, Captain Cook's Landing Place, Tongan Cultural Show, Humpback Whale Swimming and Watching, and Scenic Tours.
These two videos give a nice introduction and a feel for life as a tourist in Tonga.  One shows Tongatapu and the other Vava'u.
Scuba Diving Trip Insurance
A cushion for emergencies provides peace of mind when on vacation.  I recommend this diving insurance as they have worldwide coverage and provide scuba divers quality insurance and medical assistance service.
Feedback and Comments
I hope you found this post on Tonga scuba diving interesting and useful. If you have any questions or ideas, please feel free to share them in the comments section.  I'd love to know of any experience you have diving in Tonga.  If there is no comments section directly below, click here:   >>comments<<