We may earn money or products from the companies mentioned in this post.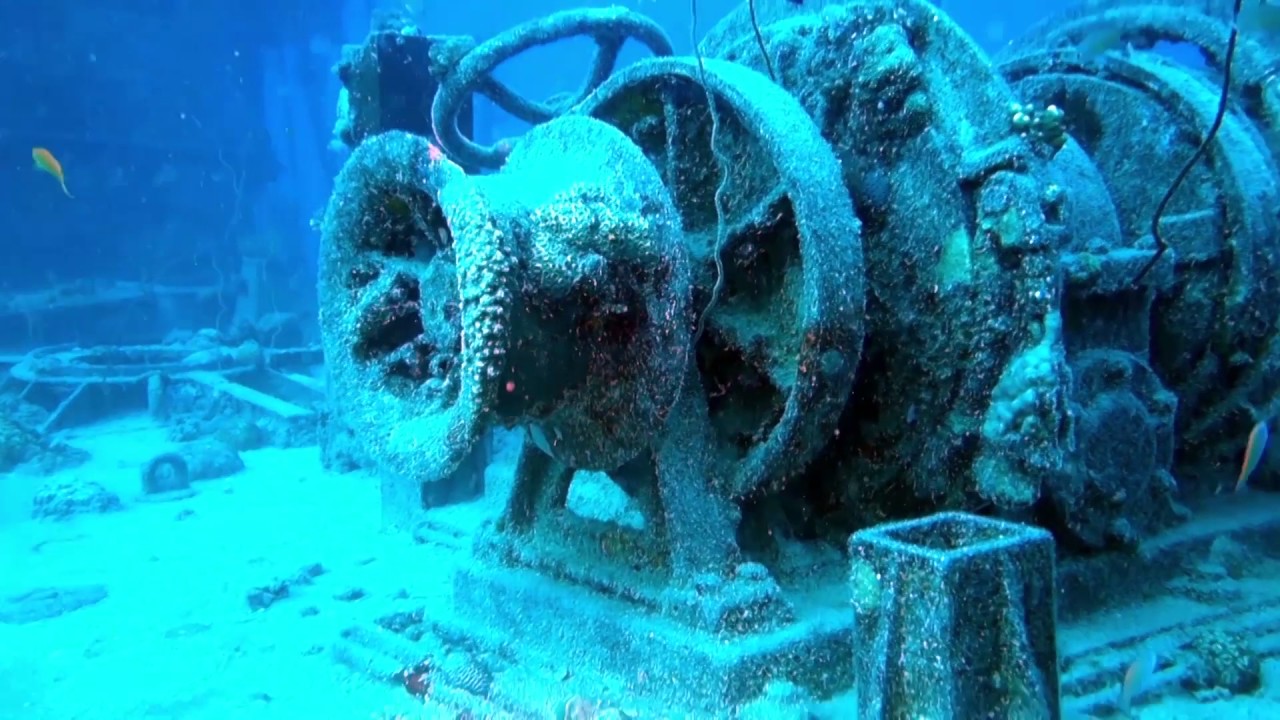 This is the eighty-fifth in a series of reviews of the best dive resort locations around the world.  In this post, the focus is on New Caledonia. In addition to this series on dive resort locations, the best worldwide liveaboard diving locations and services are reviewed in their own series.  To check them out, or others in this series, click on Liveaboards/Resorts on the menu at the top and choose a title from the list.
Have you ever been diving in New Caledonia before?  If so, I'd love to know about your experience.  What dive shop or liveaboard did you use?  Which dive spots are the best and what are the conditions there regarding the visibility, current, water temperature, sealife attractions, etc.?  Please post your response in the comments section at the bottom and we'll all learn something we can use.
New Caledonia Diving
Background – New Caledonia, a special collectivity of France, is situated south of Vanuatu and 1,210 kilometers (750 miles) east of Australia.  The area of 18,576 square kilometers (7,172 square miles) is made up of the main island, Grand Terre, the Loyalty Islands to the east, and a number of small lightly populated islands.  First settled in the Lapita Period, which began in 1,600 BC by people who were navigators and farmers, the first western contact came when Captain Cook got there in his second voyage in 1774.  The French and the British settled there in the early 1800s and it became a French Possession in 1853.  For decades after 1864, it was used as a penal colony.  In 1956 New Caledonia became a French Overseas Territory with French citizenship for the people.  Independence has been an option in elections, the latest of which was in 2018, with the people opting against it.  A central mountain range dissects the island with the east coast lushly vegetated and the west coast having plains and savannahs suitable for farming.  The flora and fauna are exceptionally diverse.  Minerals, nickel foremost, and tourism are the main economic drivers.  The rich history has left New Caledonia with an interesting mix of peoples which can be categorized into five groups:  the Kanaks (indigenous people), descendants of prisoners and settlers from North Africa and Europe, other French people, Polynesian immigrants, descendants of earlier settlers from Asia (Vietnamese, Indonesian, and others).  In this interesting mix, over 97% of adults speak French.  In addition, there are 28 Kanak languages and remnant usage of other languages from outside.  For a more detailed introduction to New Caledonia, click here:  New Caledonia – Wiki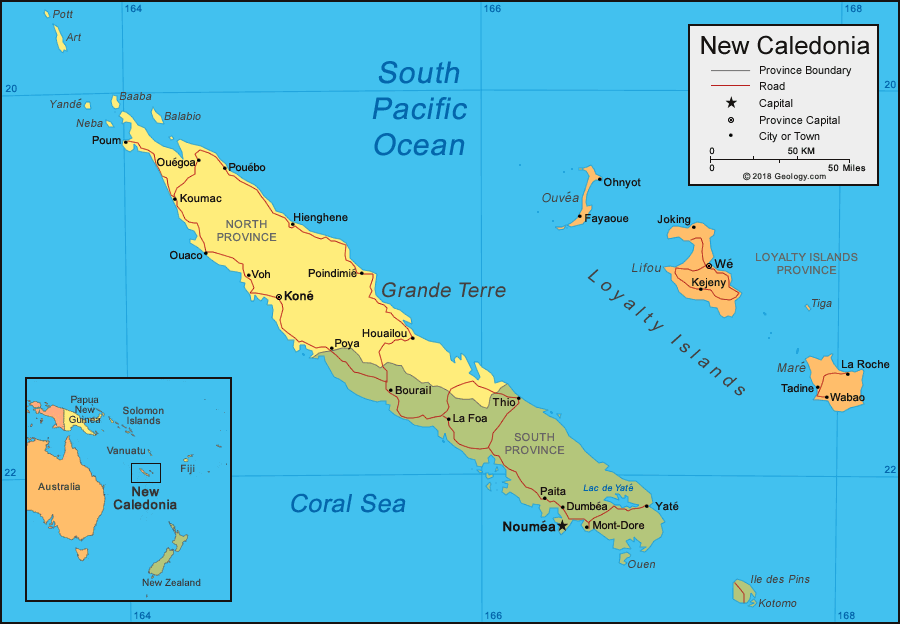 Undersea World – New Caledonia has the second largest double barrier reef in the world at 1,600 kilometers (1,000 miles) in length that encloses the world's largest lagoon of over 40,000 square kilometers (25,000 square miles) in surface area.  It is the home to 20,000 marine and plant species including 400 coral species.  Since 2008 much of the lagoon area has been part of a UNESCO World Heritage Site.  A large portion of the lagoon is also a marine protected area as part of the country's Natural Park of the Coral Sea.  The lagoon itself doesn't exceed 30 meters (100 feet) in depth, but just beyond the slope descends to greater than 100 meters (350 feet).  Humpback whales from the Antarctic come in the summer months to mate and birth in the lagoons.  Other mammals that frequent the area include dolphins and dugongs.  Beyond the lagoons, in passes, the attractions are many with schooling pelagics, manta and eagle rays, whitetip, blacktip and grey reef sharks, leopard sharks, and even the occasional sightings of whale, hammerhead, tiger and lemon sharks.  Turtles are prevalent around the smaller islands and even the Nautilus usually seen in very deep water can be found.  Beautiful reef fish and macro critters abound including nudibranchs, scorpion fish, leaf fish, frogfish, mandarin fish, giant clams, lionfish, crinoids, anemones, sea goldies, chromis, peacock flounders, hawkfish, sweetlips, Maori wrasse, schools of fusiliers, yellow snappers and jacks, big grouper, butterflyfish, angelfish, trumpetfish, and surgeonfish, as a start.  There are even a few wrecks, including the Dieppoise and Toho V, to explore.
Seasons and Conditions – Diving is good all year in New Caledonia.  Air temperature daily averages are at annual highs from January through March at 26°C (79°F).  Annual daily averages hit lows of 20°C (68°F) in July and August.  The water temperature range is 27-30°C (81-86°F) from October through April and 22-26°C (71-78°F) from May through September.  At the coolest, some divers may want to use a 5-7 mm wetsuit.  Mantas and sharks are most prevalent from March through September.  The rainiest time of year is from January through June when 10-12 days per month have some rain.  Also, cyclones are a possibility from November to March.  Visibility is usually pretty good at 10-30 meters (35-100 feet).  Current is pretty mild in the lagoons but can get strong due to tidal flow in the passes.  There are many interesting dive sites all around the main island and at most of the smaller islands.  Noumea and several other points around New Caledonia have dive shops providing a full range of diver training, equipment rental, guiding and boat cruises.
There is not a liveaboard that directly cruises the New Caledonia dive sites, but there are boats that go to the Solomon Islands, Fiji and Papua New Guinea.  Here are my reviews and links to those liveaboards: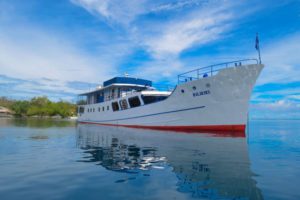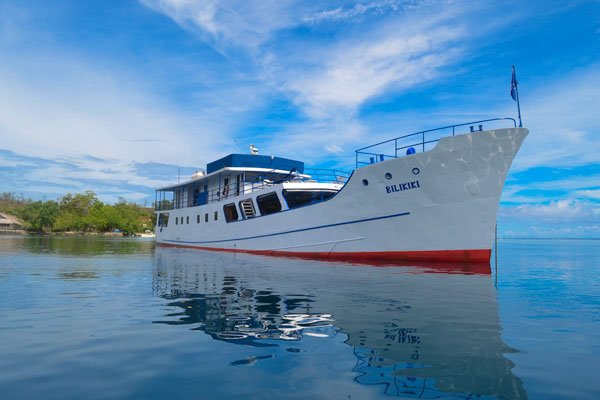 Bilikiki, Solomon Islands Liveaboard – Check the Price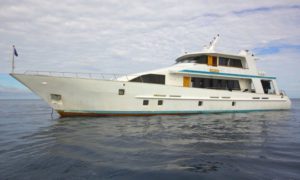 Fiji Aggressor, Fiji Liveaboard – Check the Price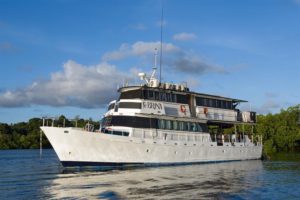 MV Febrina, Papua New Guinea Liveaboard – Check the Price
Selected New Caledonia Dive Sites
La Dieppoise, across the lagoon from Noumea: 26 meters (85 feet), 44 meter (143 foot) French frigate scuttled in 1988 to become an artificial reef, penetration of the pilot house possible, dining tables and chairs visible, nudibranchs, jacks and barracuda, little current, experienced level
Toho V, across the lagoon from Noumea near Le Dieppoise: 26 meters (85 feet), 45 meter (146 foot) Japanese longliner, scuttled in 1993 to become an artificial reef, groupers and jacks, little current, experienced level
Boulari Pass, across from Noumea outside the Dieppoise and Toho 5: 30 meters (100 feet) maximum depth, stingrays, sharks, manta rays, humpback whales from July through November, strong drift possible, experienced level
Passe de Dumbea, near Noumea: 25-50 meters (83-165 feet), north and south side dives possible, rich plant life, gorgonians, black coral, steep canyons, caverns, hundreds of migrating grouper, whitetip, blacktip, and grey reef sharks, leopard and hammerhead sharks possible, lots of fish, experienced level
Le Sournois: near Noumea: 21 meters (70 feet), two sections, one with a wall and the other a coral bommie, reef tropicals, stingrays, barracuda, reef sharks, little current, all levels
Le Banc de Sable, Southern Province: 50 meters (165 feet) maximum depth, wall with gorgonians and rich corals, whitetip and grey reef sharks, strong current possible, experienced level
Kasmira Reef, Southern Province: 18 meters (60 feet), garden eels, turtles, reef and leopard sharks, little current, all levels
Grotte de la Troisieme, Southern Province: 7 meters (22 feet), shore entry, cave site with stalagmites, stalactites, usually great visibility, but can be poor, experienced level
Fonti Reef, Northern Province: 22 meters (73 feet), nice caves with big gorgonians, little current, all levels
La Point aux Cachalots (Sperm Whale Point), near Hienghene: 30 meters (100 feet) maximum depth, arch, caves and canyons, nice hard and soft corals, gorgonians, tube sponges, conger, and moray eels, scorpion fish, no current, good visibility, great for photos, all levels
Cathedrale, near Hienghene: 50 meters (165 feet), (maximum depth), wall with nice sea fans, large crevice and 20 meter (68 foot) tunnel, mild to moderate current, experienced level
New Caledonia Photos
With the interesting undersea terrain, walls, lagoons, beautiful hard corals and sea fans, a variety of fish, sharks, rays, whales, turtles, and wrecks, scenic beaches, forest and mountains, and historical and cultural sites as well, there are many excellent photo opportunities.  For information and reviews of dive cameras, click here:
New Caledonia Hotels, Resorts, Transportation, and Dive Shops
Air – Noumea-La Tontouta Airport, northwest of the city is the international airport.  Air France has connections to Tokyo, Osaka, and Seoul and Aircalin to Tokyo and Osaka.  Air New Zealand and Qantas connect to New Zealand, Australia, Southeast Asia, and various Pacific nations.  Noumea-Magenta Airport, close to the city center, serves all domestic flights which include the Loyalty Islands and Isle of Pines in the south and Elep Islands in the north, as well as some of the smaller islands off the east and west coasts.
Boat – A number of cruise liners use Noumea as a port of call.  There are also ferries and water taxi charters going to the Isle of Pines and Loyalty Islands.
Ground – A regional bus service in the south is in operation that also does transit from the international airport to downtown Noumea.  Noumea also has a city bus service.  That city also has a taxi service which requires booking by phone rather than flagging one down.  Car rental is a popular option.
Lodging and Dive Shops – There are dive shops spread around the main island with a number of them in Noumea.  Several are associated with resorts.  They offer full services including equipment rental, dive courses, guiding and boat dive cruises.  There are dozens of lodging options starting at $75 per night.  The website linked below has the details and can arrange the booking.  You can easily find the location on the map provided on this site.  Their rates are guaranteed to be the lowest and it is free to cancel or change dates.
Things to Do New Caledonia (aside from scuba diving)
The beautiful natural setting and tourist facilities and activities to enjoy it are well developed in New Caledonia.  Here are just a few of the places to visit on your trip:  Parc Provincial de la Rivière Bleue, Kanak Monument, Place des Cocotiers, Fort Téremba, Le Parc des Grandes Fougères, Ouvéa Memorial, The Heart of Voh, Anse Vata, Pont de Mouli, Le Marché, Fayaoué Beach, Chapelle Notre Dame de Lourdes, Le Faré du Palm Beach, , Grotte de la Reine Hortense, Brooding Hen & Sphinx, Baie des Citrons, Aquarium des Lagons, Aquarium Naturelle, Le Saut du Guerrier, Yedjele Beach, Les 3 Brasseurs, Musée de la Ville de Noumea, Art Cafe, Statue of St Maurice, L'Annexe, Luengoni Beach
This video gives  a nice introduction and a feel for life as a tourist in New Caledonia:
A cushion for emergencies provides peace of mind when on vacation.  I recommend this diving insurance as they have worldwide coverage and provide scuba divers a quality insurance and medical assistance service.
Feedback and Comments
I hope you found this post on New Caledonia scuba diving interesting and useful. If you have any questions or ideas, please feel free to share them in the comments section.  I'd love to know of any experience you have diving in New Caledonia.  If there is no comments section directly below, click here:   >>comments<<