We may earn money or products from the companies mentioned in this post.

King Cruiser Wreck – Krabi, Thailand (Courtesy of TripAdvisor)
This is the one hundred and fortieth in a series of reviews of the best dive resort locations around the world.  In this post, the focus is on Krabi, Thailand.  In addition to this series on dive resort locations, the best worldwide liveaboard diving locations and services are reviewed in their own series.  To check them out, or others in this series, click on Liveaboards/Resorts on the menu at the top and choose a title from the list.
Have you been diving in Krabi before?  If so, I'd love to know about your experience.  What dive shop or liveaboard did you use?  Which dive spots are the best and what are the conditions there regarding the visibility, current, water temperature, sealife attractions, etc.?  Please post your response in the comments section at the bottom and we'll all learn something we can use.
Scuba Diving Krabi Thailand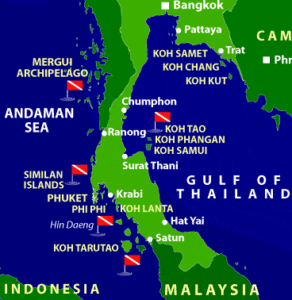 Background – With a population of 53,000, Krabi is the capital city of the province of the same name situated at the mouth of the Krabi River on the west coast of Thailand 783 kilometers (489 miles) by road from Bangkok.  The province has several national parks and 80 islands including Koh Lanta and Koh Phi Phi well known to day-trippers from Phuket looking for some adventure at sea in the form of boating, snorkeling, and scuba diving.  Dramatic rock faces at Railay Beach attract rock climbers and numerous other beaches, like the most popular and well-developed tourist area, Ao Nang Beach, bring a large volume of visitors during the winter dry season for fun in the sun.
Undersea World – The beautiful shoreside scenery extends below the surface of the 7 nearby islands and the other 73 islands and islets that are part of Krabi Province.  There are bays and islands with shallow fringing coral reefs, limestone rocky outcrops, walls, caves, caverns, and swim-throughs with 200 species of fish and 80 coral species providing real biodiversity.  Many sites suffered damage during the 2004 tsunami especially those closest to the mainland, which have been recovering since that time.  The nearest sites usually have little current and shallow depths providing an interesting setting for beginner divers and snorkelers and are quickly in reach of the local long-tail boats from local beaches like Ao Nang or Railay.  For most of the dive operations the bread and butter is the day-trip cruises to the best diving in the area at Koh Phi Phi, the King Cruiser Wreck, Shark Point, and Anemone Reef, to name a few.  The reefs boast rich hard and soft corals, sea whips and fans, big barrel sponges and a multitude of other encrusting invertebrates.  Macro highlights include seahorses, pipefish, banded sea kraits, nudibranchs, hermit crabs, jellyfish, cuttlefish, octopus, scorpionfish, and lionfish.  Huge schools of a variety of fishes are the norm on many sites with sweepers, yellow snappers, and several species of fusilier commonly seen.  Otherwise attractions around Krabi to look for are pufferfish, checkered snappers, emperor fish, sergeant majors, schools of 2-spot snappers and juvenile yellowtail barracudas, butterflyfish, bannerfish, bluefin jacks, gold-spotted trevallies, green and hawksbill turtles, titan triggerfish, blacktip and whitetip reef sharks, leopard sharks, and the possibility of manta rays and whale sharks, especially during the plankton bloom from January to March.
Seasons and Conditions – Diving is possible all year in the Krabi area of the Andaman Sea.  The best time to dive is during the dry season from November through March.  In December and January it is the heaviest time for tourists, so early booking is advisable
Air temperature is always warm with average daily highs from 31-34°C (88-93°F) with the warmest time from February through April.
The range for water temperature is 27-30°C (80-86°F) all year.
Currents are often mild but there are sites where it can get strong.
The rainy season is from May through October when it rains 16-24 days a month roughly corresponding to the southwest monsoon. The dry season from November to March corresponds with the northeast monsoon.  During the rainy season, conditions are rougher with significant surface chop which can curtail diving.
Visibility is variable based on the site, season, and plankton bloom.  The best visibility is during the dry season.  For most sites, the range is from 10-30 meters (35-100 feet).  There are some locations where it may get as poor as 5 meters (16 feet) at times, especially when there is rain or wind.  The plankton bloom in January through March will also cause a decrease in visibility but has the benefit of drawing whale sharks and manta rays at that time.
There are sites suitable for all levels of diver from beginner to advanced levels.  15 or more dive shops are available that can provide a full range of diving coursework, equipment rental, guiding, and boat cruises including those taking several hours to get to the most distant day-trip sites.
A number of liveaboard yachts travel to sites in the Andaman Sea including the Phuket/Krabi area, the Similan and Surin Islands, and the Mergui Archipelago.  Here are several liveaboard reviews and links to some great yachts for booking and details: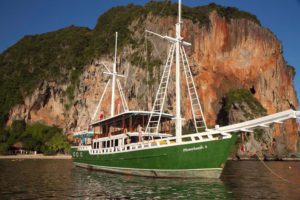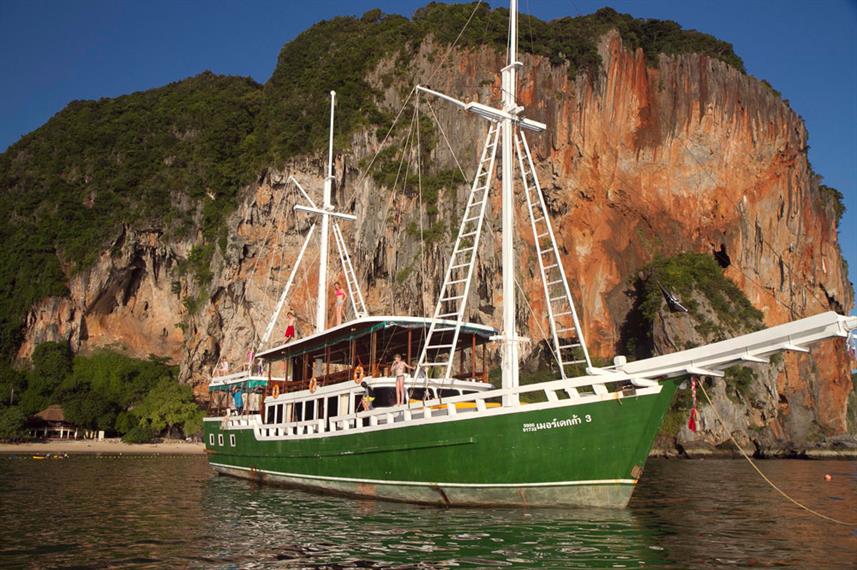 Merdeka 3, Southern Andaman Sea Liveaboards – Check the Price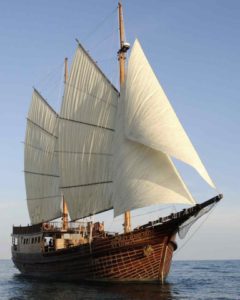 SY Diva Andaman, Similans and Mergui Archipelago Liveaboards – Check the Price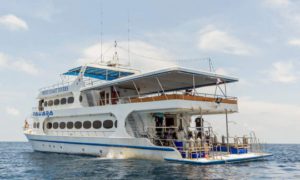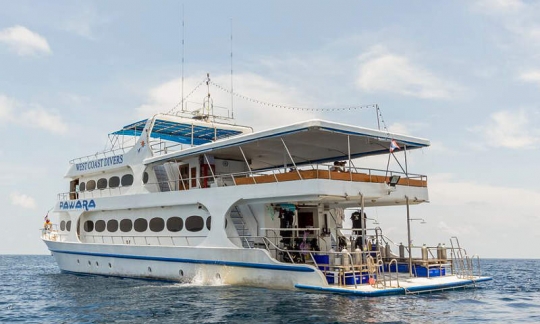 MV Pawara, Similans and Andaman Sea Liveaboards – Check the Price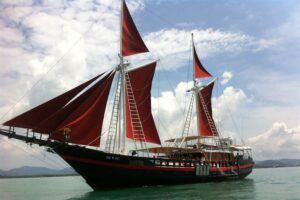 The Phinisi, Similans and Andaman Sea Liveaboards – Check the Price
For my reviews on other great diving locations in Thailand and Cambodia, please check out these posts: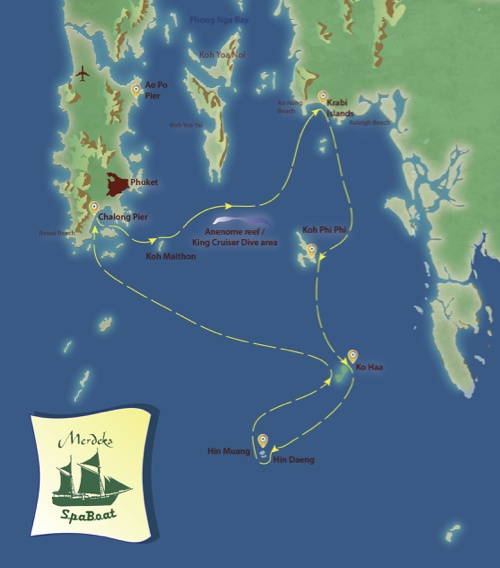 Selected Krabi Dive Sites
Ao Nang Local Islands (Koh See, Koh Ha, Koh Taloo, Koh Daeng, Koh Mae Urai and Koh Yawa Sam, Koh Yawabon): 21 meters (70 feet) maximum depth, 30-50 minute trip by long-tail boat, speedboats, and big dive boats also make the trip for many dive shops, many small rocky islets with slopes, walls, drop-offs, caverns, and swim-throughs, good sites for macro with ghost pipefish, mantis shrimp, lobsters, nudibranchs, scorpionfish, lots of schooling reef fish, blue-spotted stingrays, possibility of bamboo and leopard sharks, barracudas, groupers, and mantas, at times visibility is as poor as 5-10 meters (16-35 feet), current is usually mild, but can be moderate to strong on occasion,  suitable for all levels of diver
King Cruiser Wreck: 12-30 meters (40-100 feet), 2-3 hours from Krabi, 85-meter ( 279-foot) passenger ferry that sank in 1997 after running into Anemone Reef, no lives were lost of the 500 passengers, resting upright on the sandy bottom, Captain's cabin is at 12 meters (40 feet), penetration isn't possible, thickly encrusted with corals, swarms of schooling fish including juvenile yellow-tail barracuda, many lionfish, sweetlips, and jacks, moderate to strong current is possible, suitable for experienced level divers
Anemone Reef: 30 meters (100 feet) maximum depth, 2-3 hours from Krabi, limestone pinnacle peaking at 5 meters (16 feet) below the surface, covered in multicolored anemones, lots of reef fish including, snappers, fusiliers, bannerfish, butterflyfish, sweetlips trumpetfish, triggerfish, and moray eels and other macro critters in the nooks, turtles and leopard sharks are also commonly sighted, moderate to strong current is possible, suitable for experienced level divers
Shark Point: 28 meters (92 feet), 2-3 hours from Krabi, not far from Anemone Reef, formation of 7 pinnacles breaking the surface, lots of sea fans and mushroom coral, highlights are banded sea kraits, moray eels, pufferfish, seahorses, and leopard and bamboo sharks, currents are usually mild but can be moderate to strong on occasion, suitable for all levels of diver
Phi Phi Islands: 2.5-3 hours from Krabi, 20 different dive sites around the islands and offshore on pinnacles and shipwrecks, spectacular walls and caves, rich coral reef with lots of hawksbill turtles, leopard, and blacktip reef sharks, lots of reef tropicals, currents aren't usually strong, visibility is okay but rarely great, has dives suitable for all levels of diver
Kred Gaeow Wreck: 14-30 meters (46-100 feet), 3 hours from Krabi, off the coast of Phi Phi Ley, 50-meter (164-foot) Thai Navy vessel scuttled to become an artificial reef in 2014, still developing as a reef but already has substantial coral encrustation, lionfish, scorpionfish, frogfish, pufferfish, schools of barracuda, and fusiliers, suitable for experienced level divers
Koh Ha Yai: 5-21 meters (16-70 feet), 3-4 hours from Krabi, southernmost island in the Koh Ha group southwest of the Phi Phi Islands, cave opening at 5 meters (16 feet) into an air pocket that reaches to 30 meters (100 feet) above sea level like a cathedral, can exit at an opening at 16 meters (52 feet), lots of sea fans and whips, schools of sweepers, snapper, and barracuda, pufferfish, bannerfish, sea kraits, cuttlefish, and nudibranchs, turtles and leopard sharks possible, suitable for experienced level divers
Things to Do in Krabi (aside from scuba diving)
Krabi is a well developed international tourist destination with a lot of spectacular natural and cultural attractions and activities.  Here are a few to consider:  Khao Ngon Nuk Viewpoint, Railay Beaches and Caves, Wat Kaew Korawaram, Thung Teao Forest Natural Park, Koh Klang, Temple in a Cave at Wat Tham Sua, Old West Bar, Phi Phi Islands, Kayaking, Klong Thom Hot Springs, White Water Rafting, Khao Khanab Nam Mountains, Krabi Spa, Krabi Town, Thai Cooking Lesson, Susan Hoi, Rock Climbing, Night Market, Bird Watching, Wat Kaew Temple, Ao Nang Beach Party, Elephant Sanctuary, Phra Nang Beach.
The two videos below offer a small taste.  The first is an overview introduction to the scenic beauty and the second takes a closer look at 10 highlight spots and activities for a tourist.
Air – Krabi International Airport (KBV) is 15 kilometers (9.375 miles) from Krabi town and 40 kilometers (25 miles) from Ao Nang. There are numerous daily flights from Bangkok on Thai Airways, Air Asia, and Bangkok Airways and direct flights from Kuala Lumpur on Air Asia and from Singapore on Scoot.  Aircon buses provide transport from the airport to Krabi town and to Ao Nang.  Motorcycle taxis and songthaews are available outside the airport.
Bus – The Krabi Bus Terminal is about 5 kilometers (3.125 miles) north of the town center at Talad Kao. Several daily daytime and overnight VIP aircon direct buses come from the Southern Bus Terminal in Bangkok for the 12-hour trip.
Songthaews and taxis are available in town and Ao Nang for local transportation.
Motorbikes and cars are both available to rent.
For additional details regarding the above transportation, rentals, scheduling, and other tourist matters, go to Wikivoyage-Krabi.
Hotels and Diving – In Krabi there are around 1,000 lodging options running from $3 to $2,739 per night.  More than 15 dive shops are in operation, some located within or associated with hotels.  They offer a full range of services that include equipment rental, diving certification classes, dive guides, and boat tours.  The website linked below has the details and can arrange a booking for the lodging.  You can easily find the location on the map provided on their site.  The rates are guaranteed to be the lowest and it is free to cancel or change dates.
Photography in Krabi
With the colorful coral reefs, a variety of reef tropicals, macro critters, turtles, stingrays, leopard sharks, wrecks, and intriguing onshore targets, as well, there are many excellent photo opportunities.  For information and reviews of dive cameras, click here:
A cushion for emergencies provides peace of mind when on vacation.  I recommend this diving insurance as they have worldwide coverage and give scuba divers a quality insurance and medical assistance service.
Feedback and Comments
I hope you found this post on Krabi scuba diving interesting and useful. If you have any questions or ideas, please feel free to share them in the comments section.  I'd love to know of any experience you have.  If there is no comments section directly below, click here:  >>comments<<