We may earn money or products from the companies mentioned in this post.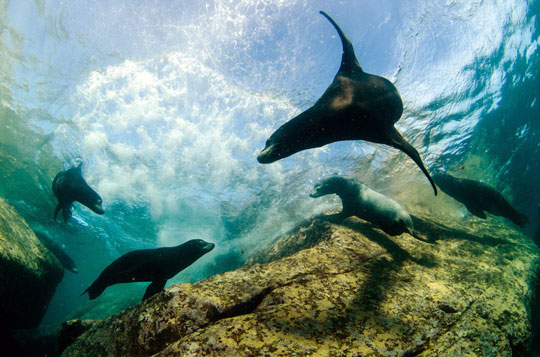 This is the one hundred and thirty-first in a series of reviews of the best dive resort locations around the world.  In this post, the focus is on Loreto, Mexico. In addition to this series on dive resort locations, the best worldwide liveaboard diving locations and services are reviewed in their own series.  To check them out, or others in this series, click on Liveaboards/Resorts on the menu at the top and choose a title from the list.
Have you been diving in Loreto before?  If so, I'd love to know about your experience.  What dive shop or liveaboard did you use?  Which dive spots are the best and what are the conditions there regarding the visibility, current, water temperature, sealife attractions, etc.?  Please post your response in the comments section at the bottom and we'll all learn something we can use.
Scuba Diving in Loreto Mexico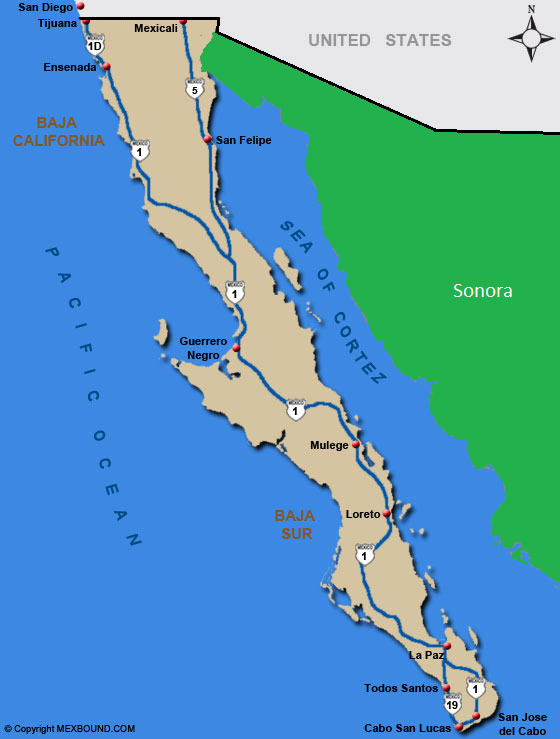 Background – Situated on the east coast of Baja California 350 kilometers (210 miles) north of La Paz is Loreto.  With a history dating to Spanish colonial settlement in 1697, today Loreto's economy is based on tourism especially for sport fishing of dorado, yellowtail, and other seasonal sports fish.  The city itself is flat and the Sierra de la Giganta  Mountains are to the west.  To the east is the Loreto Bay National Park created in 1996 which takes in 2,065 square kilometers (797 square miles) including 5 large nearby uninhabited islands and numerous smaller ones.  Wikipedia-Bahía de Loreto National Park is a good source for more details about the park and Wikipedia-Loreto, Baja California Sur has more historical, cultural, and demographic information.
Undersea World – The marine park, a UNESCO World Heritage Site, has exceptionally rich marine life, with diving mostly around the 5 major islands.  Carmen, Coronado, and Danzete are closest to town and most visited taking 15 minutes to an hour to reach depending on surface conditions.  Monserrate and Santa Catalina are considerably further away requiring special arrangements for the journey.  Volcanic in origin, the surrounding topography includes rocky areas, lava formations, finger reefs, steep walls, and seamounts.  The reefs are rich in hard and soft corals and sea fans, with some areas covered in extensive black coral forests.  Powerful current is possible on some sites making them more suitable for advanced divers but there are many sites that are shallow and appropriate for beginners.
The park is home to over 800 species of fish and a good variety of invertebrates and other fascinating macro critters.  Especially notable is the volume of megafauna species including hammerhead and whale sharks, sea lions, great pods of bottlenose dolphins, Humboldt squid, and the possibility in winter of 9 different whales including humpback, blue, grey, minke, finback sei, sperm, pilot, and killer whales (orcas).  Other highlights include lobster, comb jellies, scorpionfish, stingrays, king angelfish, pufferfish, barberfish, Pacific Creoles, leopard groupers, green  and zebra morays, golden wrasse, fine-scale triggerfish, honeycomb tobies, turtles, big schools of jacks, surgeonfish, and pelagics like wahoo, tuna, yellowtails and dorado, as well as schooling tropicals like yellow and blue chromis, and sergeant majors.
For my review of the diving in Cabo San Lucas and La Paz, a couple or other great Baja destinations, please check these posts:
Seasons and Conditions – Diving is good all year in Loreto.
Average daily air temperature highs reach 36°C (97°F) in August and dip to 24°C (75°F) in January.
Water temperature can get to lows of 19°C (66°F) in January and potential highs of 29°C (84°F) in July meaning that a 5-7mm wetsuit with hood and gloves may be needed when the water is at the coldest.
The climate is very dry with a rainier season from July through October when it rains 1-2 days a month.
Visibility runs from 9 to 30 meters (30 to 100 feet) with the plankton bloom in the winter moving it toward the bottom of the range.  Most of the year visibility is 15 meters (50 feet) or better.
There are times and locations where the current can be strong. In the winter months, winds are up and increased surface chop is possible.
Loreto has sites and conditions suitable for all levels of diver.  Several dive shops in town offer the full range of diving coursework, equipment rental, guiding, and boat cruises.
There are a number of great premium service liveaboard yachts cruising the area near Loreto.  Here is my review on Baja California liveaboards and links to several of the liveaboard vessels diving around or near Loreto: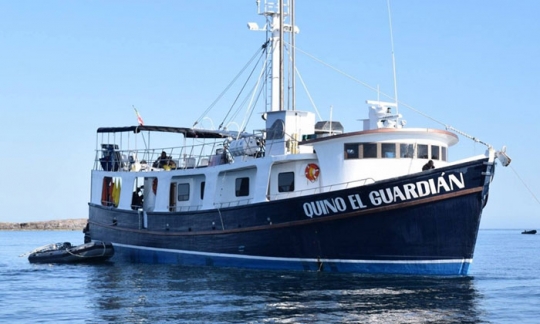 Quino el Guardian – Check the Price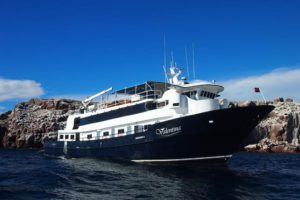 MV Valentina – Check the Price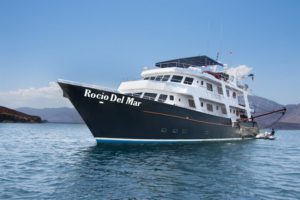 Rocio Del Mar – Check the Price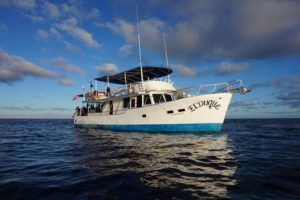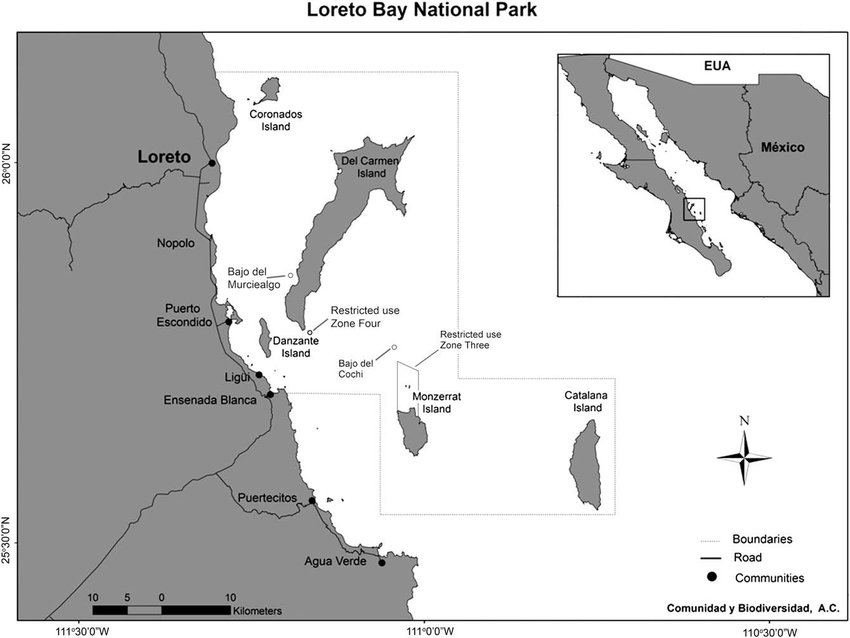 Selected Loreto Dive Sites
Carmen Island
North Coast:  undersea terrain consists of  steep drop-offs, big boulders, canyons, tunnels, and caverns, highlights include the possibility of hordes of Mobula rays, schools of barracuda, big groupers, snappers, and pelagics, suitable for experienced level divers
Bahia Salina Wreck: 10 meters (35 feet), 37-meter (120-foot) wreck of a fishing boat, lots of marine life including reef tropicals, schools of fish, macro critters, possible whale sharks, suitable for all levels of diver
Danzante Island
Faro Norte: 30 meters (100 feet) maximum depth, on the northeast side, pristine conditions, stair-stepped walls, rocky slopes, boulders, canyons, crevices, sandy bottoms, hard and soft corals, octopus, morays, reef tropicals, turtles, suitable for all levels of diver
Southern Sea Mounts: deep seamounts and pinnacles, strong currents possible, rich in black corals and sea fans, macro critters including large numbers of nudibranchs, possible pelagics, eagle rays, and horn sharks, suitable for experienced level divers
Agustin C-54 Wreck: 24 meters (80 feet), located south of Puerto Escondido about 2.4 kilometers (1.5 miles) offshore, commissioned as a US Navy minesweeper, scuttled in 2000 to become an artificial reef, on a sand bottom, richly encrusted, lots of black coral, rich marine life including schools of snapper, wrasses, moray eels, pufferfish, lots of penetration possibilities, suitable for experienced level divers, check out the video below titled "Diving in the Sea of Cortez"
Coronado Island
Las Tijeretas: 23 meters (75 feet), located on the southeast side, a small wall with huge rocks and column-like structures, lots of reef tropicals and macro life, pufferfish, playground for sea lions, suitable for all levels of diver
La Lobera: 30 meters (100 feet), on the southeast side, a wall with small caverns, cracks, and crevices, black coral and gorgonians cover the wall, moray eels, pargo, big groupers, sea lions in a nearby cove off the wall, current possible, suitable for experienced level divers
Piedra Blanca: 18 meters (60 feet) extending to great depths, on the north side, large boulders with a steep wall starting at 18 meters (60 feet), big fissures, cracks, and overhangs, black corals and purple gorgonians deeper, lots of macro critters in the nooks and crannies, highlights include triggerfish, sergeant majors, angelfish, bumphead parrotfish, seasonal pelagics like yellowtail and tuna, suitable for experienced level divers
Montserrate Island: more remote 5-7 hours journey from Loreto, a possibility of dolphins and whales, a number of pristine seamounts around Bajo Sandia o La Reinita and a sea lion colony at Las Galeras, suitable for all levels of diver
Things to Do in Loreto (aside from scuba diving)
Most tourists come for fishing, ocean activities, and beautiful mountain scenery in a more low key relaxing environment than you will find in Mexico's most popular destinations like Cabo San Lucas or Cozumel.  In Loreto, you can still find lots of cultural and historical places to go and great outdoor activities aside from diving.  Here is a list to consider:  Asadero Super Burro (restaurant), Misión San Francisco Javier de Viggé-Biaundó, Hike to Sierra de la Giganta, Orlando's (restaurant), Pan Que Pan (breakfast), El Zopilote Brewery & Cocina, Misión Nuestra Señora de Loreto, Tacos del Rey (restaurant), Baja Books, Silver Desert (jewelry), Café Olé, Museo de las Misiones, Tacos & Beer César, Golf, Whale Watching, Fishing, Blanket Factory, Beaches, Kayaking, Mountain Biking.
Here are a couple of videos to give you a glimpse.  The first shows a woman and her viewpoint from a nice hotel and the activities emanating from there.  The second is about a couple and their dog who arrived by car and spent time touring on the streets of Loreto.
Air – Loreto International Airport (LTO), located 15 minutes to the south of Loreto has direct flights from Los Angeles on Alaska Airlines 4-5 times per week and Westjet twice a week from Calgary.  Aéreo Calafia connects domestically to Tijuana, La Paz, Guayanas, and Hermosillo.  Taxis and shared vans are available at the airport for the trip to town.
Car – Highway 1 runs the length of Baja California from Tijuana to Cabo San Lucas passing through Loreto.
Bus – Greyhound operates from Tijuana south.  Two other Mexican lines link major destination cities.
Walking is all that is needed around town.  Catch a taxi when you want to go back to the airport.
For fuller details on transportation and tourist matters, go to Wikitravel – Loreto.
Hotels and Diving – In Loreto there are several dozen lodging options from $10 to $259 per night.  Several dive shops in operation offer a full range of services that include equipment rental, diving certification classes, dive guides, and boat tours.  The website linked below has the details and can arrange a booking for the lodging.  You can easily find the location on the map provided on their site.  The rates are guaranteed to be the lowest and it is free to cancel or change dates.
Photography in Loreto
With the colorful coral reefs, a variety of reef tropicals, macro critters, sharks, rays, pelagics, sea lions, whales, and scenic shoreside targets, as well, there are many excellent photo opportunities.  For information and reviews of dive cameras, click here:
A cushion for emergencies provides peace of mind when on vacation.  I recommend this diving insurance as they have worldwide coverage and give scuba divers a quality insurance and medical assistance service.
Feedback and Comments
I hope you found this post on Loreto scuba diving interesting and useful. If you have any questions or ideas, please feel free to share them in the comments section.  I'd love to know of any experience you have.  If there is no comments section directly below, click here:  >>comments<<