We may earn money or products from the companies mentioned in this post.
This is the one hundred and twenty-eighth in a series of reviews of the best dive resort locations around the world.  In this post, the focus is on Cabo San Lucas, Mexico. In addition to this series on dive resort locations, the best worldwide liveaboard diving locations and services are reviewed in their own series.  To check them out, or others in this series, click on Liveaboards/Resorts on the menu at the top and choose a title from the list.
Have you been diving in Cabo San Lucas before?  If so, I'd love to know about your experience.  What dive shop or liveaboard did you use?  Which dive spots are the best and what are the conditions there regarding the visibility, current, water temperature, sealife attractions, etc.?  Please post your response in the comments section at the bottom and we'll all learn something we can use.
Scuba Diving Cabo San Lucas Mexico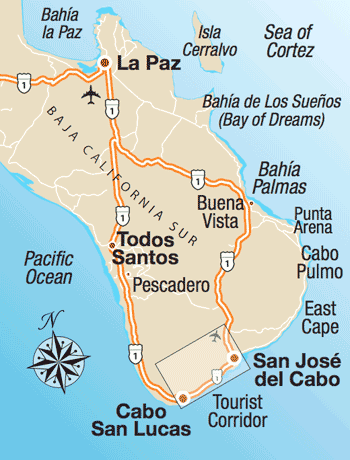 Background – Situated on the southern tip of Baja California is the resort town Cabo San Lucas.  Already recognized for its surfing, sport fishing, and beaches, in 1974 the Mexican government started taking measures to improve the infrastructure in order to develop Cabo as a tourist area.  With the improved roads and air travel came foreign investors like Van Halen to help fuel the growth.  Today it has a population over 80,000 and with neighboring San Jose, the combined total is over 300,000.  It is in the top 5 of Mexico's tourist destinations.  Often accused of having more concern for making money than maintaining the unique marine environment and fragile desert ecology, there is increasing public and government effort to preserve the delicate environment especially through better waste disposal management, expansion planning, and legislation.  The scuba diving community is all too happy to see this.  For more historical and demographic information, please check Wikipedia – Cabo San Lucas.
Undersea World – A protected area since 1973, Cabo San Lucas is an underwater national park where fishing and collection is prohibited.  What can be considered local diving occurs within the bay, in a corridor outside the bay, and on undersea pinnacles known as Gordo Banks.  The sites within the protected bay are on rocky reefs with little current and calm surface conditions.  Outside the bay and in the corridor there are steep walls.  Pushing further out to Gordo Banks the underwater shoal has dramatic terrain with strong currents and significant surface chop possible.  Within the bay, many sites can be accessed from shore while outside a speedboat is necessary.  The highlights for most divers are the spectacular creatures that appear from December through March during the season of the plankton bloom.  This includes shoals of hammerheads at Gordo Banks, humpback and grey whales, massive numbers of Mobula rays, and sea lions which are in evidence near Land's End year-round but are more active in this season.  From the deep, seasonal migration of banded guitarfish, bullseye rays, and octopus also occurs.  Other attractions include seahorses, scorpionfish, stonefish, slipper and spiny lobster, goatfish, Moorish idols, rabbitfish, schools of five-lined snappers, surgeonfish, jacks, and barracuda, pufferfish, triggerfish, angelfish, parrotfish, moray eels, cornetfish, garden eels, groupers, turtles, swordfish, wahoo, eagle rays, manta rays, whitetip reef sharks, bull sharks, blue sharks, mako sharks, silky sharks, and whale sharks.  Thinking about that batch of marine life, how can you resist coming for a look?
For my review of the diving in Loreto, La Paz, and Cabo Pulmo, three other great Baja destinations, please check these posts:
Seasons and Conditions – Diving is good all year in Cabo.
Average daily air temperature highs reach 34°C (93°F) in August and dip to 25°C (77°F) in January.
Water temperature can get to lows of 19°C (°F) in January and potential highs of 29°C (84°F) in July meaning that a 5-7mm wetsuit with hood and gloves may be needed when the water is at the coldest.
The climate is pretty dry with a rainier season from August through October.
Visibility runs from 9 to 18 meters (30 to 60 feet) with the plankton bloom in the winter moving it toward the bottom of the range.
There are times and locations where the current can be strong and surface conditions rough outside the bay.  In September and October, the seas are typically flat.
Cabo does have sites and conditions suitable for all levels of diver.  Many dive shops are in the area offering the full range of diving coursework, equipment rental, guiding, and boat cruises.
There are a number of great premium service liveaboard yachts cruising the area near Cabo.  Here is my review on Baja California liveaboards and several of the liveaboard vessels diving near Cabo: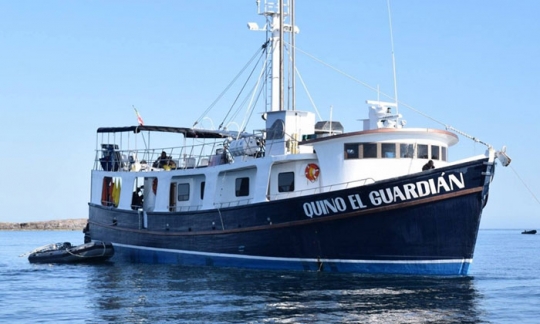 Quino el Guardian – Check the Price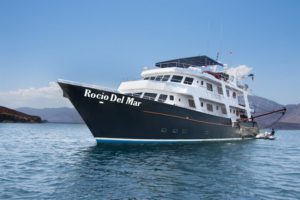 Rocio Del Mar – Check the Price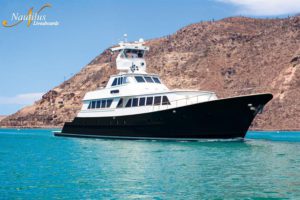 Nautilus Gallant Lady – Check the Price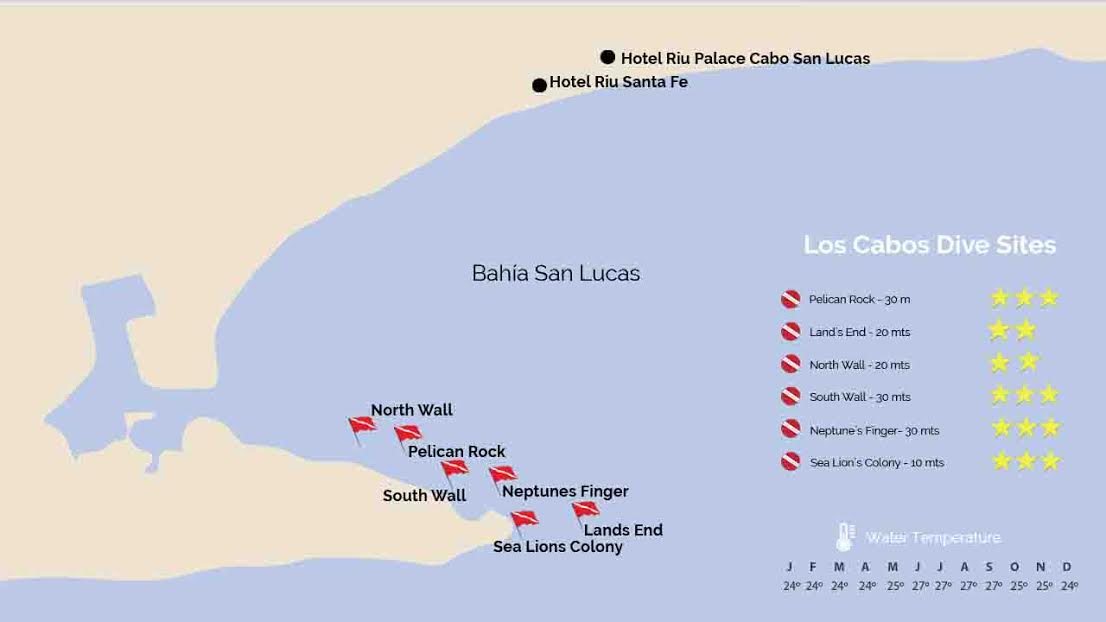 Selected Cabo San Lucas Dive Sites
North Wall: 7-30 meters (20-100 feet), sand in the shallows develops into a rocky slope and a steep wall beginning at 27 meters (90 feet), Cortez garden eels in the sand, rich macro life with spiny and slipper lobsters, scorpionfish, stonefish, hermit crabs, sea cucumbers, moray, zebra, and jewel eels, seahorses, and blennies, big schools of fish, boxfish, pufferfish, eagle rays, and sharks, good for night dives, suitable for all levels of diver
Middle Wall: 24-40 meters (80-130 feet), steep drop-off from 24 meters (80 feet) to the depths, section with lots of sea fans, green moray eels, lobster, huge groupers, humongous schools of Mobula rays, pelagics like tuna, sharks, and possible whale sharks, suitable for experienced level divers
Pelican Rock: 18 meters (60 feet), sandy slopes around a pinnacle, lots of reef tropicals, lobster, boxfish, pufferfish, goatfish, frogfish, scorpionfish, schools of snappers, moray eels, octopus, blennies, seahorses, nudibranchs, possible schools of jacks, Mobula rays, Cortez rays, electric rays, and whitetip reef sharks, if you go deeper (27 meters/90 feet) one of the sand falls is just above a canyon, suitable for all levels of diver
Neptune's Finger: 5-30 meters (16-100 feet), finger-like pinnacle topping at 5 meters (16 feet), good mix of hard and soft corals, sponges, and sea fans, sandy area and a vertical wall to the depths, highlights include, turtles, manta rays, shoals of Mobula rays, tuna, Mola Mola, amberjacks, big-eye jacks, barracuda, yellowtails, guitarfish, and flounders, suitable for all levels of diver
Land's End: 7-21 meters (20-70 feet), at the junction of the Sea of Cortez and the Pacific Ocean, sandy bottom with garden eels and guitarfish, turtles, sea bass, parrotfish, school of baitfish and pelagics coming to feed on them, groups of Mobula rays around the rock point, sea lions that always hang out in the area, remains of the Nürnberg wreck uncovered in Hurricane Odie in 2014 at 12 meters (40 feet), suitable for all levels of diver
Blow Hole: 12-30 meters (40-100 feet), Corridor site, a small blowhole is onshore, rock wall covered in sea fans, possible nurse sharks, big grouper, guitarfish, eagle rays, and bat rays, suitable for experienced level divers
Santa Maia Cove: 12-21 meters (40-70 feet), Corridor site, rocky walls with sea fans and reef tropicals, possible turtles, bat rays, and sea bass, suitable for experienced level divers
Chileno Bay: 12-24 meters (40-80 feet), Corridor site, small valleys between reef fingers, corals, sponges, and sea fans, a rich variety of reef tropicals and macro life including starfish and urchins, manta rays, sea bass, turtles, and nurse sharks, suitable for all levels of diver
Gordo Banks: 34-40 meters (110-130 feet), 13 kilometers (8 miles) offshore, seamount with a possibility of schooling hammerheads, whale sharks, huge mantas, massive shoals of Mobula rays, bull sharks, silky sharks, mako sharks, pelagics including sailfish, marlin, tuna and wahoo, schools of jacks and snapper, strong current possible, visibility is compromised during plankton blooms, suitable for experienced level divers
Things to Do in Cabo San Lucas (aside from scuba diving)
What a great tourist destination with something for everyone!  Culture, the outdoors, history, sports, nightlife – take your pick.  Here are some activities and sights to consider: Whale Watching, Playa del Amor, Playa del Divorcio, Playa del Chileno,  Museo de Historia Naturel, Sunsets, Jetskiing, Parasailing, Kayaking and Stand Up Paddleboarding, Local Food, Dancing at El Squid Roe, Day Trip to San Jose del Cabo, Cabo Wabo Cantina (owned by Sammy Hagar), Sailing Cruise, Fishing Charter, Outback Camel Safari, Shopping on Luxury Avenue, Nightlife, Seals at the Marina, Walking Tour of Cabo San Lucas, Mount Solmar, Parroquia de San Lucas, Hot Springs, Golf, Off-Road Tours, and Todos Santos (village).
This video provides a nice glimpse.
Air – Flight to Los Cabos International Airport (SJD) is the most convenient way for most to get to Cabo.  International flights use Terminal 1 and domestic, air taxi, and private charters use Terminal 2.  The airport is 30-45 minutes from town.  Buses, airport shuttles, and taxis are available for this service.
Land – Mexico Highway 1 runs all the way from Tijuana to Cabo.
Regional Bus service is available to connect to San Jose and La Paz.
Taxis are available in town.
Rental Cars – Many agencies are in operation.
Cruise Ships anchor offshore and require a 10-15 minute boat ride into Cabo.
For further details on transportation and other tourist tips, please go to Wikitravel – Cabo San Lucas.
Hotels and Diving – There are several hundred lodging options in Cabo San Lucas starting at $15 per night.  Several dozen dive shops in the area offer a full range of services that include equipment rental, diving certification classes, dive guides, and boat tours.  Many are within or associated with lodging.  The website linked below has the details and can arrange a booking for the lodging.  You can easily find the location on the map provided on their site.  The rates are guaranteed to be the lowest and it is free to cancel or change dates.
Photography in Cabo San Lucas
With the colorful coral reefs, a variety of reef tropicals, macro critters, sharks, rays, pelagics, sea lions, whales, and scenic shoreside targets, as well, there are many excellent photo opportunities.  For information and reviews of dive cameras, click here:
A cushion for emergencies provides peace of mind when on vacation.  I recommend this diving insurance as they have worldwide coverage and give scuba divers a quality insurance and medical assistance service.
Feedback and Comments
I hope you found this post on Cabo San Lucas scuba diving interesting and useful. If you have any questions or ideas, please feel free to share them in the comments section.  I'd love to know of any experience you have.  If there is no comments section directly below, click here:  >>comments<<