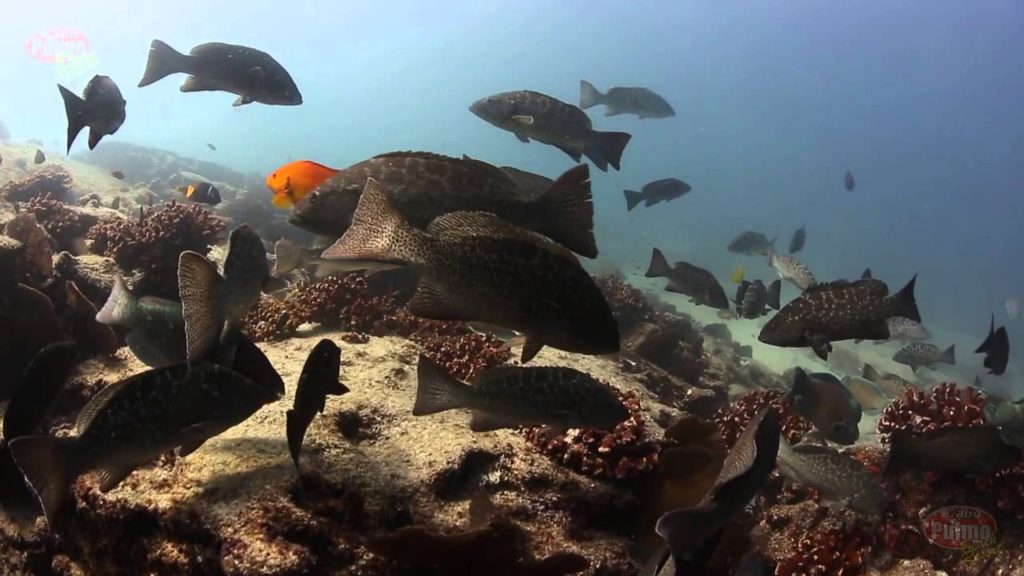 Updated June 13, 2021
This is the one hundred and thirtieth in a series of reviews of the best dive resort locations around the world.  In this post, the focus is on Cabo Pulmo, Mexico. In addition to this series on dive resort locations, the best worldwide liveaboard diving locations and services are reviewed in their own series.  To check them out, or others in this series, click on Liveaboards/Resorts on the menu at the top and choose a title from the list.
Have you been diving in Cabo Pulmo before?  If so, I'd love to know about your experience.  What dive shop or liveaboard did you use?  Which dive spots are the best and what are the conditions there regarding the visibility, current, water temperature, sealife attractions, etc.?  Please post your response in the comments section at the bottom and we'll all learn something we can use.
Cabo Pulmo National Park Diving Review
Background
Cabo Pulmo National Marine Park is situated on the east coast of the southern tip of Baja California 100 kilometers (62 miles) northeast of Cabo San Lucas, the more famous tourist destination.  Established as a national park in 1995, it has also been designated a UNESCO World Heritage Site (2005) and has the largest living coral reef on the Pacific side of North America.
Prior to becoming a protected national park, the seas were seriously overfished.  In the first decade of this millennium, surveyors determined that biomass increased by 400%.  You could say the park is a big win for environmentalists, Mexico, and the world.    Today there are massive schools of fish and spectacular megafauna.
With only 150 residents, a few restaurants, lodging options, campgrounds, and dive shops, it is a relaxed natural vacation and diving destination.
This article (Wikipedia – Cabo Pulmo National Marine Park) has more history and information regarding Cabo Pulmo.
Undersea World
The subsea topography is made up of massive rock ridges or fingers running parallel to the shoreline covered in a reef of hard and soft corals, gorgonians, sponges, and other invertebrates.  A sort of C-shaped indentation that is not quite a bay forms a protected area where current is minimal.  Outside of the C, the current is often present and can get strong.
More than 10 sites including two shipwrecks are nearby with some accessible from shore.
There are a fair number of macro critters making the rocky reef their home including lobster, shrimps, nudibranchs, moray eels, and octopus.
Massive schools of jacks, snapper, goatfish, porkfish, reef tropicals, and bait balls move through all levels and around outcrops.
From December through March humpback and grey whales, and Mobula rays are often spotted.  August to November is the season for whale sharks.
Other highlights are large masses of grouper, bull sharks, green, leatherback, and hawksbill turtles, the occasional manta ray, cow-nosed rays, eagle rays, stingrays, bullseye rays, sea lions, dolphins, and garden eels.
At times the volume of fish is miraculous and it's no wonder it was such a popular fishing area prior to becoming a protected marine park.
For my reviews of the diving in several other great Baja destinations and the Socorro Islands, please check these popular articles:
Seasons and Conditions
Diving is good all year in Cabo Pulmo.
Average daily air temperature highs reach 34°C (93°F) in August and dip to 25°C (77°F) in January.
Water temperature can get to lows of 19°C (66°F) in January and potential highs of 29°C (84°F) in July meaning that a 5-7mm wetsuit with hood and gloves may be needed when the water is at the coldest.
The climate is very dry with a rainier season from August through October.
Visibility runs from 6 to 30 meters (20 to 100 feet) with the plankton bloom in the winter moving it toward the bottom of the range.  Most of the year visibility is 15 meters (50 feet) or better.
Inside the "C" currents are generally mild to nonexistent.  Outside there is often current that can get strong.  In the winter increased winds can make surface conditions rough.
Cabo Pulmo has sites and conditions suitable for all levels of diver.  Several dive shops are in the park offering the full range of diving coursework, equipment rental, guiding, and boat cruises.  Dive shops in Cabo San Lucas and San Jose will also do day trips to Cabo Pulmo
Mexican Liveaboard Diving
There are a number of great premium service liveaboard yachts cruising the area near Cabo Pulmo.  Here is my review on Baja California liveaboards and links to several of the liveaboard vessels diving around or near Cabo Pulmo: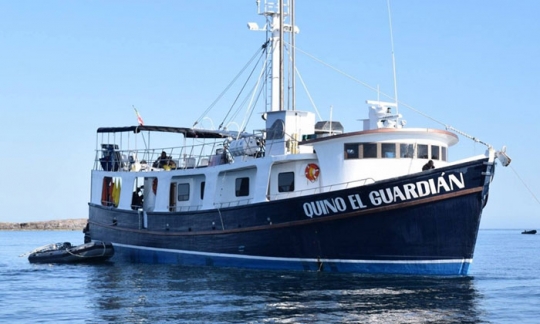 Quino el Guardian – Check the Price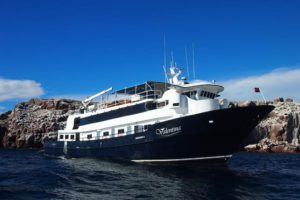 MV Valentina – Check the Price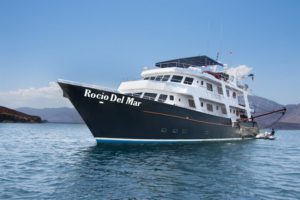 Rocio Del Mar – Check the Price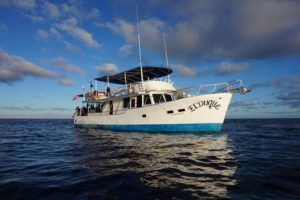 Selected Cabo Pulmo Dive Sites
El Bajo: 15 meters (50 feet), 800-meter (half a mile) long reef that is 20-30 meters (68-100 feet) wide, highlights are lots of reef tropicals, turtles, garden eels, moray eels, leopard groupers, schools of pufferfish (believe it or not), several species of schooling snappers, porkfish, and grunts, in winter are thousands of Mobula rays, stingrays, guitarfish, huge schools of jacks, and, humpback whales, and whale sharks come in the fall, suitable for all levels of diver
Los Morros: 15 meters (50 feet), just north of El Bajo, patches of reef with sandy bottom in between, garden eels, swarms of jacks, many groupers including the Goliath grouper, king angelfish, schools of snapper, bumphead parrotfish, green moray eels, goatfish, strong currents possible, suitable for experienced level divers
El Cantil: 6-15 meters (20-50 feet), many nooks and crannies, tunnels, canyons, and caverns, rich corals in the shallow areas, moray eels, nudibranchs, urchins, wrasses, parrotfish, snappers, grunts, goatfish, big groupers, jacks, amberjacks, and reef sharks, strong current is possible, suitable for all levels of diver
El Vencedor Wreck: 15 meters (50 feet), 27-meter (90-foot) tuna trawler sunk in 1978 after running into the reef, hull has collapsed, holds, rigging, nets, and other superstructure is on the sand bottom, schools of pufferfish, big moray eels, garden eels, sardine balls in the fall, resident schools of grunts and snapper, and bull sharks, current is possible, suitable for all levels of diver
La Esperanza: 21 meters (70 feet), less coral, rocky outcrops, highlights include amberjacks, bull jacks, tuna, dog snappers, lots of small reef fish, less current than the outer sites, suitable for experienced divers
Mario's Reef: 30 meters (100 feet), corals not as rich at that depth, fish highlights include big grouper, dog snapper, bull and nurse sharks, strong current possible, suitable for experienced level divers
El Islote: 18 meters (60 feet), small rocky island, rich in hard corals and sea fans, has a wall to a bottom of boulders at 18 meters (60 feet), many nooks and crannies for lobster, crabs, sea spiders, scorpionfish, and other macro critters, balls of sardines followed by snapper, grouper, pompano, and other pelagics, and hawksbill turtles, suitable for experienced level divers
Sea Lion Colony (Frailes Rock): 3-18 meters (10-60 feet), rocky bottom moving out from shore, several dozen sea lions live here, juveniles follow and interact with divers, lots of fish including surgeonfish and reef tropicals, with eagle rays, mackerel, tuna, dorado, wahoo, big grouper, and Cabrilla sometimes sighted, suitable for all levels of diver
Things to Do in Cabo Pulmo (aside from scuba diving)
As a marine park and with only 150 residents, Cabo Pulmo is a fairly low-key vacation spot.  There are only a few restaurants and stores but the outdoor activities are more than enough.  Snorkeling, kayaking, beachcombing, camping, mountain biking, and trekking are all favorites if diving isn't enough for you.  Outside the marine park boundaries, the fishing is good, as well.  If you are looking for a night on the town you can head over to San Jose or Cabo San Lucas.
Cabo Pulmo Transportation, Hotels, & Diving Services
Transportation
Air – Flight to Los Cabos International Airport (SJD) is the most convenient means of transit for most to Cabo Pulmo.  International flights use Terminal 1 and domestic, air taxis, and private charters use Terminal 2.  The airport is 30-45 minutes from Cabo San Lucas and around 10 minutes from San Jose.  Buses, airport shuttles, and taxis are available to take you to those locations.  If your housing destination is La Ribera, a relatively short distance from the marine park, a private transport service is available at the airport for the 30-minute trip.
Rental Cars and Private Transportation Service are the most convenient ways to get you and your gear and baggage from Cabo San Lucas or San Jose to the Marine Park, both available in town or the airport.
Hotels and Diving
In Cabo Pulmo accommodation consists of several campsites, some basic housing, and a few better quality rooms.  There are more than a hundred lodging options in San Jose from $34 and seven at last count in La Ribera starting at $55 per night.
Several dive shops in Cabo Pulmo are in operation offering a full range of services that include equipment rental, diving certification classes, dive guides, and boat tours.
Dive shops in San Jose and Cabo San Lucas also make land-based day trips to the Cabo Pulmo Marine Park.
The website linked below has the details and can arrange a booking for the lodging in San Jose and La Ribera.  You can easily find the location on the map provided on their site.  The rates are guaranteed to be the lowest and it is free to cancel or change dates.
Photography in Cabo Pulmo
With the colorful coral reefs, a variety of reef tropicals, macro critters, bull sharks, rays, pelagics, sea lions, whales, and scenic shoreside targets, as well, there are many excellent photo opportunities.  For information and reviews of dive cameras, click here:
Scuba Diving Trip Insurance
A cushion for emergencies provides peace of mind when on vacation.  I recommend this diving insurance as they have worldwide coverage and give scuba divers quality insurance and medical assistance service.
Feedback and Comments
I hope you found this post on Cabo Pulmo scuba diving interesting and useful. If you have any questions or ideas, please feel free to share them in the comments section.  I'd love to know of any experience you have.  If there is no comments section directly below, click here:  >>comments<<