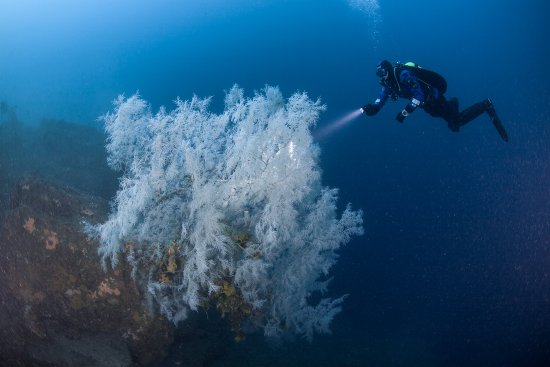 Updated March 18, 2022
This is the forty-fourth in a series of reviews of the best dive resort locations around the world.  In this post, the focus is on Milford Sound, New Zealand.
In addition to this series on dive resort locations, the best worldwide liveaboard dive locations and services are reviewed in their own series.  To check them out, or others in this series, click on Liveaboards/Resorts on the menu at the top and choose a title from the list.
Have you ever been diving in Milford Sound before?  If so, I'd love to know about your experience.  What dive shop or liveaboard did you use?  Which dive spots are the best and what are the conditions there regarding the visibility, current, water temperature, sealife attractions, etc.?  Please post your response in the comments section at the bottom and we'll all learn something we can use.
Milford Sound Scuba Diving
Background
Milford Sound is situated in the southwest of New Zealand's South Island running 15 kilometers (9.375 miles) inland from the Tasman Sea at Dale Point.
The most famous tourist destination in New Zealand, it is in Fiordland National Park and Piopiotahi (Milford Sound) Marine Reserve and has also been designated a World Heritage Site.
Like all fiords, it was formed through glaciation and has sheer rock faces on both sides rising to 1,200 meters (3,900 feet) with two permanent major waterfalls, Lady Bowen Falls and Stirling Falls.
It is the wettest place in the country and on occasion gets 250 mm (10 inches) of rain in a 24 hour period, with 6,412 mm (252 inches) annually.
550,000 to 1 million visitors come each year for water sports and exploration of the natural scene which includes seals, sea lions, bottlenose dolphins in the south end of their range, humpback, and southern right whales, and Fiordland penguins which nest on the shoreline.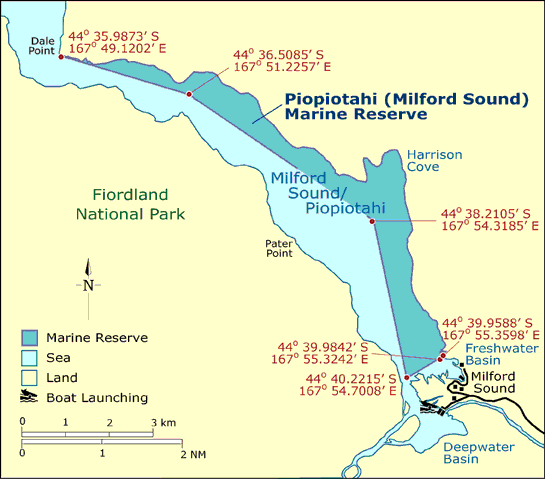 Underwater Scene
With so much rainfall there is a tremendous amount of runoff with tea-colored tannin from the vegetation and soil that leaves a cloudy cold layer of freshwater on the surface of the Sound which ranges from 2-6 meters (6-20 feet) thick.  This blocks out the sun to the extent that algal growth is restricted and allows deep water or light avoiding species to flourish in much shallower depths.
Black coral, often seen at depths greater than 100 meters (350 feet) thrives in as shallow as 10 meters (35 feet) in Milford Sound.  Red coral (actually a hydrocoral), another deepwater species, can be seen in only 15 meters (50 feet) of depth.  Other deepwater species on display in shallower water are sandpaper fish and spiny sea dragons.
Approximately 160 species of fish live in Milford Sound to take advantage of this unique environment.  Macro photographers can delight in a huge range of colorful targets including saucer sponges, tube anemones, octopus, crayfish, tubeworms,  tunicates, sea stars, crinoids, brittle stars, nudibranchs, and sea pens, to name but a few.
Other fascinating creatures include electric rays, spiny dogfish, wrasses, jock stewarts, blue cod, tarakihi, splendid perch, blue-dot triplefins, copper mokis, stingrays, seven-gilled sharks, and the aforementioned seals, sea lions, cetaceans, and penguins.  There is also a lot of a smaller variety of kelp.
The northern portion of the fiord covering 690 acres, as demonstrated on the map below, comprises the Piopiotahi (Milford Sound) Marine Reserve.
The steep walls along the edge of the fiord continue below the surface reaching depths to 200 meters (650 feet).
Most dives are in the 10-20 meter (35-65 foot) range and do not need to extend below 40 meters (130 feet).
The dive shops usually dive at around 12 different sites.
Seasons and Conditions
The diving season in Milford Sound is from October through May.
Air temperatures vary slightly during that season from 10-15°C (50-60°F).
Water temperatures typically are 8°C (45°F) on the cooler freshwater surface band and 12-14°C (54-57°F) at depth.  This is cold enough for a 7 mm wetsuit or a drysuit and hood and gloves.  About one-half of all days have some rain.
Visibility at depth ranges from 8-30 meters (25-100 feet) but is usually from 10-12 meters (35-40 feet).
There are dive sites suitable for all levels. Descend Dive Milford Sound is the top dive shop and offers training from Open Water Diver through Divemaster and a number of specialties.  This would be an excellent location to do a drysuit specialty.
Most people do not stay at Milford Sound and will be required to climb to 945 meters (3,100 feet) on Milford highway heading back to their hotels in Te Anau or Queenstown.  Please keep that in mind in planning a surface interval before the ascent.
For descriptions and reviews of the full range of gear suitable for cold water, please click here:
South Pacific Liveaboards
There is not a liveaboard available that cruises New Zealand dive sites, but there are boats that go to French Polynesia, the Solomon Islands, Fiji, and Papua New Guinea.  Here are my reviews and links to those liveaboards: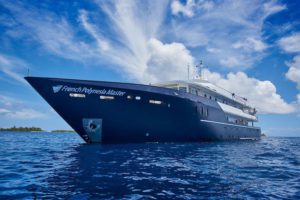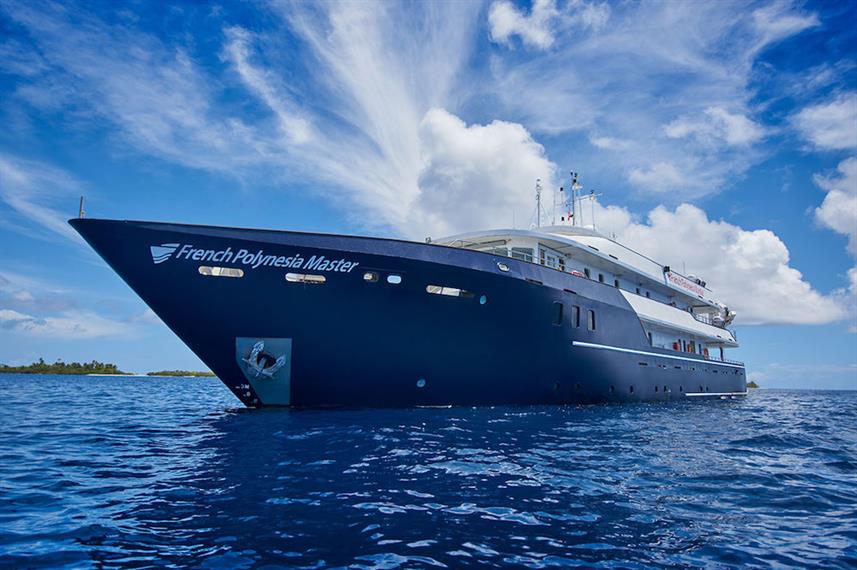 French Polynesia Master, French Polynesia Liveaboard – Check the Price & Details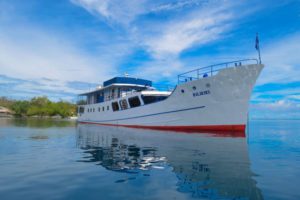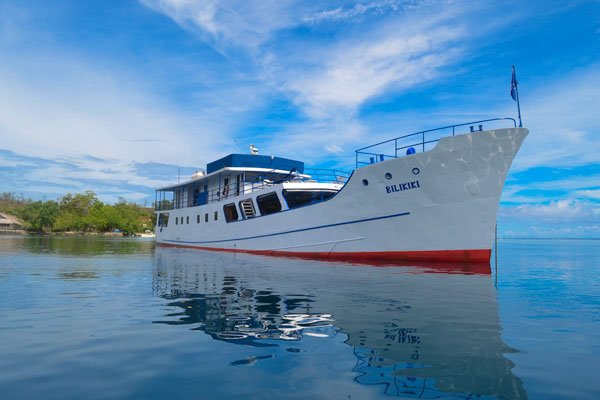 Bilikiki, Solomon Islands Liveaboard – Check the Price & Details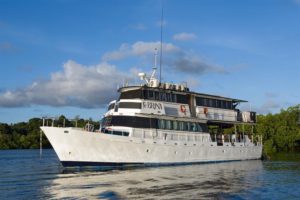 MV Febrina, Papua New Guinea Liveaboard – Check the Price & Details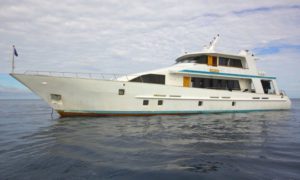 Fiji Aggressor, Fiji Liveaboard – Check the Price & Details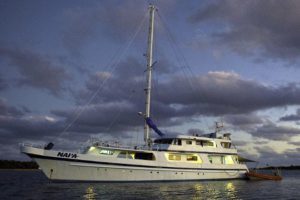 Nai'a, Fiji & Tonga Liveaboard – Check the Price & Details
Here are my reviews of other New Zealand and South Pacific diving destinations:
Milford Sound Photos
With the interesting underwater terrain, kelp, black coral, macro life, rays, sharks, colorful reef fish, sea lions, penguins and cetaceans, and fascinating scenic landscapes of mountains and waterfalls, there are many excellent photo opportunities.  For information and reviews of dive cameras, click here: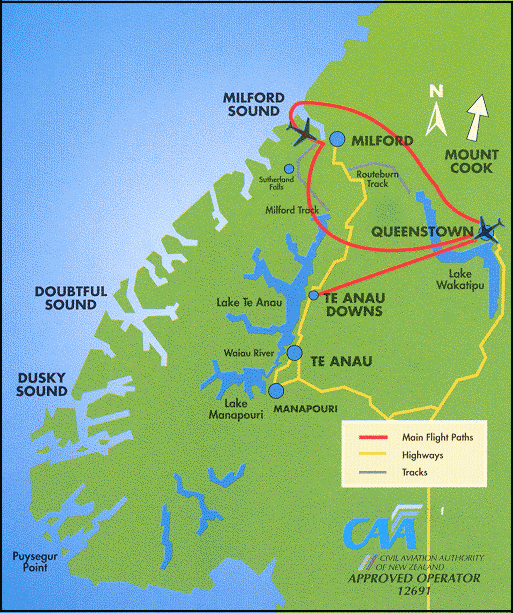 Milford Sound Transportation, Diving Services, and Lodging
Transportation
Domestic airlines have regular service to Queenstown.  From there the scenic drive to Te Anau takes 2 hours and all the way to Milford is 4 hours. Car rental is common and there are also Intercity and private bus services.  A domestic flight to Te Anau takes 40 minutes.
Diving Services
The most professional dive shop providing services at Milford Sound is Descend Dive Milford Sound.  They offer a full range of services including equipment rental, dive courses, guiding, and boat dive cruises.  Booking in advance through their website is advised.
Lodging
Accommodation is extremely limited once you reach Milford Sound.  However, hundreds of resorts, hotels, and hostels are available in Queenstown and Te Anau from $16 to $1,944 per night.
The website linked below is a good source for the available options and can arrange the booking.  Their rates are the lowest and it is free to cancel or change dates.
Milford Sound Things to Do (aside from scuba diving)
The scenic drive from Queenstown through Te Anau to Milford is an attraction in itself.  After arrival, it is all about site seeing and the different ways to accomplish it.  Kayaking and hiking are popular.  There is an underwater observatory. Helicopter tours and a variety of Milford Sound boat tours are available to take in the steep walls, mountain peaks, waterfalls, and interesting animal life like seals, whales, dolphins, penguins, and kea parrots.  Take a look at the video below for an audio-visual taste of the options.
Scuba Diving Trip Insurance
A cushion for emergencies provides peace of mind when on vacation.  I recommend this diving insurance as they have worldwide coverage and provide scuba divers quality insurance and medical assistance service.
Feedback and Comments
I hope you found this post on Milford Sound scuba diving interesting and useful. If you have any questions or ideas, please feel free to share them in the comments section.  I'd love to know of any experience you have diving there.  If there is no comments section directly below, click here:  >>comments<<