We may earn money or products from the companies mentioned in this post.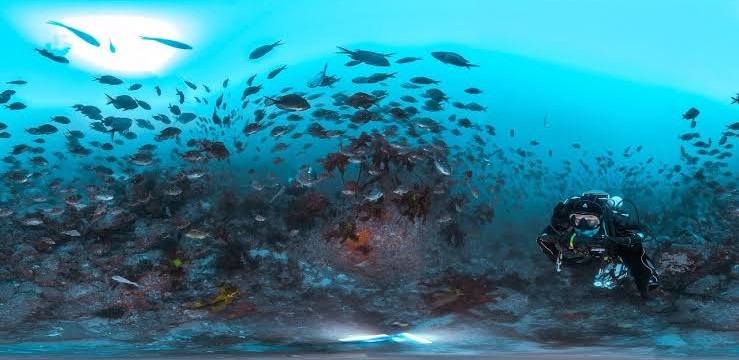 This is the one hundred and ninetieth in a series of reviews of the best diving destinations around the world.  In this post, the focus is on Bay of Islands, New Zealand. In addition to this series on diving destinations, the best worldwide liveaboard diving locations and services are reviewed in their own series.  To check them out, or others in this series, click on Liveaboards/Resorts on the menu at the top and choose a title from the list.
Have you ever been scuba diving in Bay of Islands before?  If so, I'd love to know about your experience.  What dive shop or liveaboard did you use?  Which dive spots are the best and what are the conditions there regarding the visibility, current, water temperature, sealife attractions, etc.?  Please post your response in the comments section at the bottom and we'll all learn something we can use.
Scuba Diving Bay of Islands New Zealand
Background – Bay of Islands is a drowned valley system and natural harbor that is 16 kilometers (10 miles) wide and consists of 144 islands.  Located in the Far North District of the North Island of New Zealand, it is 60 kilometers (37 miles) from the northern tip at Cape Reinga and 210 Kilometers (130 miles) from the nearest major city of Whangarei.  The biggest town in the area is Kerikeri with a population of 7,000, and the regional airport nearby.  The largest town on the water and top tourist target is Paihia with around 2,000 residents.
Maori peoples arrived by sea to Bay of Islands 700 years ago where it is a stronghold for them today.  Captain Cook arrived in 1769 with missionaries, sealing, and whaling following in the 19th century.  Today tourism is a major driver of the economy with agriculture, aquaculture, forestry, and education part of the mix.
For further demographic, historic, geographic, and cultural information, please check Wikipedia-Bay of Islands.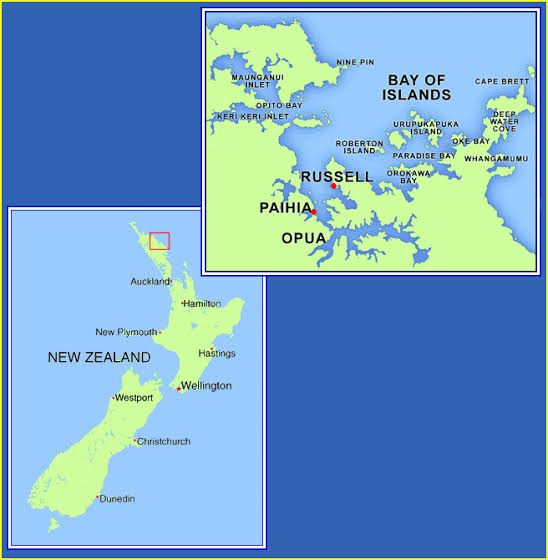 Undersea World – Bay of Islands is in a location where it can reap the benefits of the East Auckland Current (part of the East Australian Current system) that has created conditions suitable for warmer water more tropical marine life that blends with cooler water varieties.
The largely volcanic terrain of boulders, rocks, walls, caverns, caves, crevices, and swim-throughs has a nice combination of cooler water corals and sponges to go with forests of 1.5-meter tall kelp and a variety of other plants.
This provides an excellent habitat for macro critters like nudibranchs, tunicates, banded coral shrimp, octopus, big scorpionfish, five species of moray eel, and crayfish.  Fish highlights include gold-ribbon and toadstool groupers, Kermadic scalyfins, green wrasses, bannerlings, pufferfish, filefish, snappers, butterfly perch, schools of kahawai, banded perch, giant boarfish, John Dories, trevallies, mackerel, marlin, the possibility of bronze whaler, mako, and blue sharks, and huge short-tail rays with up to 3-meter wingspans and weighing 300 kilograms.  In addition, dolphins and penguins are often seen, sea lions accompany divers in some locations, and there are two excellent major wrecks in the Rainbow Warrior and HMNZS Canterbury.
Seasons and Conditions – Diving is possible all year in the Bay of Islands.
Air temperature average daily highs reach 24°C (75°F) in February and dip to 15°C (59°F) in July.
The water temperature hits highs of 22°C (2°F) in summer and lows of 15°C (59°F) in winter.  Divers should plan on using a 7mm wetsuit or drysuit with hood and gloves in winter.  In summer 5mm of insulation is probably enough.
There is 1,500-2,000mm (59-79 inches) per year of precipitation (rain and snow) with the heaviest in June through August.
Currents are often mild but can become strong on some sites depending on the wind and season.
Visibility is usually around 15-20 meters (50-68 feet).  It can extend to 40 meters (130 feet) in late summer when east winds blow clear ocean water onto the coast.
There are sites suitable for all levels of diver and several dive operations in Bay of Islands that offer full services including equipment rental, dive courses, guiding and boat dive cruises.
For information on cold water scuba gear, please check my post:
South Pacific Liveaboards
There is not a liveaboard available that cruises New Zealand dive sites, but there are boats that go to French Polynesia, the Solomon Islands, Fiji, and Papua New Guinea.  Here are my reviews and links to those liveaboards: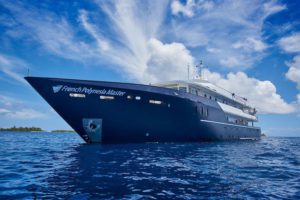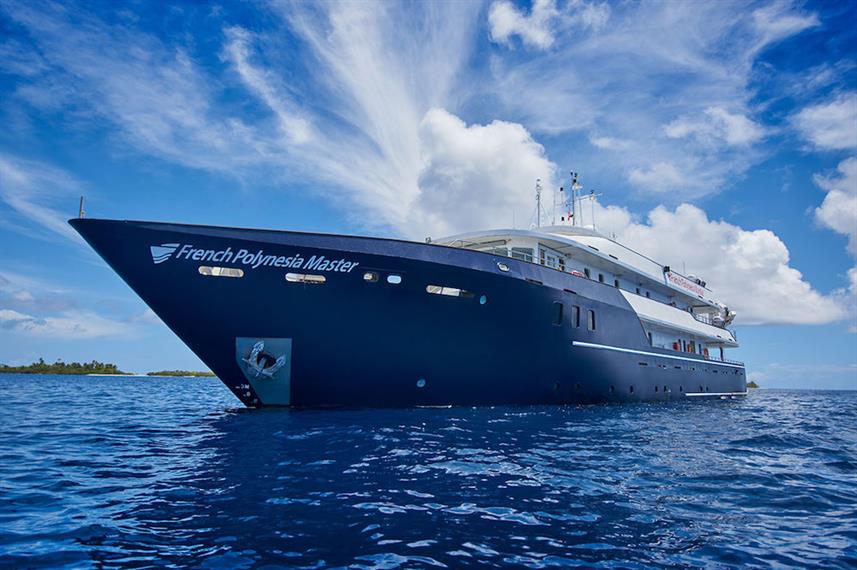 French Polynesia Master, French Polynesia Liveaboard – Check the Price & Details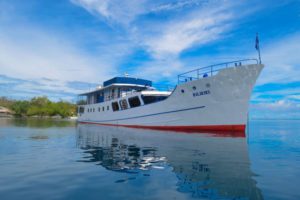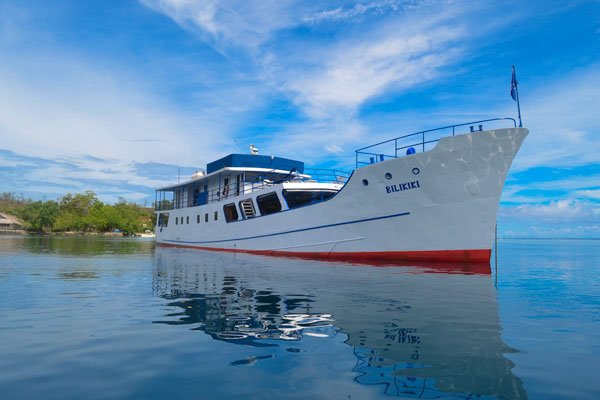 Bilikiki, Solomon Islands Liveaboard – Check the Price & Details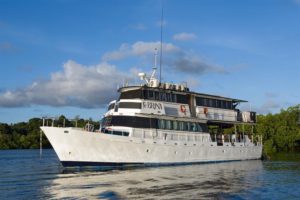 MV Febrina, Papua New Guinea Liveaboard – Check the Price & Details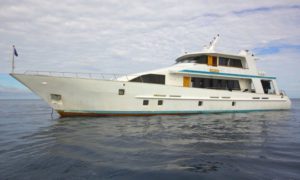 Fiji Aggressor, Fiji Liveaboard – Check the Price & Details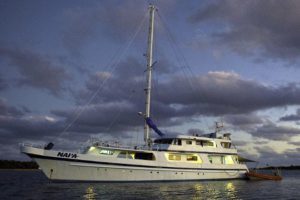 Nai'a, Fiji & Tonga Liveaboard – Check the Price & Details
Here are my reviews of other New Zealand and South Pacific diving destinations:
Selected Bay of Islands Dive Sites
Black Rocks: 15 meters (50 feet), lots of schooling fish in summer, butterflyfish, and small crayfish in the nooks and crannies, sheltered but strong winds and rain can decrease visibility, suitable for all levels
Howe Point: 15 meters (50 feet), kelp forests and invertebrate encrusted reef patches, look for crayfish, snappers, and schools of kahawai and mackerel in the warm months, easterly and southerly winds can cause surface swells, suitable for all levels
Tikitiki (Nine-Pin) Island: 5-30 meters (16-100 feet), walls, crevices, and caves with rich encrustation of invertebrates, nudibranchs, crayfish, schools of pelagics possible, strong north winds can create swells and chop, currents can be strong, suitable for experienced levels
Okahu Island (Redhead): 5-24 meters (16-80 feet), good site for crayfish and schools of trevally, kahawai, and mackerel, with banded perch, giant boarfish, and John Dories, easterly swells and strong current possible, suitable for experienced levels
Urupukapuka Island: several sites around the island, one area has a scallop bottom, another has a deep pinnacle with swells, current, and pelagics like kingfish, in other spots look for crayfish, sites suitable for beginners and experienced levels
Bird Rock: 10-35 meters (33-115 feet), walls with macro critters like nudibranchs, crayfish, and banded coral shrimps in the nooks and crannies, strong currents bring schooling fish and pelagics with the occasional marlin, bronze whaler, mako, or blue shark in pursuit, northerly winds and easterly swells are possible, suitable for advanced levels
HMNZS Canterbury Wreck: 14-37 meters (46-121 feet), Navy Frigate scuttled in Deep Water Cove in 2007 to become an artificial reef, resting upright and intact, richly encrusted in kelp, corals, and sponges, lots of fish, the upper deck, bridge, and first floor levels are accessible to all levels, penetration of the bridge into the helicopter hanger at 27 meters (90 feet) is possible, suitable for all levels depending on penetration and depth
Rainbow Warrior Wreck: 27 meters (90 feet), Greenpeace flagship sunk by French Intelligence in 1985, refloated and scuttled in Matauri Bay in 1987, well encrusted in kelp, coral, and sponges, highlights include jewel anemones, moray eels, crayfish, John Dories, and kingfish, currents are usually mild, visibility is best in summer, suitable for experienced levels
Bay of Islands Lodging, Transportation, and Dive Shops
Air – Kerikeri Airport serves the Bay of Islands region with a 45-minute connecting flight to Auckland on Air New Zealand.  Taxis and shuttles are available at the airport to nearby towns.  Check with your hotel for the most convenient service.
Road – State Highway 1 runs along the coast northward from Auckland.  Intercity (bus service) has a number of departures daily for trips between Auckland and Bay of Islands.  Travel time is 3.5 hours or more.  A number of tour buses are also available.
Ferries – Several operators run regular ferries from Paihia Wharf to Russell.
For further details on transportation and tourist information, please check Wikitravel-Bay of Islands.
Lodging and Dive Shops – There are several dive operations in the town of Paihia in the Bay of Islands area that offer full services including equipment rental, dive courses, guiding and boat dive cruises.  A couple of other organizations run diving tours from offices in more outlying towns.  The lodging options in the bay area range from $63 to $310 per night.  The website linked below has the details and can arrange the booking for accommodations.  You can easily find the location on the map provided on that site.  Their rates are guaranteed to be the lowest and it is free to cancel or change dates.
Things to do in Bay of Islands (aside from scuba diving)
There are several interesting towns, intriguing indigenous culture, and history, wonderful scenic beauty and heaps of outdoor activities in the Bay of Islands.  Here are some sights and activities to consider:
Pompallier Mission and Printery, Rainbow Falls, The Parrot Place, Waitangi Treaty Grounds, Flagstaff Hill, Pahia Harbor, Urupukupuku Island, Manginangina Kauri Walk, Christ Church, The Stone Store and Kemp House, Hururu Falls, Waitangi River Tour on a Traditional Maori Waka, Dolphin Cruise, Glow Worm Caves, Tall Ship Sundowner Sailing, Hole in the Rock, Puketi Rainforest Walk, V8 Trike Tours, Jeep Forest Safari, Kiwi Bird Experience, Wine Tour, Mountain Bike Tour Skydiving, Parasailing, Kayaking, Museum in the old Memorial Library, Ninety Mile Beach, Cape Reinga, Mangungu Mission House, Wairere Boulders, Omahuta Kauri Sanctuary, Pubs, Bars, Restaurants.
This short video is a nice introduction to what is in store in the Bay of Islands.
Photography in Bay of Islands, New Zealand
With the interesting undersea terrain, giant kelp, plants, variety of fish, octopus, sea lions, penguins, dolphins, sharks, stingrays, wrecks, stunning land and seascapes, and town scenes, there are many excellent photo opportunities.  For information and reviews of dive cameras, click here:
Scuba Diving Trip Insurance
A cushion for emergencies provides peace of mind when on vacation.  I recommend this diving insurance as they have worldwide coverage and provide scuba divers a quality insurance and medical assistance service.
Feedback and Comments
I hope you found this post on scuba diving in Bay of Islands, New Zealand interesting and useful. If you have any questions or ideas, please feel free to share them in the comments section.  I'd love to know of any experience you have.  If there is no comments section directly below, click here:  >>comments<<