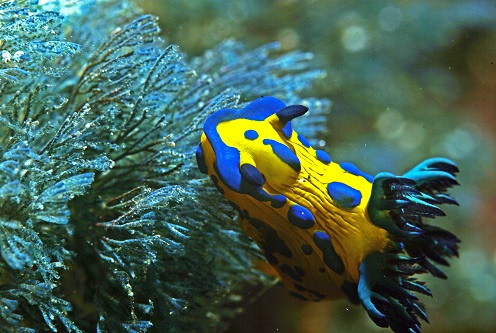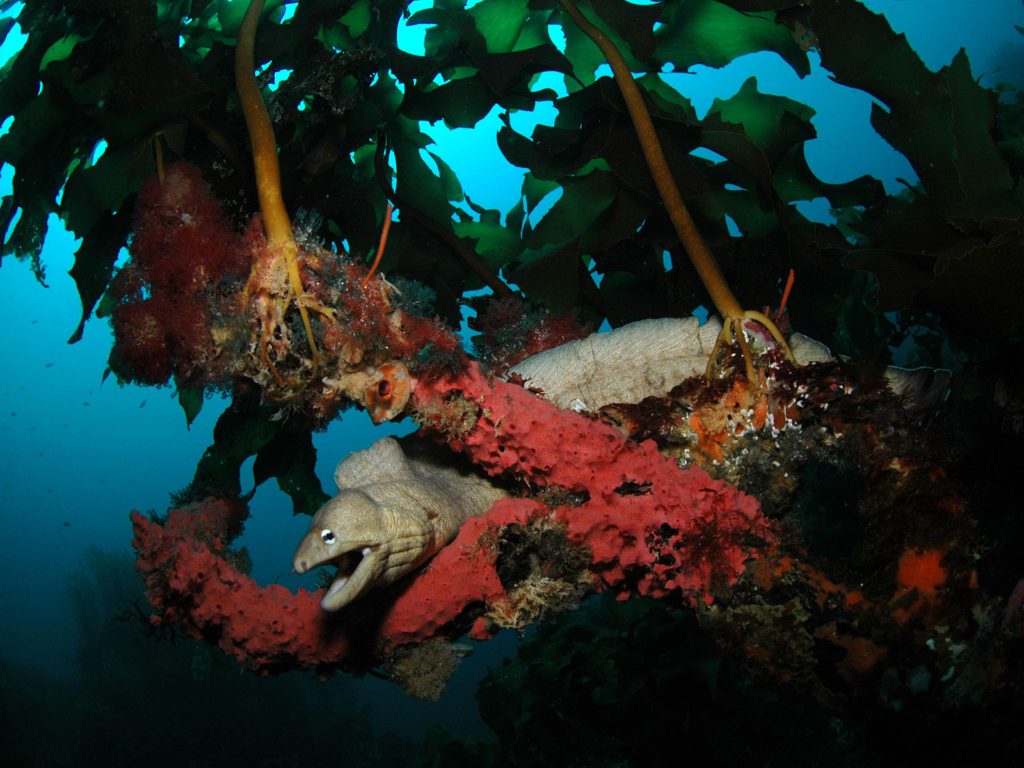 Updated June 19, 2021
This is the thirty-second in a series of reviews of the best scuba diving destinations around the world.  In this post, the focus is on the Poor Knights Islands, New Zealand.
In addition to this series on dive resort locations, the best worldwide liveaboard dive locations and services are reviewed in their own series.  To check them out, or others in this series, click on Liveaboards / Resorts on the menu at the top and choose a title from the list.
Have you ever been diving on the Poor Knights Islands before?  If so, I'd love to know about your experience.  What dive shop or liveaboard did you use?  Which dive spots are the best and what are the conditions there regarding the visibility, current, water temperature, sealife attractions, etc.?  Please post your response in the comments section at the bottom and we'll all learn something we can use.
Poor Knights Islands Diving – Best Diving in New Zealand
Location
Situated 24 km (15 miles) offshore from Tutukaka on the northeast coast of the North Island of New Zealand are the Poor Knights Islands.  The two main islands and several smaller ones are volcanic in origin and up until the 1800s had a population of Maoris.  Today they are uninhabited and at the center of a 2,400-hectare marine reserve created in 1981.
Undersea World
Reflecting volcanic origins, the seabed has a unique combination of walls, arches, boulders, pinnacles, and caves.  This undersea topography, in combination with a mixture of warm water currents coming from the east, with cooler water from the west, has resulted in very atypical flora and fauna for this latitude.
Plant and invertebrate life are bodaciously colorful and diverse with red and green algae, kelp forests, numerous species of nudibranch, hydroid trees, tunicate colonies, anemones, gorgonians, finger and golf ball sponges, starfish, and urchins.  Poking their heads out of nooks and crannies are the likes of blennies, gobies, triple fins, lizardfish, and yellow and speckled moray eels.
Schooling fish include trevallies, snappers, kingfish, koheru. demoiselles, and pink and blue maomaos to go along with an impressive list of other fish, highlights of which include John Dories, toadstool, and black spot groupers, butterfly perch, Lord House coralfish, red moki, sharp-nosed puffers, leather jackets, pigfish, boarfish, sandagers, and green wrasses. In all, there are 125 species of fish.
Poor Knights Islands is also home to bull rays and long and short-tailed stingrays. In summer when the stingrays are mating, Orcas come and eat them, skillfully avoiding getting stung.  In addition, bronze whaler sharks are also often sighted.
Jacques Cousteau rated Poor Knights Islands in the world's top 10 dive sites.
Seasons and Conditions
Winter air temperatures run from 12-17°C (54-64°F) and in summer rise to 22-30°C (71-80°F).
Correspondingly, water temperatures in winter are 14-16°C (57-61°F) and in summer rise to 20-23°C (68-73°F).  The rule of thumb is that divers will want at least a 3 mm wetsuit in summer and 5 mm in winter.
Most of the year visibility is quite good at 30 meters (100 feet) or more.  The plankton blooms with the warm water from September to January and at that time visibility dips to as low as 10-15 meters (35-50 feet).
For my reviews and information about cold water gear please click on the following post:
South Pacific Liveaboards
There is not a liveaboard available that cruises New Zealand dive sites, but there are boats that go to French Polynesia, the Solomon Islands, Fiji, and Papua New Guinea.  Here are my reviews and links to those liveaboards: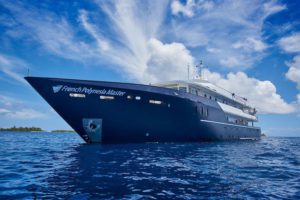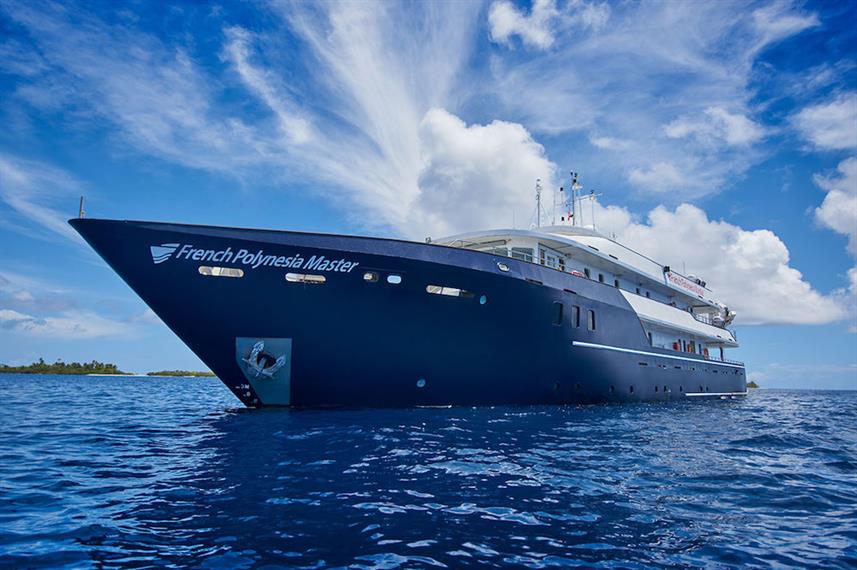 French Polynesia Master, French Polynesia Liveaboard – Check the Price & Details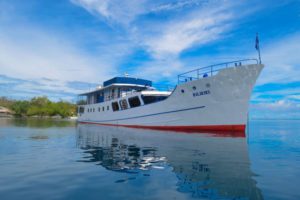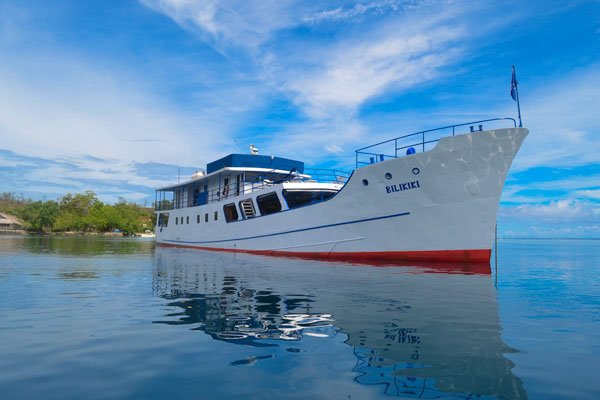 Bilikiki, Solomon Islands Liveaboard – Check the Price & Details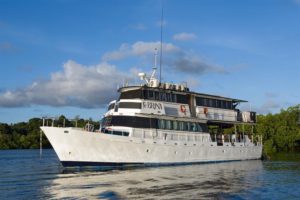 MV Febrina, Papua New Guinea Liveaboard – Check the Price & Details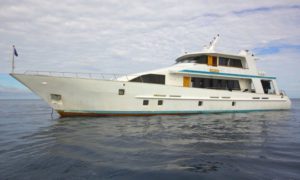 Fiji Aggressor, Fiji Liveaboard – Check the Price & Details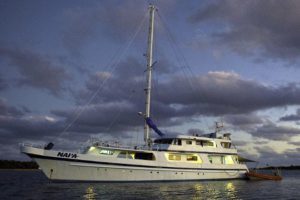 Nai'a, Fiji & Tonga Liveaboard – Check the Price & Details
Here are my reviews of other New Zealand and South Pacific diving destinations: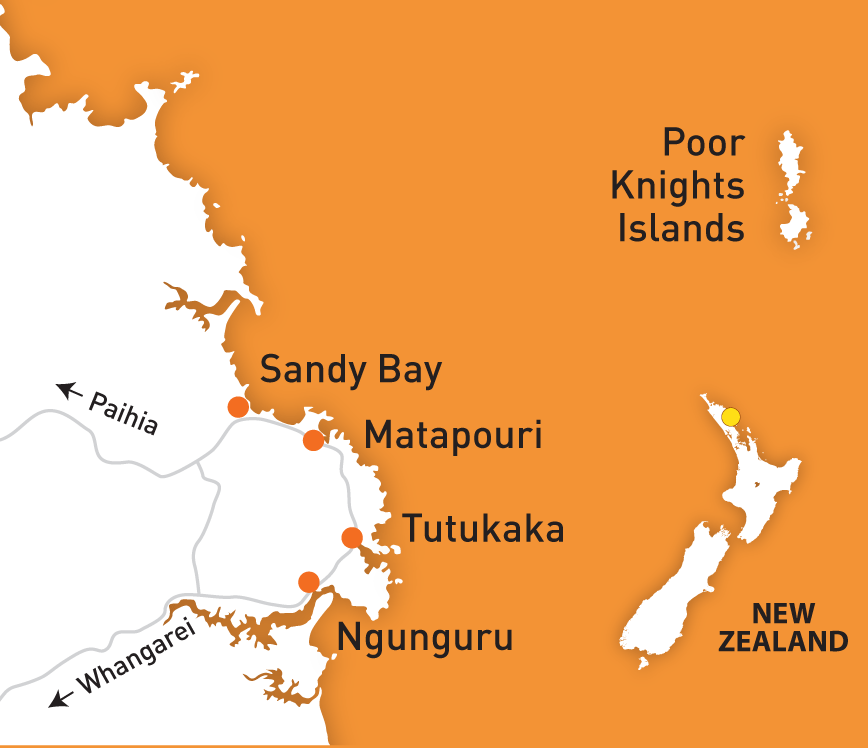 Selected Poor Knights Islands Dive Sites
Northern Arch: to 60 meters (200 feet), steep walls, a huge range of colorful invertebrates and fish, resident stingrays, 10-30 meter (35-100 feet) visibility, experienced level
Middle Arch: to 20 meters (66 feet), schools of demoiselles, moray eels, perch, grouper, Bernie's Cave is to the left, 10-30 meter (35-100 foot) visibility, all levels
Red Baron Caves: to 25 meters (82 feet), arches and rocky outcrops, very colorful hydroids, sponges, anemones, corals, nudibranchs, 10-30 meter (35-100 foot) visibility, all levels
Nursery Cove: to 18 meters (60 feet), many juvenile fish, good for snorkeling, "The Labyrinth" is off the southern point, 10-30 meter (35-100 foot) visibility, all levels
Blue Maomao Arch: to 18 meters (60 feet), schooling blue maomaos in the east entrance, sunlight filtration for beautiful visual effect, 10-30 meter (35-100 foot) visibility, all levels
Rikoriko Cave: 130 meters (425 feet) long, 80 meters (260 feet) wide, 26 meters (85 feet) maximum depth, largest sea cave in the southern hemisphere, boulders on the floor, kelp forests, giant snappers, groupers, moray eels, unique plant life, interesting mixture of day and night species of fish, 15-25 meter (50-83 foot) visibility, dozens of dive sites around the cave, good night dive, experienced level
Hen and Chicken Island: to 25 meters (82 feet), many nudibranchs and stingrays, 30+ meter (100+ foot) visibility, beginner level
Landing Bay Pinnacle: to 45 meters (148 feet), pinnacle from 5 meters (15 feet) down, 10-30 meter (35-100 foot) visibility, advanced level
Maomao Arch: to 20 meters ( 66 feet), schools of maomaos and demoiselles, 10-30 meter (35-100 foot) visibility, all levels
Sand Garden: to 20 meters (66 feet), 10-30 meter (35-100 foot) visibility, all levels
Tutukaka Transportation, Dive Services, & Lodging
Transportation
Whangarei Airport is the nearest domestic airport.  From there, taxi, shuttle, and car rental services are available for the 33 km (21-mile) trip to Tutukaka.
Auckland is a 2.5-hour drive from the north and the Bay of Islands is a 1-hour drive to the south.
Diving
There are several dive shops in Tutukaka.  These two come highly recommended:
Dive! Tutukaka
Yukon Dive
Lodging
Several hotels are available in Tutukaka starting at $80/night.  This website can introduce them and arrange a booking:
Things to Do in Tutukaka (aside from scuba diving)
Only around 25 people live in Tutukaka, but with the 80,000 in the Whangarei District and tourists, a quaint village has been developed to enjoy.  The Tutukaka coastline has beautiful pristine white sand beaches and rocky areas great for hiking and exploring.  Seaside activities like surfing, kayaking, cruising, fishing, and boating are popular.  There are seafood and pizza restaurants.  Shops include those selling sporting gear and clothing, and arts and crafts. Several wineries are also nearby.
Poor Knights Island Photos
With the dozens of dive sites, macro life, colorful, diverse reef life, lots of fish, and scenic shore-side environment, there are many excellent photo opportunities.  For information and reviews of diving cameras, click here:
Scuba Diving Trip Insurance
A cushion for emergencies provides peace of mind when on vacation.  I recommend this diving insurance as they have worldwide coverage and provide scuba divers quality insurance and medical assistance service.
Feedback and Comments
I hope you found this post on Poor Knights Islands scuba diving interesting and useful. If you have any questions or ideas, please feel free to share them in the comments section.  I'd love to know of any experience you have diving there.  If there is no comments section directly below, click here:  >>comments<<