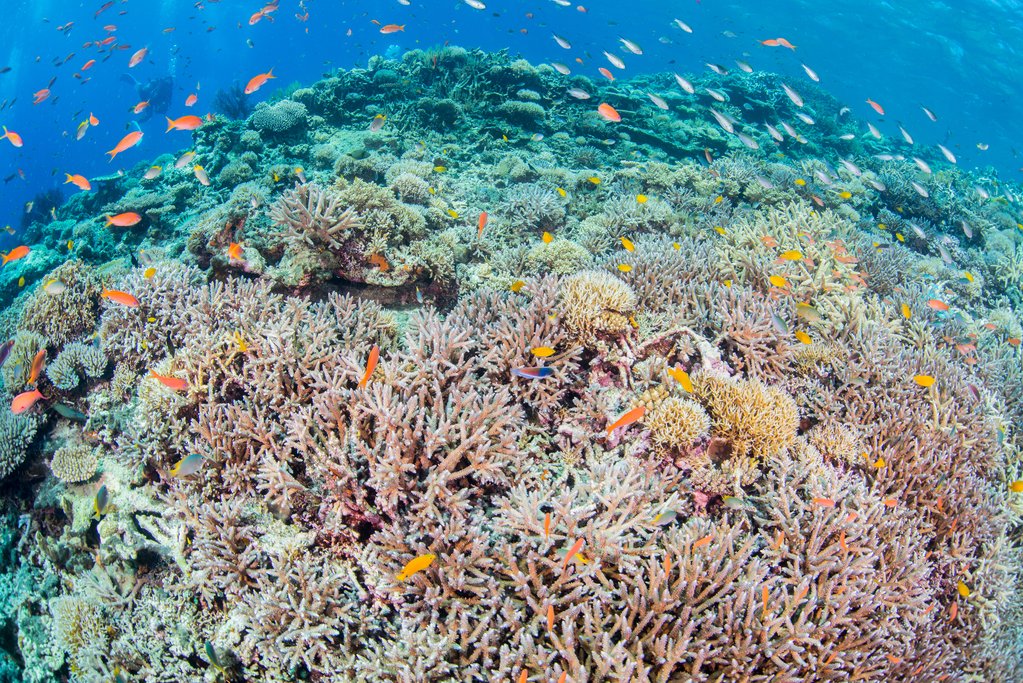 Updated May 1, 2021
This is the ninety-third in a series of reviews of the best dive resort locations around the world.  In this post, the focus is on Okinawa. In addition to this series on dive resort locations, the best worldwide liveaboard diving locations and services are reviewed in their own series.  To check them out, or others in this series, click on Liveaboards/Resorts on the menu at the top and choose a title from the list.
Have you ever been diving in Okinawa before?  If so, I'd love to know about your experience.  What dive shop did you use?  Which dive spots are the best and what are the conditions there regarding the visibility, current, water temperature, sealife attractions, etc.?  Please post your response in the comments section at the bottom and we'll all learn something we can use.
Scuba Diving Okinawa Japan
Background
Situated in the East China Sea south of Japan's Amani Islands and east and northeast of Taiwan, Okinawa is made up of 160 islands, 49 of which are inhabited.  There are three main groups in the Okinawa Prefecture: Okinawa Island and the group immediately around it, the Daito Islands to the east, and the Sakishima group just east of Taiwan.
With their own language, customs, and history dating back to Paleolithic times, Okinawans feel that they have a separate identity from the Japanese.
The population of the islands that gave the world karate is 1,384,762 including 26,000 US military personnel operating there since the end of WWII.
The warm near-tropical climate has made it a major tourist area not only for the Japanese but increasingly for Chinese and Southeast Asian guests, as well.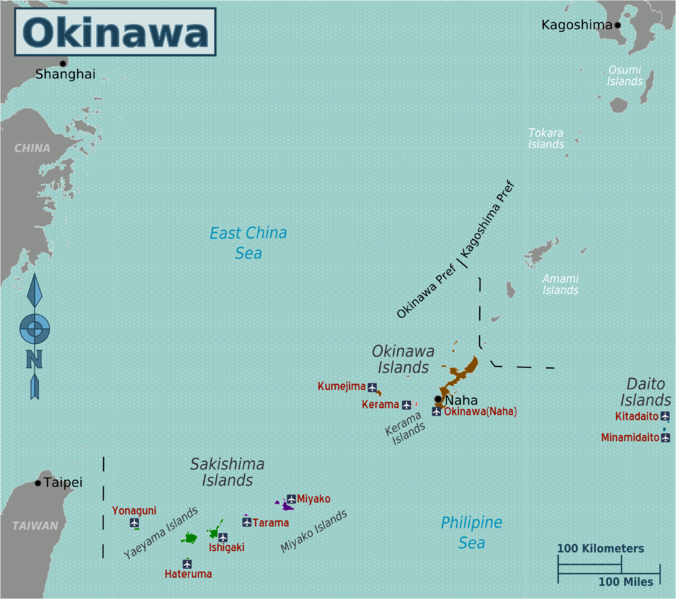 Undersea World
With the warm tropical climate, Okinawa has a diversity of marine life as rich as you would expect to find closer to the equator as in the Philippines or Thailand.
Around the many islands is also great diversity in undersea topography from rocky outcrops, pinnacles, caves and caverns, and steep walls to sandy lagoons.  Much of the coral reef is very rich with a great variety of hard and soft corals, gorgonians, sponges, and other encrusting invertebrates, particularly at sites other than Okinawa Island itself.
The fauna big and small is also quite diverse with the likes of butterflyfish, angelfish, boxfish, anthias, damselfish, pufferfish, moray eels, octopus, cuttlefish, sergeant majors, lionfish, ribbon eels, snappers, nudibranchs, shrimps, crabs, anemones, and titan triggerfish, barracuda, bigeye and horse-eye jacks, five species of sea turtle, dogtooth tuna, manta and eagle rays, hammerhead and whale sharks, dugongs, dolphins, and humpback whales.
In addition, there are several shipwrecks and the Yonaguni formations/ruins.  The intriguing sites are accessible from shore or by boat around Okinawa islands and many by boat an hour or two away at outlying islands.  Others in the Sakashima group require a longer cruise, ferry, or plane trip to one of the airports there.
Seasons and Conditions
It's fairly warm even in winter in Okinawa making diving possible year-round.
Average daily temperatures reach a high in July and August at 28°C (83°F) and a low in January and February at 16°C (61°F).  Temperatures can be 1-2°C (2-4°F) warmer in the southern islands near Taiwan.
Water temperature is above 27°C (81°F) from June through October with annual lows in January at 21°C (70°F) and highs in August at 29°C (84°F).  When water temps are at the low end some divers will want a 7 mm wetsuit or more in thermal protection.
It rains all year with a bit more from June through November.  During that time there is also a possibility of typhoons and strong north winds.
Okinawa has a great reputation for good visibility with better than 50 meters (170 feet) in some cases.
Current is variable with strong currents frequently reported around a number of the islands including Kerama, Kume, Shimoji, and Yonaguni.
Many sites are accessible from shore on Okinawa Island.
There are sites suitable for all levels of diver from beginner to advanced and technical levels.
At least 66 dive shops are available on Okinawa Island to offer a full range of diving coursework, equipment rental, guiding, and boat cruises.
In case you are considering a dive during the cooler season, here is my review regarding the range of gear suitable for cold water diving:
Good diving is available at relatively nearby sites in Taiwan.  Here are my reviews of two Taiwan diving destinations:
Liveaboard Diving
There is not a liveaboard that cruises the Okinawa dive sites, but there are a number of boats that go to the not too distant Philippines.  Here are my liveaboard reviews and a link to one of the liveaboard yachts: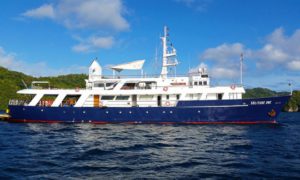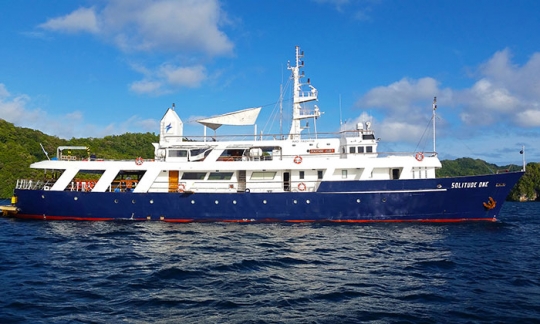 MV Solitude I – Philippines Liveaboard Diving – Check the Price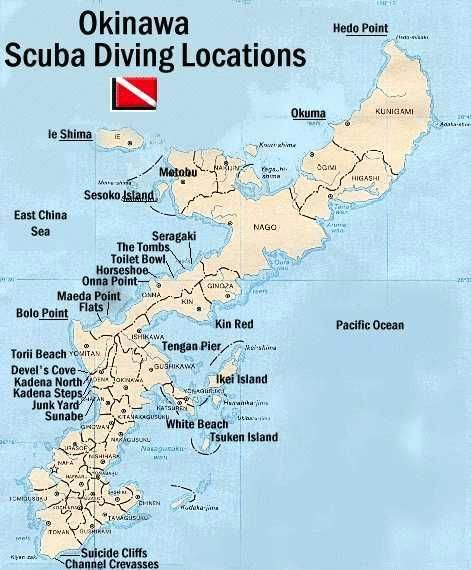 Selected Okinawa Dive Sites
Yonaguni Monument: 30 meters (100 feet), off Yonaguni Island in the far southwest near Taiwan, debate as to whether it is natural or man-made, there are formations that look like steps, pathways, and amphitheaters, nearby is a small altar-like structure with a giant stone turtle, the site is in the path of seasonal hammerhead migrations from November through June, experienced level
USS Emmons: 36-45 meters (120-146 feet), off Okinawa Island near Kouri Island, 100-meter (350-foot) US destroyer attacked by kamikazes in 1945 with 60 dead Americans and five Japanese kamikaze pilots, subsequently scuttled to keep the remains out of enemy hands, many artifacts are in place including cannons, machine guns, ammunition, and a helmet, as well as the ship's screws, strong current possible, experienced level (see the video below)
Manza Dream Hole: 5-28 meters (16-93 feet), Okinawa Island, chimney descending through a colorful reef with caverns off the tunnel, crinoids, big yellow sea fans, regal angelfish, soldierfish, nudibranchs, experienced level
Kuroshima Island Twin Rocks: 30 meters (100 feet), one of the Kerama Islands which has several sites, there are two rocks protruding from the surface with a steep wall, green turtles, tuna, barracuda, whitetip reef sharks, and manta rays are often sighted, experienced level (see the video below)
Ishigaki Island Manta Point: 8-15 meters (25-50 feet), a southern island near Taiwan, mantas slowly cruise close to the reef year-round with the main season from July through September, all levels (see the above video)
Aguni Island: 60 kilometers (37.5 miles) northwest of Okinawa Island, strong currents during the summer months bring migrations of dogtooth tuna and bigeye jacks in the thousands, other frequently sighted highlights include other tuna, horse-eye jacks, Napoleon wrasse, hawksbill turtles, and sharks, experienced level
Kume Island (Kumejima) Tombara: 35 meters (116 feet), 100 kilometers (62.5 miles) west of Naha, huge rock protruding from the surface, frequently there are schooling dogtooth tuna and big-eye jacks, manta and eagle rays, and whale sharks, in winter hammerhead sharks and humpback whales, are possible, strong currents on occasion, experienced level
Okinawa Photos
With the beautiful coral reefs, caves, fascinating marine life including sea turtles, manta rays, hammerhead and whale sharks, macro critters, and reef tropicals,  scenic seashore, cultural sites and activities, and city scenes as well, there are many excellent photo opportunities.  For information and reviews of dive cameras, click here: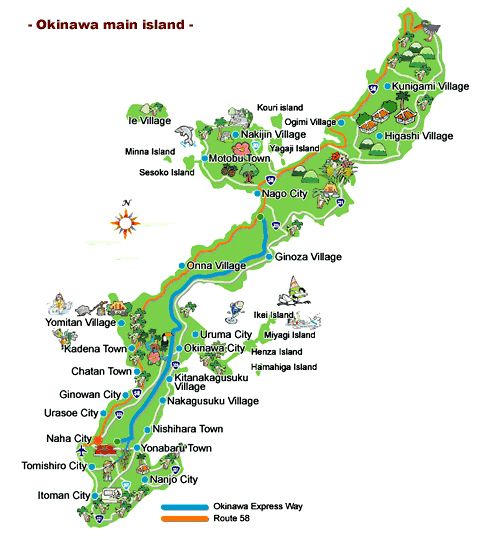 Okinawa Transportation, Lodging, and Dive Shops
Transportation
Air – Most visitors arrive at the airport in Naha.  A number of the islands have airports for flights within the Okinawa Prefecture.  Some of these also connect to outside Japanese airports.
 Bus – Public bus service is available in Naha and around Okinawa Island, but it is not cheap.  Tour buses to specific destinations are probably a cheaper way to get to most places of interest.
Boat – A rich web of ferries linking the islands is available.  Ferry service from Japanese cities is very limited.
Taxis are expensive and best for short hops only.
Rental Cars are available at the airport in Okinawa and at many locations.  Be aware that it is a left-hand drive country.
For more details on transportation logistics and further related information, please click here:  Wikitravel – Okinawa
Lodging and Dive Shops
Okinawa Island has more than 780 lodging options starting at $7 a night.  There are also at least 66 dive shops that offer full services including equipment rental, dive courses, guiding, and boat dive cruises.
The website linked below has the details and can arrange the booking.  You can easily find the location on the map provided on this site.  Their rates are guaranteed to be the lowest and it is free to cancel or change dates.
Things to Do in Okinawa (aside from scuba diving)
Enjoying seaside and other outdoor activities, visiting Ocean Expo, historic Shuri or Zakimi castles, or exploring the local markets, restaurants, art and crafts, local dance, and culture, in general, are some of the many things to do.  This video is a nice, brief introduction to what Okinawa has to offer and a list for your consideration.
Scuba Diving Trip Insurance
A cushion for emergencies provides peace of mind when on vacation.  I recommend this diving insurance as they have worldwide coverage and provide scuba divers quality insurance and medical assistance service.

Feedback and Comments
I hope you found this post on Okinawa scuba diving interesting and useful. If you have any questions or ideas, please feel free to share them in the comments section.  I'd love to know of any experience you have diving in Okinawa.  If there is no comments section directly below, click here:    >>comments<<