We may earn money or products from the companies mentioned in this post.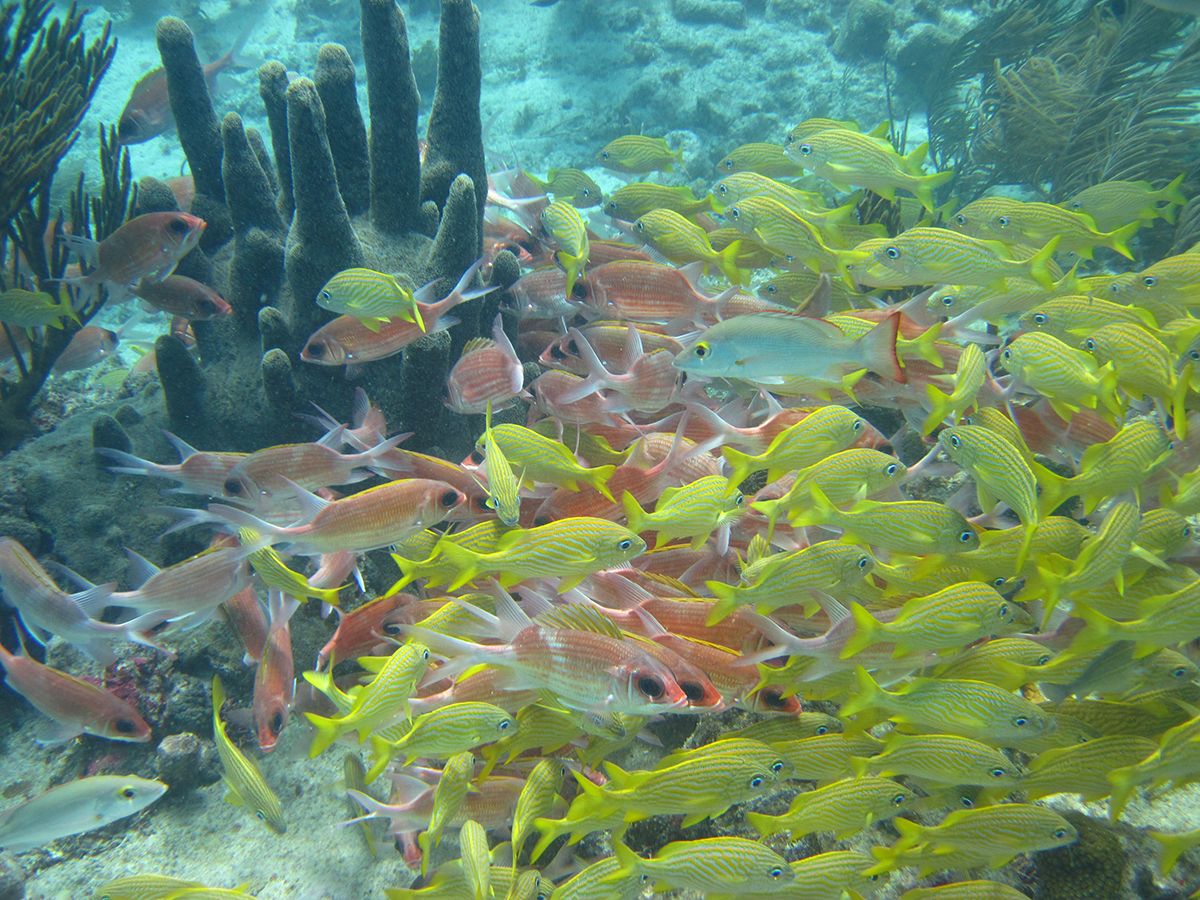 This is the one hundred and twenty-first in a series of reviews of the best dive resort locations around the world.  In this post, the focus is on Providencia, Colombia. In addition to this series on dive resort locations, the best worldwide liveaboard diving locations and services are reviewed in their own series.  To check them out, or others in this series, click on Liveaboards/Resorts on the menu at the top and choose a title from the list.
Have you been diving in Providencia, Colombia before?  If so, I'd love to know about your experience.  What dive shop or liveaboard did you use?  Which dive spots are the best and what are the conditions there regarding the visibility, current, water temperature, sealife attractions, etc.?  Please post your response in the comments section at the bottom and we'll all learn something we can use.
Scuba Diving Providencia Colombia
Background – Providencia and the much smaller Santa Catalina Islands (connected by a footbridge) are part of the San Andrés archipelago.  Although governed by Colombia they are situated only 230 kilometers (144 miles) from Nicaragua, 770 kilometers (481 miles) from Jamaica, and 750 kilometers (from Colombia).  With a population of around 5,000, the islands cover 22 square kilometers (8.5 square miles).  Culturally more Caribbean than South American, San Andrés-Providencia Creole, English, and Spanish are spoken.  Tourism and scuba diving are major contributors to the economy.
Undersea World – Providencia has the reputation of being the top dive site in Colombia.  The world's 3rd longest barrier reef at 20 miles runs off the east coast of the island.  A major portion of the reef has been designated a UNESCO protected area, the 995-hectare Seaflower Biosphere Reserve.  Diving is excellent all around the two islands with an underwater terrain of steep walls, cliffs, caves, rock shelves, and blue holes, with wrecks including pirate ships and historic galleons on more than 40 dive sites.  The pristine reefs are characterized by lots of colorful sponges, gorgonians, hard and soft corals and rich marine life that includes a variety of macro critters like octopus, squid, slipper and spiny lobster, crabs, coral shrimp, seahorses, urchins, and other invertebrates, reef tropicals including parrotfish, trumpetfish, wrasses, filefish, grunts, snappers, squirrelfish, angelfish, and butterflyfish, and jacks, barracuda, southern stingrays, eagle rays, grouper, nurse and Caribbean reef sharks, and turtles.  Although the islands have a very laid back atmosphere, the equipment and dive operations are at a very professional level.
Seasons and Conditions – Diving is possible year-round in Providencia.
Air temperature stays in a range of 28-32°C (82-89°F) for average daily highs.
The water temperature is likewise warm year-round in a range of 27-29°C (81-84°F).  A 3mm wetsuit will likely be the most thermal protection needed.
The rainy season runs from June through November. Diving isn't normally interrupted for long.  Hurricanes are also possible at this time.
Currents are variable depending on the tides and location.  They are often mild but can be strong on some sites. Surface chop can also be a factor at times.
Visibility is usually in the 15-30 meter (50-100 foot) range.
There are sites suitable for all levels of diver.  More than a half a dozen dive shops operate in Providencia, some in or associated with hotels, that offer a full range of diving coursework, equipment rental, guiding, and boat cruises.
None of the major liveaboard yachts travel to Providencia.  However, there are quite a few that cruise relatively nearby Belize and Honduras and other Caribbean dive sites.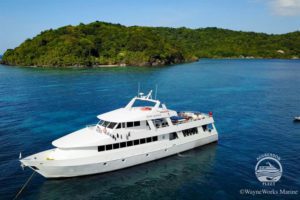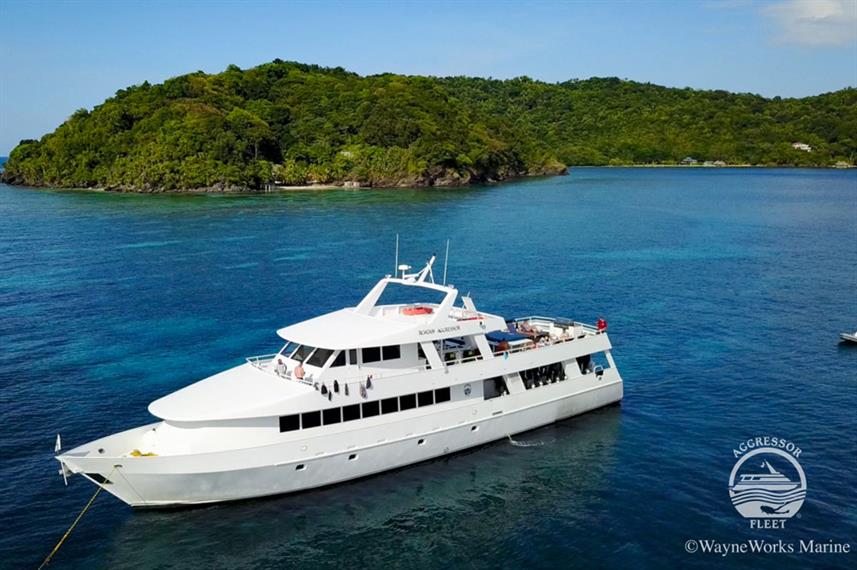 Roatan Aggressor, Roatan, Honduras Liveaboard Diving – Check the Price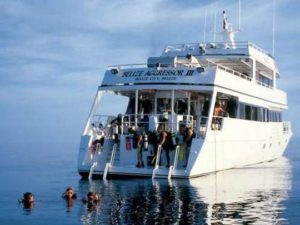 Belize Aggressor III, Belize Liveaboard Diving – Check the Price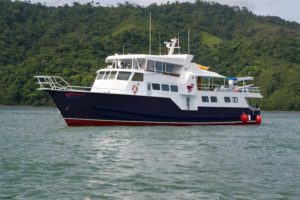 Bahamas Master, Bahamas Liveaboard Diving – Check the Price
For reviews of diving in Caribbean locations, please check out these posts:
Selected Providencia Dive Sites
Blue Hole: 18-40 meters (60-130 feet), northeast of Santa Catalina Island, a sloping reef which becomes a steep drop-off at 18 meters (60 feet), some smaller individual corals and large brain and lettuce corals, lots of fish including jacks, margaritas, and snappers, suitable for experienced level divers
Table Rock: <2-8 meters (5-25 feet), near Point of Reef  16.8 kilometers (10.5 miles) from the northern point of Santa Catalina Island, a number of interconnected caves, large schools of silversides, and reef tropicals, nurse sharks, suitable for snorkelers and all levels of diver
Felipe's Place: 9-24 meters (30-80 feet), named for local dive shop owner/diver Felipe Cabea, coral shoal topping at 10 meters (35 feet),  includes walls and terraces covered in a colorful variety of corals, sponges, gorgonians, and black coral, rich marine life including crabs, lobster, urchins and reef tropicals,  turtles, sharks, and barracuda are possibilities, suitable for all levels of diver
Stairway to Heaven: 24-36 meters (80-120 feet), a sandy sloping channel starting at 24 meters (80 feet) that drops off steeply at 36 meters (120 feet), there are a couple of walls and 3 step formations, colorful soft and hard corals, huge tube sponges, the drop-off extends to 52 meters (170 feet) where there is a big open cave, lots of macro critters and reef tropicals, rays, sharks, and big turtles are possibilities,  currents can be strong, suitable for experienced level divers
NX: 24-61 meters (80-200 feet), a wall with a broad crack, step-like decline ending with a cave at 42 meters (140 feet), from the cave is a chimney to the reef top, rich marine life, suitable for experienced level and technical divers, depending on the depth attempted
Turtle Rock: 15-42 meters (50-140 feet), turtle-shaped rock 12 meters (40 feet) high, 6 meters (20 feet) in width, and 10 meters (35 feet) in length, lots of multicolored sponges and corals on the underside, part of a diverse seascape that includes a wall, a crack and cave, rich marine life in the nooks and crannies, possible pelagics, barracuda, horse-eye jacks, turtles, and big Caribbean reef sharks, suitable for experienced level divers
Tete's Place: 7-9 meters (23-30 feet), coral shoal close to shore, sandy and rocky bottom with hard corals, step-like descent, sections of seagrass and algae, lots of schooling grunts, snappers, and squirrelfish, moray eels, suitable for snorkelers and all levels of diver
Planchon: 15 meters (50 feet). WWII submarine supply ship, hull side up, mostly intact, richly encrusted with corals and invertebrates, some openings allow peering inside, penetration is prohibited, suitable for all levels of diver
Snapper Shoal: 13-20 meters (45-65 feet), sandy shoal at 13 meters (45 feet), a small wall with a sandy bottom below it, densely encrusted with colorful corals and sponges, lots of macro critters and fish, suitable for all levels of diver
Things to Do in Providencia (aside from scuba diving)
Most of the activities on this small island revolve around enjoying the relaxed lifestyle, food, and the outdoors.  Here is a list of major sights and activities:  relax on a beach, explore the island by golf buggy, visit Crab Caye, hike to El Pico, go snorkeling, kayak in McBean Lagoon National Park, watch the locals race their horses, explore the fort on Santa Catalina Island, seafood,  Peak Forestry Reserve, Morgan's Head, McBean Lagoon National Natural Park, Mare Lighthouse, Providencia Lover's Lane, Almond Bay, Southwest Bay, Freshwater Bay, circumnavigate the island by bike, hike to El Pico, eat local food at Niño Divino, Ronaldo's Bar & Restaurant, Don Olivo, Blue Coral, and Lighthouse Café.
This video provides a glimpse of some of the sights and activities and a feel for the life of a tourist on Providencia.
Air – A twenty-minute flight is offered twice daily from San Andrés on Satena and Searca, a charter airline.  To get to San Andrés there are daily flights from Medellín, Cali, Bogotá, and Barranquilla, Colombia, San Jose, Costa Rica, and Panama City, Panama.
Catamaran – The El Sensation makes round trips from San Andrés to Providencia on Mondays, Wednesdays, Thursdays, Fridays, and Sundays.  The price is around twice that of the flight.  The sea is often rough and it takes 3 and a half to 6 hours.
Taxis and moto-taxis are available.  There is one main road that travels the circumference of the island and a few other small roads.
Rentals – Bicycles, motorbikes, and golf buggies are all for rent.  You can cover the entire circumference in 30-40 minutes in a golf buggy.
For more complete details on transportation and other tourist tips, please go to Wikitravel – Providencia
Hotels and Diving – Many lodging options are available on Providencia ranging from $18 to $450 per night.  There are a number of dive shops in operation, some within or associated with hotels, offering a full range of services that include equipment rental, diving certification classes, dive guides, and boat tours.  The website linked below has the details and can arrange a booking for the lodging.  You can easily find the location on the map provided on this site.  Their rates are guaranteed to be the lowest and it is free to cancel or change dates.
Photography in Providencia
With the attractive coral reefs, a variety of fish, macro critters, sharks, rays, wrecks, and scenic shoreside targets, as well, there are many excellent photo opportunities.  For information and reviews of dive cameras, click here:
A cushion for emergencies provides peace of mind when on vacation.  I recommend this diving insurance as they have worldwide coverage and give scuba divers a quality insurance and medical assistance service.
Feedback and Comments
I hope you found this post on Providencia, Colombia scuba diving interesting and useful. If you have any questions or ideas, please feel free to share them in the comments section.  I'd love to know of any experience you have.  If there is no comments section directly below, click here:  >>comments<<