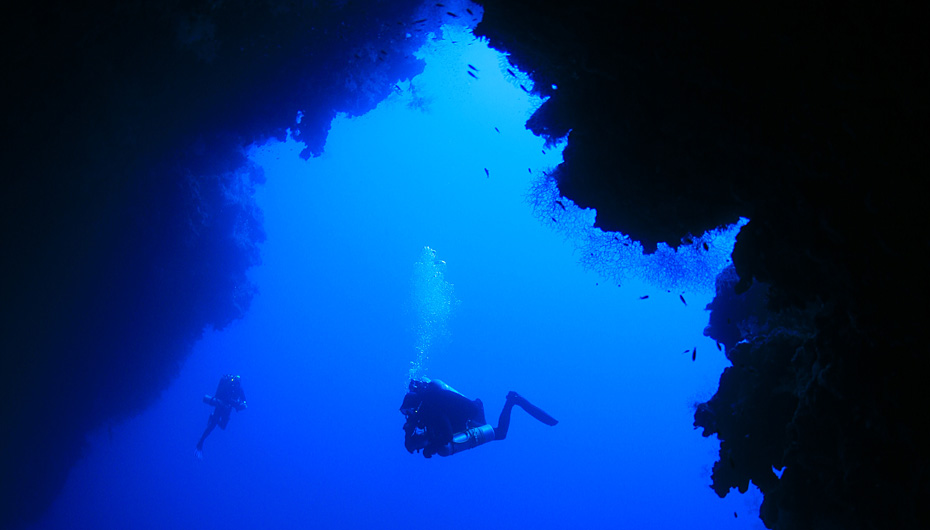 Updated June 5, 2021
This is the one hundred and seventeenth in a series of reviews of the best dive resort locations around the world.  In this post, the focus is on Dahab, Egypt. In addition to this series on dive resort locations, the best worldwide liveaboard diving locations and services are reviewed in their own series.  To check them out, or others in this series, click on Liveaboards/Resorts on the menu at the top and choose a title from the list.
Have you been diving in Dahab before?  If so, I'd love to know about your experience.  What dive shop or liveaboard did you use?  Which dive spots are the best and what are the conditions there regarding the visibility, current, water temperature, sealife attractions, etc.?  Please post your response in the comments section at the bottom and we'll all learn something we can use.
Dahab Diving Holidays
Background
Situated on the west coast of the Gulf of Aqaba 80 kilometers (50 miles) northeast of Sharm el-Sheik, Dahab has a population of 15,000.
A Bedouin fishing village for millennia, after the peace treaty of 1982 it got a significant boost as a tourist area when international hotel chains became involved with development.
A major portion of the visitors are backpackers on a budget looking for an alternative to the fast-paced higher-end atmosphere of places like Sharm el-Sheik and Eilat.
Today there is still a Bedouin village along with areas revolving around tourist hotels, camps, and hostels.
Undersea World
The Dahab coastline has a fringing reef with a gentle slope to rich corals and an array of Red Sea marine life and fish.
Soft corals are not as prevalent as further into the main body of the Red Sea but there is a nice variety of hard corals including brain, stone, Acropora, leather, and black coral.  Unfortunately, there has been so much traffic of careless divers and snorkelers that there is a lot of visible damage.  However, a number of sites are fairly well unscathed.
Only infrequently is a reef shark sighted but a cornucopia of reef tropicals and macro critters are available like scorpionfish, crocodile fish, octopus, shrimps, triggerfish, surgeonfish, parrotfish, Arabian angelfish, and butterflyfish, along with schooling glassfish, anthias, bannerfish, goatfish, fusiliers, and the like, as well as barracuda, jacks, and other pelagics, and turtles.
In addition to the shallow sites that are great for scuba classes and snorkeling, there are also deeper locations suitable for technical and advanced divers, in particular, the Canyon and the world-famous killer, the Blue Hole, where numerous divers annually don't make it back alive.  Check out the videos below for an introduction to this site and the inherent danger.
In all, there are around 20 local sites that are mostly accessed from shore.
Seasons and Conditions
Diving is a great year-round activity in Dahab. Tourists are there in larger numbers from July through December.  The off-season is a little more relaxed.
Air temperature varies significantly throughout the year with daily average highs of 35°C (95°F) in June through August which fall to 21-22°C (70-72°F) in December- February.
Water temperature follows the air temperature fairly closely with highs in May-November of 25-28°C (77-82°F) and lows of 21°C (70°F) from January through April.  The rest of the year it is somewhere between the two levels.  A 5-7mm wetsuit will suit many divers when the water is at its coolest.
This is a desert area that is dry all year with no rain at all from April through September and a total of 9mm (.3 inches) annually.
Currents are often mild but can be strong on some sites.
Visibility is usually in the 21-30 meter (70-100 foot) range all year.  It is possible to find it as good as 60 meters (200 feet) at times.
There is diving suitable for all levels of diver. The 50 or more dive shops, many in hotels, offer a full range of diving coursework, equipment rental, guiding, and boat cruises. Most of the local sites are accessible from shore, however. Day trips can be arranged to more distant locations.
Red Sea Liveaboards
There are no liveaboard yachts directly cruising the Dahab area.  A large number of them do travel to the Sharm el-Sheikh area and other top sites in the northern and southern sections of the Red Sea.  Here is my review of them and some links to top vessels: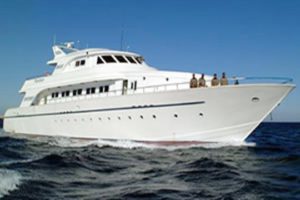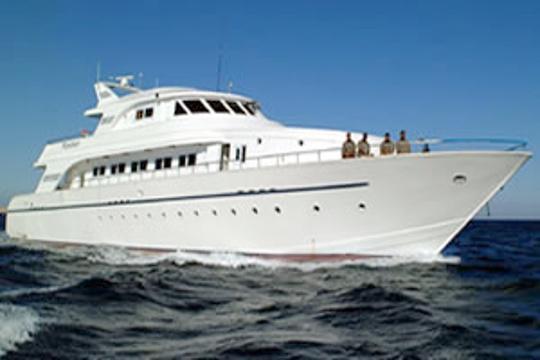 MY Excellence, Red Sea Liveaboard Diving – Check the Price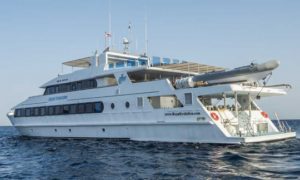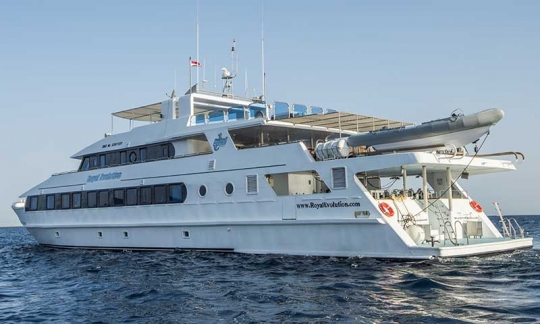 MS Royal Evolution, Red Sea Liveaboard Diving – Check the Price

MY Emperor Elite, Red Sea Liveaboard Diving – Check the Price
Selected Dahab Dive Sites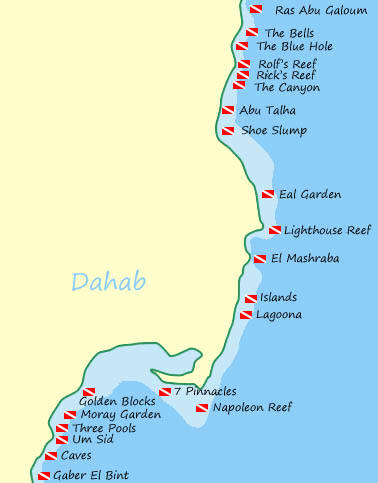 Ras Abu Galum: 30 meters (100 feet) maximum depth, shore entry on a sandy slope, includes a reef table and steep wall, rocky formations, and pinnacles, nice coral including fire corals, reef fish, jacks, and a resident turtle, shallow portions are interesting, suitable for all levels of diver
The Bells: 40 meters (130 feet) maximum depth, located about 100 meters north of the Blue Hole lagoon, a chimney entrance is possible at 6 meters (20 feet) with an exit at 27 meters (90 feet) to a sheer ledge, many small caverns, and overhangs, black coral, anemones, Spanish dancers, possible turtle or reef shark, suitable for experienced level divers
The Blue Hole: 130-meter (427-foot) deep sinkhole, an opening at 6 meters (20 feet) extends into the outer sea, there is a 26-meter (85-foot) tunnel through an arch the top of which is at 52 meters (170 feet), this leads to the open water beyond, lots of encrusting corals, invertebrates, and fish, obviously at depths of 52+ meters (170+ feet) this is suitable only for well trained and supported technical divers, the site has a shallower option keeping the depth shallower than 30 meters (100 feet) making it suitable for experienced recreational divers
The Canyon: 52 meters (170 feet), shore entry across a sandy lagoon to a sloping reef with coral heads, a canyon formed by an earthquake has 3 openings at 12 meters (40 feet), 21 meters (70 feet), and a deep exit at 52 meters (170 feet), the canyon has a narrow opening at the top, look for nudibranchs, octopus, groupers, and stingrays, can be executed with a maximum depth of 30 meters (100 feet) making it suitable for experienced level divers, to the maximum depth it is suitable for technical level divers
Eel Garden: 24 meters (80 feet), shore entry, sandy slope in shallow water with a field of garden eels, the descent continues past soft and hard corals with lots of reef tropicals and macro critters like the seagrass ghost pipefish, to coral boulders and table corals at 21 meters (70 feet) where schooling barracuda frequent, some current is possible, suitable for all levels of diver
Islands: 21 meters (70 feet), shore entry, a maze of boulders, pathways, gullies, and open areas created in an earthquake, big volume of fairly pristine corals, big groupers, shoals of glassfish and barracuda, lionfish, Napoleon wrasses, some current is possible, suitable for all levels of diver
Moray Garden: 24 meters (80 feet), shore entry, sandy slope to a coral garden starting at around 7 meters (23 feet), one section with gullies, a small wall drops off to 50 meters (164 feet), schools of yellowtail barracuda, bluespotted stingrays, shoals of glassfish, nudibranchs, scorpionfish, and moray eels, the possibility of whitetip reef sharks and guitar sharks, suitable for all levels of diver
Caves: 30 meters (100 feet), shore entry to the site just offshore, the cave is directly underneath if there is surface chop, entry may be impossible, a shallow reef of hard and soft corals encircles the cave opening with groupers, morays, and scorpionfish, the cavern entrance is at 30 meters (100 feet), schools of anthias and bannerfish are in the mouth and entrance, suitable for experienced level divers
Gabr el Bint: 30 meters (100 feet), boat or camel access, 2 possible dives, one site along a wall with ledges and caverns, the second with a large sandy lagoon with coral heads next to a coral wall, beautiful gorgonians, and hard corals including cabbage coral, lots of soft coral, swarms of anthias, crocodile fish, scorpionfish, parrotfish, surgeonfish, triggerfish, trumpetfish, stingrays, black and white and twinspot snappers, the possibility of a turtle, suitable for experienced level divers
Things to Do in Dahab (aside from scuba diving)
When you are not diving, there are loads of outdoor activities to enjoy including kite surfing, windsurfing, freediving, snorkeling, sand boarding, rock climbing, camel and horseback riding, cycling, mountain biking, and jeep and quad trips.  Popular sites to visit are the Old Port, the laguna, three pools, Wadi Gnai, St. Catherine Monastery, Mount Sinai, Ein Khudra, and Coloured Canyon.  There is a great variety of interesting wares for sale and restaurants to check out, as well.  Facilities range to suit the most low-budget backpacker to something much more elegant.
This artistic and well-crafted short video is a nice introduction to what you might find in Dahab.
Dahab Transportation, Hotels, and Diving Services
Transportation
Air 1 – The first step is to fly into Sharm el-Sheikh Airport, the largest in Sinai that handles 10 million international and domestic passengers annually.  From there it is best to leave the airport and find a micro-bus or taxi to the bus station for a reasonably priced one-hour bus trip to Dahab.  You could also take a taxi directly to Dahab for about 5-6 times the price of the bus.  Another more convenient option is to arrange a pick-up with your hotel.
Air 2 – You can also fly into Cairo and take a  5-7 hour bus ride from there to Dahab.
Ferry service runs from Aqaba and Nuweiba to Dahab.
Taxi service is available from the Dahab bus station and for local transport.  At the bus station, you will be mobbed by drivers.  The most distant local trips should cost no more than 10 LE.
Bicycles can be rented and are convenient to use but often poorly maintained.
Walking is the best option for many journeys.
For more complete details on tourist information, please go to Wikitravel – Dahab.
Hotels and Diving
Lodging options in Aqaba start at $5 and run to around $100 per night.  There are at least 50 dive shops in operation, some within or associated with hotels, offering a full range of services that include equipment rental, diving certification classes, dive guides, and boat tours.
The website linked below has the details and can arrange a booking for the lodging.  You can easily find the location on the map provided on this site.  Their rates are guaranteed to be the lowest and it is free to cancel or change dates.
Photography in Dahab
With the attractive coral reefs, a variety of fish, macro critters, caves, the Blue Hole, and scenic shoreside targets, as well, there are many excellent photo opportunities.  For information and reviews of dive cameras, click here:
Scuba Diving Trip Insurance
A cushion for emergencies provides peace of mind when on vacation.  I recommend this diving insurance as they have worldwide coverage and give scuba divers quality insurance and medical assistance service.
Feedback and Comments
I hope you found this post on Dahab scuba diving interesting and useful. If you have any questions or ideas, please feel free to share them in the comments section.  I'd love to know of any experience you have.  If there is no comments section directly below, click here:  >>comments<<