We may earn money or products from the companies mentioned in this post.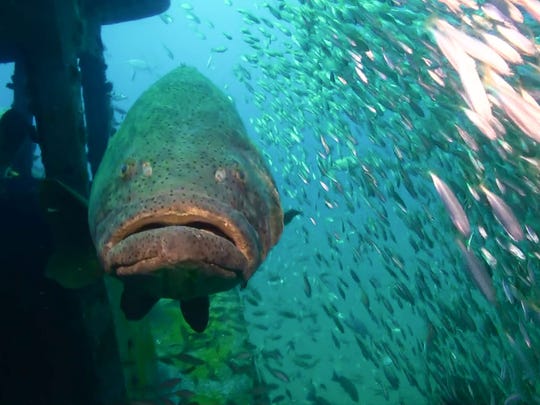 This is the one hundred and sixty-eighth in a series of reviews of the best dive resort locations around the world.  In this post, the focus is on Fort Myers, Florida, USA. In addition to this series on dive resort locations, the best worldwide liveaboard diving locations and services are reviewed in their own series.  To check them out, or others in this series, click on Liveaboards/Resorts on the menu at the top and choose a title from the list.
Have you been diving in Fort Myers before?  If so, I'd love to know about your experience.  What dive shop or liveaboard did you use?  Which dive spots are the best and what are the conditions there regarding the visibility, current, water temperature, sealife attractions, etc.?  Please post your response in the comments section at the bottom and we'll all learn something we can use.
Scuba Diving Fort Myers Florida
Background – Located on the southwest coast of Florida, Fort Myers has a population of 83,000.  Founded after the Civil War it is named for Colonel Abraham Myers, the quartermaster general of the Confederate Army.  With its geographical location and tropical savanna climate, it is a popular tourist destination known as a home for Major League Baseball spring training, the location of historic winter estates for Thomas Edison and Henry Ford, as well as being a beautiful natural area.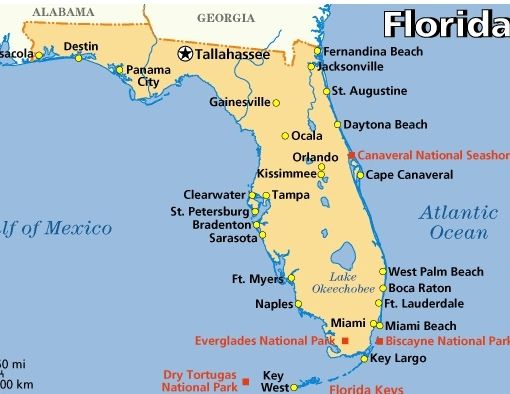 Undersea World – The sea bottom extends from the beach as a vast very gradually sloping desert of sand.  It is broken up by occasional hard bottom reefs, natural ledges, artificial reefs, and a few sinkholes.  There are many wrecks and inshore sites suitable for beginners.  Most of the artificial reefs are from 6-14 miles (9.6-22.4 kilometers) out with some wrecks up to 50 miles (80 kilometers) offshore.  Some of the remote deeper wrecks and sinkholes are best left for advanced and technical divers.
The good news for divers is that with so few places for marine life to congregate, most of these natural and artificial reefs are just teeming with fish and invertebrate life.  There is a colorful range of encrusting life with several algae species, yellow, pink, and orange sponges including tube and stovepipe varieties, gorgonians, corals, and macro critters like nudibranchs, mollusks, and crustaceans.  The larger fish and marine life attractions possible are massive schools of baitfish, Goliath groupers, permit, spadefish, mangrove snappers, Spanish mackerel, barracuda, cobia, jewfish, pompano, hogfish, triggerfish, southern stingrays, eagle rays, tarpon, nurse and bull sharks, several species of sea turtle, and occasionally sighted whale sharks and manta rays.
Seasons and Conditions – Diving is possible all year in the Fort Myers area.
Air temperature average daily highs range from 75-92°F (24-33°C) with the highs in June through August and lows in January.
The average surface water temperature annual range is 66-86°F (19-30°C).  Highs are in August and lows in January.  At the coolest divers will want a 7mm wetsuit or drysuit, hood, and gloves.
With a tropical savanna climate, the rains throughout the year are not strong until June through September.
Currents are usually mild but contingent on the tide, weather, and distance from shore.
Visibility averages 25-80 feet (8-24 meters) but can reach over 100 feet (30 meters) at times with the worst during the summer months.
There are sites suitable for all levels of diver from beginner to technical levels.  A number of dive shops are in operation that can provide a full range of diving coursework, equipment rental, guiding, and boat cruises.  A number of the sites are several hours away by boat from the Fort Myers/Naples area.
None of the major liveaboard yachts travel to Fort Myers.  However, there are quite a few that cruise the relatively nearby Cuba, Caymans, Bahamas, and other Caribbean dive sites.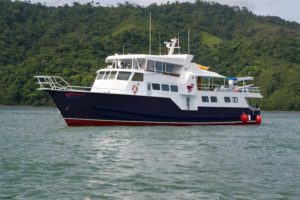 Bahamas Master, Bahamas Liveaboard Diving – Check the Price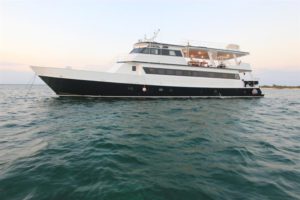 MV Avalon I, Jardines de la Reina, Cuba Liveaboard Diving – Check the Price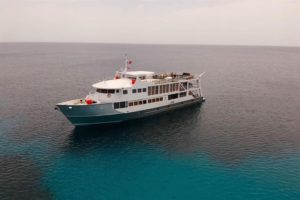 Cayman Aggressor V, Cayman Islands Liveaboard Diving – Check the Price
For reviews of diving in Florida and other Caribbean locations, please check out these posts:
Selected Fort Myers Florida Dive Sites
Wiggins Pass Reef: shallow hard-bottom patch reef starting at 150 feet (46 meters) from shore, the largest patch reef outside the keys, diving at slack tide is best, visibility can be poor otherwise, suitable for all levels
Santa Lucia: 24 feet (7 meters), 3.8 miles (6 kilometers) west of Gordon Pass, a turtle boat previously used by Cuban refugees, scuttled to become an artificial reef in 1997, concrete pylons surround it to hold it in place, big shoals of baitfish and Goliath groupers are highlights, beware of fishing lines, nets, and entanglement, suitable for all levels
Tea Cup Ledge: 30 feet (9 meters), 12 miles (19 kilometers) offshore from Naples, ledge of 3-4 feet (1 meter) in relief on a sports field-sized limestone bottom with teacup-like holes providing nooks for marine life, home to a variety of fish, eels, and grouper,  a mile away is the Minesweeper wreck, suitable for all levels
USS Mohawk: 90 feet (27 meters), 28 miles (45 kilometers) off Fort Myers, 165-foot (50-meter) Coast Guard Cutter scuttled in 2012 by Lee County's artificial reef program, galleys and Captain's deck can be penetrated, deck is at 60 feet (18 meters) and the crow's nest at 35 feet (10 meters),  dozens of resident Goliath groupers and occasional whale sharks are the highlights, suitable for experienced levels
Radio Tower "R": 75 feet (23 meters), 29 miles (46 kilometers) from Marco Island, a navy radio navigation tower (1 of 6), encrusted with corals and sponges, various populations of fish top to bottom with pelagics, and Goliath groupers, suitable for all levels
The Paddlewheeler: 80 feet (24 meters), 30 miles (48 kilometers) off Marco Island, 150-foot (46-meter) steam-powered paddleboat, name unknown, sunk between 1900 and 1941 with a load of bricks, broken apart, boiler, paddle, and steam turbines are intact,  suitable for experienced levels
The Baja California: 115 feet (35 meters), 55 miles (88 kilometers) west of Marcos Island, 260-foot (79-meter) freighter sunk by a German U-boat in 1942, resting upright listing to port and deteriorated significantly, very isolated from other reefs, highlights are Goliath groupers, cobia, pelagics and sharks, suitable for advanced levels
The Fantastico: 115 feet (35 meters), 48 miles (77 kilometers) off Fort Myers Beach, 200-foot (61-meter) freighter that capsized carrying a load of fertilizer in a storm in 1993, lies intact on its side, several openings allow penetration, riggings and mast provide habitat for amberjacks and snappers, encrusted in colorful corals and sponges, suitable for advanced and technical levels
The Black Hole: 65 feet (20 meters) at the entrance, 27 miles (43 kilometers) offshore from Naples, a bulb-shaped sinkhole 100 feet (30 meters) in diameter descending to 225 feet (69 meters), rich marine life at the rim includes sponges, corals, anemones, and green and Kemp's Ridley turtles,  suitable for all levels at the rim and technical divers for deep penetration
Things to Do in Fort Myers Florida (aside from scuba diving)
Fort Myers is a relaxing vacation spot with many outdoor and seaside activities to enjoy.  For a small city, there are many cultural, historic, and entertainment options.  Here is a sample of a few:
Alliance for the Arts, MacGregor Boulevard, Six Mile Cypress Slough Preserve, Fort Myers River District, Manatee Park, Florida Repertory Theatre, Bunche Beach, Lakes Regional Park, IMAG History and Science Center, Fleamasters Fleamarket, Edison and Ford Winter Estates, Port Sanibel Marina, John Yarbrough Linear Park, Burrough Home and Gardens, Leopardi's (restaurant), CenturyLink Sports Complex, JetBlue Park, Fort Myers Brewing Company, Barbara B. Mann Performing Arts Hall, Florida Native Butterfly Society, Railroad Museum of South Florida, Adventure in Paradise, Zoomers, Southern Fresh Farms, Calusa Nature Center and Planetarium.
This video gives a glimpse of some of the popular activities to consider.
Air – Southwest Florida International Airport (RSW) south of the city handles connections from most major US airlines and Canadian airlines Air Canada and Westjet.  Taxis and shuttles are available at the airport.
Bus service is provided by LeeTran which has lines crisscrossing the city.
Car rental is available from major agencies at the airport and around the city.
Bicycling is popular, convenient, and well accepted.
For more details on transportation and other tourist information, check Wikitravel-Fort Myers.
Hotels and Diving – In the Fort Myers and Naples area there are around 200 lodging options starting at $41 per night.  From Fort Myers in the north through Naples to the south dozens of dive shops are in operation offering a range of services that includes equipment rental, diving certification classes, dive guides, and boat tours.  The website linked below has the details for the lodging and can arrange a booking.  You can easily find the location on the map provided on their site.  The rates are guaranteed to be the lowest and it is free to cancel or change dates.
Photography in Fort Myers Florida
With the colorful coral reefs, a variety of fish, marine life, sharks, turtles, historic shipwrecks, and beautiful onshore targets, as well, there are many excellent photo opportunities.  For information and reviews of dive cameras, click here:
A cushion for emergencies provides peace of mind when on vacation.  I recommend this diving insurance as they have worldwide coverage and give scuba divers a quality insurance and medical assistance service.
Feedback and Comments
I hope you found this post on Fort Myers scuba diving interesting and useful. If you have any questions or ideas, please feel free to share them in the comments section.  I'd love to know of any experience you have.  If there is no comments section directly below, click here:  >>comments<<