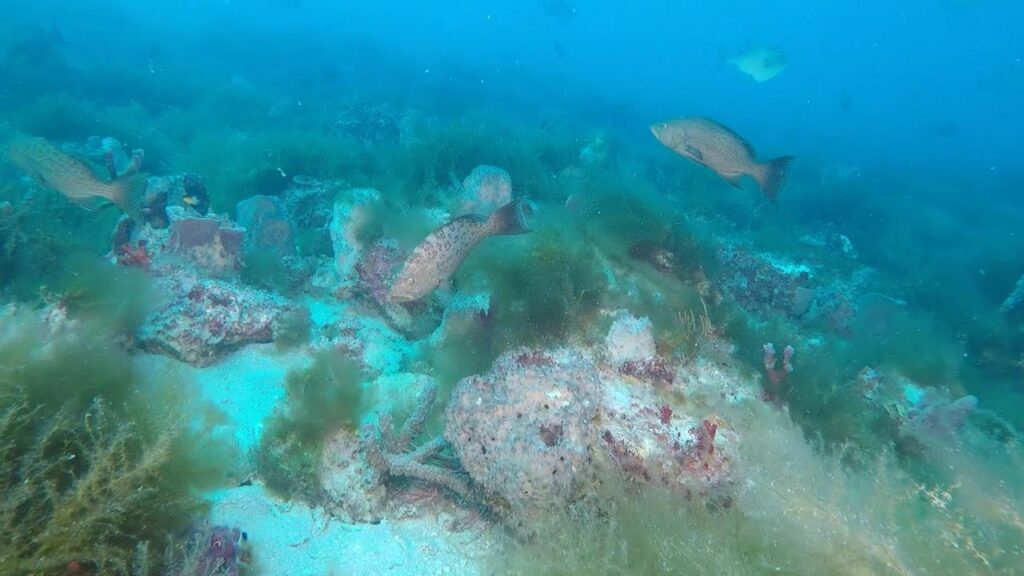 Updated May 27, 2021
This is the one hundred and sixty-seventh in a series of reviews of the best dive resort locations around the world.  In this post, the focus is on Sarasota, Florida, USA. In addition to this series on dive resort locations, the best worldwide liveaboard diving locations and services are reviewed in their own series.  To check them out, or others in this series, click on Liveaboards/Resorts on the menu at the top and choose a title from the list.
Have you been diving in Sarasota before?  If so, I'd love to know about your experience.  What dive shop or liveaboard did you use?  Which dive spots are the best and what are the conditions there regarding the visibility, current, water temperature, sealife attractions, etc.?  Please post your response in the comments section at the bottom and we'll all learn something we can use.
Scuba Diving in Sarasota Florida
Background
Sarasota is a city of 58,000 on the Gulf Coast of Florida just outside the southern end of Tampa Bay.  This major tourist destination has subtropical weather of hot humid summers and autumns and dry, slightly cooler winters and springs.  It is renowned for white-sand beaches, resorts, cultural and environmental amenities, shopping, golf, and access to the Gulf of Mexico seaside activities.  With an area of 70 square miles (181 square kilometers) the mainland portion of the city is separated from the open Gulf by a number of keys and small islands.
Undersea World
From the shoreline, the sea bottom is mostly a gradually sloping sandy plain.  From 3-5 miles out there are some limestone ledges that have rich marine life that has developed.  Otherwise, most of the interesting diving is on shipwrecks and artificial reefs.  The most famous wreck south of the bay near Sarasota is the Bayronto, 30 miles (48 kilometers) away at 110 feet (33 meters) maximum depth.  To the north, there are a number of notable sites a little closer to shore including the Sheridan at 80 feet (24 meters) maximum depth.
The large number of artificial reefs consist of ships, barges, boxcars, concrete structures, and rubble that have very quickly developed into rich sites for divers and fishermen with massive numbers of fish and other marine life.  Encrusting life includes several species of algae, orange, pink, and yellow sponges, corals, and gorgonians, with macro critters like big lobsters, crabs, mollusks, and nudibranchs harboring in the nooks and crannies.  Other highlights are humongous schools of baitfish, Goliath groupers, barracuda, jewfish, amberjacks, pompano, hogfish, triggerfish, mangrove jacks, eagle rays, southern stingrays, cobia, tarpon, nurse, sandbar, and bull sharks, leatherback, Kemp's Ridley, and hawksbill turtles, dolphins, and infrequently manta rays and whale sharks.
Another interesting sidelight is a site near Venice 18 miles (29 kilometers) south of Sarasota.  In the black sand in water less than 20 feet (6 meters) deep are fossilized shark's teeth that are easy to find and much bigger than the largest of the modern-day version indicating a truly frightening animal from another era.
Seasons and Conditions
Diving is possible all year in the Sarasota area.
Air temperature average daily highs range from 70-90°F (22-32°C) with the highs in August and lows in January.
The average surface water temperature annual range is 68-84°F (20-29°C).  Highs are in August and lows in February.  At the coolest divers will want a 7mm wetsuit or drysuit, hood, and gloves.
It rains throughout the year with the heaviest from June through September.
Currents are usually mild but contingent on the tide, weather, and distance from shore.
Visibility averages 20-50 feet (6-15 meters) but can reach over 100 feet (30 meters) at times with the worst during the summer months.
There are sites suitable for all levels of diver from beginner to technical levels.  A number of dive shops are in operation that can provide a full range of diving coursework, equipment rental, guiding, and boat cruises.  A number of the sites are several hours away by boat from Sarasota.  Some can be accessed from St. Petersburg or Clearwater with shorter transit times.
Liveaboards
None of the major liveaboard yachts travel to Sarasota.  However, there are quite a few that cruise the relatively nearby Cuba, Caymans, Bahamas, and other Caribbean dive sites.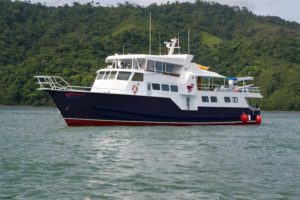 Bahamas Master, Bahamas Liveaboard Diving – Check the Price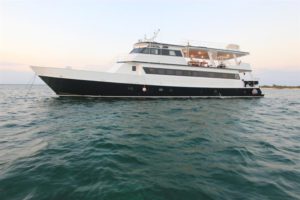 MV Avalon I, Jardines de la Reina, Cuba Liveaboard Diving – Check the Price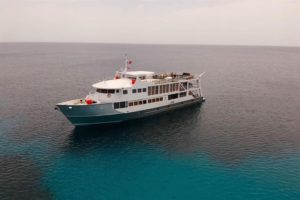 Cayman Aggressor V, Cayman Islands Liveaboard Diving – Check the Price
For reviews of diving in Florida and other Caribbean locations, please check out these posts:
Selected Sarasota Dive Sites
Bayronto (Sarasota):  110 feet (33 meters), 400-foot (121-meter) British freighter that sank in a storm in 1919 with no casualties, 30 miles (19 kilometers) offshore, rests upside down and broken in half, well encrusted with corals and sponges, easy penetration opportunities, highlights include hogfish, filefish, amberjacks, jewfish, snappers, and groupers, suitable for experienced level divers
Mexican Pride (Sarasota):  100-130 feet (30-40 meters), 200-foot (61-meter) barge that fell into disrepair and was scuttled in 1970 to become an artificial reef 35 miles offshore, resting upright and broken in half, home to massive schools of small fish, macro critters like barnacles, and crabs, larger highlights include snappers, groupers, jewfish, dolphins, and sharks, suitable for advanced level divers
M-4 (Sarasota):  40 feet (12 meters), an artificial reef of more than 100 reef balls laid down in 1998, richly encrusted with corals, a variety of marine life includes, lizardfish, snappers, groupers, jewfish, Spanish mackerel, and barracuda, suitable for all levels
M-10 (Sarasota):  70 feet (21 meters), barge scuttled by the artificial reef program, resting upside down, rich marine life includes jewfish and amberjacks, suitable for all levels
Sheridan (Clearwater): 25-80 feet (8-24 meters), 180-foot (55-meter) steel tug scuttled in the artificial reef program, considered one of the best area sites, rests upright listing slightly starboard, rich marine life includes massive schools of fish, Goliath groupers, triggerfish, barracuda, amberjacks, snappers, jack trevallies, Spanish mackerel, and sharks, suitable for all levels (check out the video at the top)
Rube Allyn Reef (Clearwater): 60-70 feet (18-21 meters), artificial reef with a variety of materials including a prefabricated Japanese reef unit, many high-profile pyramid structures, concrete materials from the demolished Clearwater Pass Bridge, and other stuff, with pieces over 150-feet long, rich marine life includes angelfish, snappers, barracuda, and spotted eagle rays, suitable for all levels (check out the video below)
Things to Do in Sarasota (aside from scuba diving)
The area around Tampa Bay from Venice in the south, through Sarasota, St. Petersburg, and Clearwater in the north, is just packed with sight and activities to enjoy on a scuba diving vacation.  For the purpose of this little introduction, the focus will be on Sarasota.  Here is a sample of sights and activities to consider:
Sarasota Classic Car Museum, The Ringling (fine art museum), Marietta Museum of Art and Whimsy, Sarasota Jungle Gardens, Central Sarasota Farmers Market, Sarasota Paddleboard Company, Marie Selby Botanical Gardens, Sarasota National Cemetery, Van Wezel Performing Arts Hall, Ca d'Zan Mansion (John Ringling home), Nathan Benderson Park, Siesta Key Village, Myakka State Park, Mote Marine Laboratory and Museum, Westcoast Black Theatre Troupe, Ed Smith Stadium, Big Cat Habitat and Gulf Coast Sanctuary, Legacy Trail, Drum Circle Distilling, South Lido Park, Save Our Seabirds (conservation center), Sarasota Orchestra, Sarasota Opera, Florida Studio Theatre, The Celery Fields (wetlands).
This video gives a glimpse of some of the popular activities to consider.
Sarasota Transportation, Hotels, and Diving Services
Transportation
Air – Sarasota-Bradenton International Airport (SRQ) is located between the two cities. Five airlines connect to this airport primarily from Canada and the US.  It has a port of entry status and provides US Customs inspections.  The other airports serving the Tampa Bay area are Tampa International Airport (TPA) and St. Petersburg-Clearwater International Airport (PIE).
Public Bus – Sarasota County Area Transit (SCAT) provides service around the county and has limited connections to Manatee County Area Transit.
Charter buses and limousines are available through Price4limo Sarasota.
Car rental and taxi services are readily available through major companies among others.
Numerous highways provide links in all directions from Sarasota.
For more details on transportation and other tourist information, check Wikitravel-Sarasota and Wikipedia-Sarasota.
Hotels and Diving
In the Sarasota and Tampa Bay area there are a vast number of lodging options starting at $41 per night.  From Clearwater in the north through Sarasota in the south dozens of dive shops are in operation offering a range of services that includes equipment rental, diving certification classes, dive guides, and boat tours.
The website linked below has the details for the lodging and can arrange a booking.  You can easily find the location on the map provided on their site.  The rates are guaranteed to be the lowest and it is free to cancel or change dates.
Photography in Sarasota
With the colorful coral reefs, a variety of fish, marine life, sharks, turtles, historic shipwrecks, and beautiful onshore targets, as well, there are many excellent photo opportunities.  For information and reviews of dive cameras, click here:
Scuba Diving Trip Insurance
A cushion for emergencies provides peace of mind when on vacation.  I recommend this diving insurance as they have worldwide coverage and give scuba divers quality insurance and medical assistance service.
Feedback and Comments
I hope you found this post on Sarasota scuba diving interesting and useful. If you have any questions or ideas, please feel free to share them in the comments section.  I'd love to know of any experience you have.  If there is no comments section directly below, click here:  >>comments<<