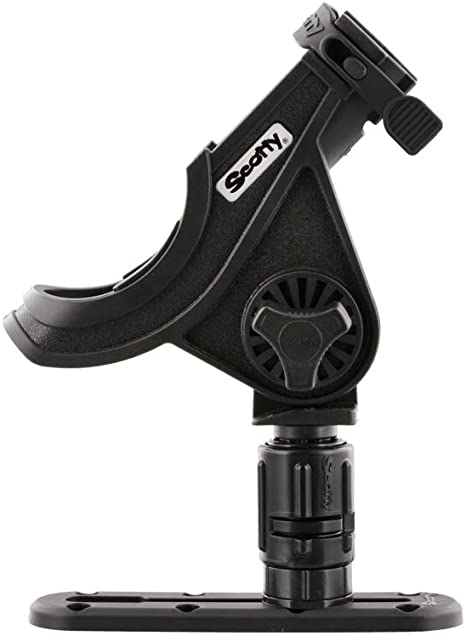 Updated June 2, 2021
Fishing from a kayak can become an exercise in juggling.  Paddling, gearing up, cutting bait, grabbing a drink, or any of the other basic movements on board are not easy when you have to maintain touch with your rod and reel.
A rod holder frees up your hands making your situation more organized and relaxed.
Below a small representative collection of quality kayak rod holders is reviewed as an introduction.  Starting with a comparison table, key features are outlined, with photos and video, followed by a basic buying guide to aid in your selection process.
If you have any questions or concerns, please use the comments section at the bottom.  I'd love to know your thoughts.
For more reviews of boats, kayaks, canoes, and accessories, please check out these popular posts:
Anchor Ropes     Boat Anchors     Kayak Storage Racks     Kayak Compasses     Kayak Anchors     Kayak Bilge Pumps     Inflatable Canoes     Electric Pumps for Inflatables     Motorized Kayaks     Pedal Kayaks     Ocean Fishing Kayaks     Fishing Kayak Paddles     Waterproof Bags     Canoe Paddles     Canoes     Kayak Shoes     Kayak Helmets     Kayak Wetsuits     Kayak Roof Racks     Kayak Carts     Kayak Drysuit Review     Kayak Paddles     Kayak Life Vests Women     Kayak Life Vests     Marine VHF Radios     Small Outboard Motors     Kayak Trolling Motors     Kayak Fish Finders     Marine GPS     Marine Binoculars     Women's Kayaks    Touring Kayaks      Tandem Kayaks     Whitewater Kayaks for Beginners     Lake Kayaks     Ocean Kayaks     Fishing Kayaks     Beginner Kayaks     Recreational Kayaks     Inflatable Kayaks     Inflatable Boats
Best Kayak Rod Holders
Kayak Rod Holder Comparison Table
| Picture | Rod Holder | Rating | Price |
| --- | --- | --- | --- |
| | Cannon Downrigger Rod Holder | 4.7 | $$ |
| | Attwood 5009-4 Heavy Duty Adjustable Rod Holder | 4.6 | $$$ |
| | Lixada Adjustable Rod Holder | 4.3 | $ |
| | Scotty #282-BK Baitcaster Rod Holder | 4.8 | $$$ |
| | RAILBLAZA Rod Holder II | 4.9 | $$$ |
| | PLUSINNO Fishing Boat Rod Holder | 4.3 | $ |
| | CE Smith Tournament 3 Rack Rod Holder | 4.5 | $ |
| | Amarine Made 30 Degree Rod Holders | 4.3 | $ |
| Picture | Anchor Rope | Rating | Price |
It can be top or side-mounted with a 360-degree base and a spring-loaded tension knob for easy adjustment of the angle.
There are also 4 reasonably priced accessories available separately to further adapt the mount to your personal preferences.
Durable composite material
3-position track mounted
Suitable for baitcasting or spinning rods
Top or side mountable with a 360-degree base
Spring-loaded tension knob for quick adjustment to pivot the angle
Accessories available separately to adapt to your preferences
Attwood 5009-4 Heavy Duty Adjustable Rod Holder
Rod tip heights can be adjusted vertically 180 degrees with the easy-grip large lock-nut.
It's a quality rod holder for your baitcasting or spinning rods by Attwood who has been in business for more than 100 years.
Combo mount (to flush mount or surface mount brackets)
Quick-release latch mechanism with an ergonomic design
Adjustment with an easy to grip large lock-nut
180-degree vertical adjustment range for rod tip heights
Suitable for bait-casting or spinning rods
You can rotate your rods 360 degrees horizontally, and up and down adjustment is secured with a large locking knob.
Available with very affordable pricing, it's a solid choice for use with most fishing rods.
Durable, high impact-resistant plastic and stainless steel hardware
360-degree horizontal rotation
Front locking ring for secure attachment during travel
Up and down adjustment with a large locking knob
Suitable for most salt and freshwater rods
Low-priced
Scotty #282-BK Baitcaster Rod Holder
It has a cushioned cradle for a baitcasting reel, a front slot for a spinning reel, and an open bottom providing space for trigger grips.  A soft latching strap holds the reel in place.
Constructed of durable composite material, installation is simple, and it will last for years.
Includes gearhead and track adapter
Lockdown rod holders and accessories with a simple twist
Durable high strength composite material
Cushioned cradle for a baitcasting reel and a front slot to accommodate a spinning reel
Soft latching strap to secure reels in place
With flush or surface mounting options it has a rotating collar to firmly keep your rod in position.
The Starport supports a number of other accessories and it comes in white or black.
Includes Starport for an adjustable ball and socket mounting
Surface or flush mounting options
Stainless steel mounting hardware and durable plastic construction
Adjustable 360-degree horizontal rotation in 12 setting locations
90-degree vertical movement range with a knob for adjustment
Rotating collar to secure the rod in place
Comes in white or black
Range of Railblaza accessories can be mounted on the Starport
PLUSINNO Fishing Boat Rod Holder
The PLUSINNO Fishing Boat Rod Holder is a clamp-on model that comes in 2 styles and sizes of clamp suitable for a range of kayaks and boats and is available in 1 or 2 packs.
Made with durable and eco-friendly ABS and corrosion-resistant stainless steel hardware, it has 360-degree horizontal rotation, and vertical angle adjustments are adjustable with rotary buttons.
A good match for baitcasting, spin casting, and spinning rods and reels, per piece the pricing is low.
Comes in 1 or 2 pack
Durable eco-friendly ABS construction and stainless steel hardware
Rotary button to control 360-degree horizontal rotation
Rotary button controls vertical angle adjustment
2 available clamp attachments: RH20 opens to 1.97", RH30 opens to 4.75"
Suitable for baitcasting, spin casting, and spinning applications
CE Smith Tournament 3 Rack Rod Holder
Great for trolling or rod storage, the CE Smith Tournament 3 Rack Rod Holder is a crate mountable system for up to 3 rods.
Constructed from sturdy UV-resistant polypropylene with stainless steel hardware, it also has locations to hold 7 fishing lures, a knife, and a pair of pliers.
Great for organizing your rods and gear, it comes in black or white, at very affordable pricing.
Best for crate mounting
Durable UV-resistant one-piece molded polypropylene
Horizontal and vertical mounting holes
Stainless steel mounting screws
Includes 3 rod holders, 7 lure hanging holes, 1 knife slot, and 1 pliers slot
11" height x 12.5" width
Comes in black or white
Low-priced
Amarine Made 30 Degree Rod Holders
Constructed of 304 stainless steel with a shiny polished top plate, they are mounted at a 30-degree angle with an 8.66" internal length to hold your rods in a stable fishing position.  Construction includes a rubber cap, tube line, gasket, and gimbal pins.
Pricing is quite affordable.
Flush mounted
2 pieces included (1 rod per unit)
304 stainless steel tubing and polished top plate
30-degree angle to vertical
Includes rubber cap, tube liner, gasket, and stainless steel gimbal pins
8.66-inch centerline length
Kayak Rod Holder Buying Guide
Mounting Options
Clamps – If you are renting a kayak or change vessels on occasion, this provides a temporary mounting option that won't require any drilling or potential damage to the structure.  Clamp-on rod holders are typically easy to mount.
Threaded – These have a machined end designed to be screwed into an installed piece.  This is a secure mounting system but make sure your kayak has the appropriate piece to connect to.
Flush – This type requires a hole in the structure of the kayak in which the rod holder is placed so that the top is on the same plane as the kayak structure.  It's a permanent fixture screwed or bolted in.
Track or Rail – This type of rod holder mounts on tracks or rails that are installed as a permanent fixture of the kayak.  Some models will come with the rail portion as part of the package that you can install yourself, usually fairly easily with screws.
Crate – Certain rod holders are designed to be mounted on crates that you can purchase especially for fishing or that you can customize or fabricate yourself.  The crate can be used for the storage of various accessories and items and the framework can serve as the location to mount rod holders.  Often times the holders are for multi-rod use like the CE Smith Tournament 3 Rack Rod Holder reviewed above.
Rod Capacity
Most rod holders designed for kayaks hold only one rod at a time.  If you want to have more than one rod in use you could consider mounting more than one holder.  If you are using the crate mount option outlined just above, then the holders will frequently hold 3 or more rods.
Materials
A kayak rod holder needs to be sturdy enough to withstand the rigors of the environment and the pull of a fish.  Many commonly use plastic of one kind or another and stainless steel hardware both of which are corrosion resistant and fairly strong.  These materials are inexpensive.  Other materials that in many cases are more durable include aluminum, fiberglass, nylon, and aluminum.  These are more expensive but can be more durable in the long run.
For more reviews of boats, kayaks, canoes, and accessories, please check out these popular posts:
Anchor Ropes     Boat Anchors     Kayak Storage Racks     Kayak Compasses     Kayak Anchors     Kayak Bilge Pumps     Inflatable Canoes     Electric Pumps for Inflatables     Motorized Kayaks     Pedal Kayaks     Ocean Fishing Kayaks     Fishing Kayak Paddles     Waterproof Bags     Canoe Paddles     Canoes     Kayak Shoes     Kayak Helmets     Kayak Wetsuits     Kayak Roof Racks     Kayak Carts     Kayak Drysuit Review     Kayak Paddles     Kayak Life Vests Women     Kayak Life Vests     Marine VHF Radios     Small Outboard Motors     Kayak Trolling Motors     Kayak Fish Finders     Marine GPS     Marine Binoculars     Women's Kayaks    Touring Kayaks      Tandem Kayaks     Whitewater Kayaks for Beginners     Lake Kayaks     Ocean Kayaks     Fishing Kayaks     Beginner Kayaks     Recreational Kayaks     Inflatable Kayaks     Inflatable Boats
Feedback and Comments
I hope you found this post on kayak rod holders interesting and useful.  If you have any questions or ideas, please feel free to share them in the comments section.  If there is no comments section directly below, click here:  >>comments<<