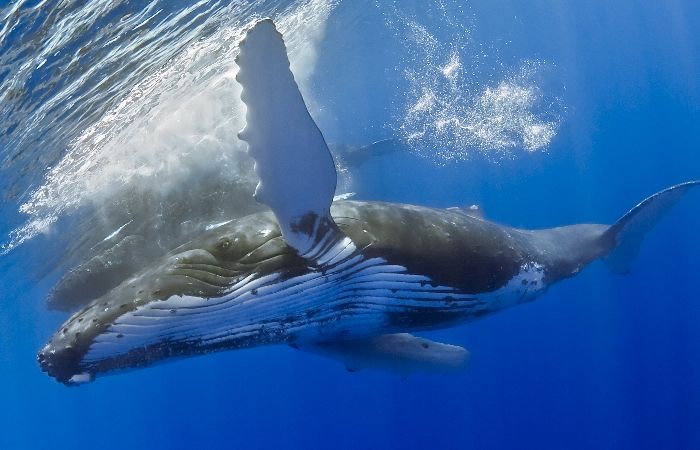 Updated August 27, 2022
This is the one hundred and sixty-ninth in a series of reviews of the best dive resort locations worldwide.  In this post, the focus is on the Abrolhos Islands, Brazil. In addition to this series on dive resort locations, the best worldwide liveaboard diving locations and services are reviewed in their own series.  To check them out, or others in this series, click on Liveaboards/Resorts on the menu at the top and choose a title from the list.
Have you been diving in the Abrolhos National Marine Park before?  If so, I'd love to know about your experience.  What dive shop or liveaboard did you use?  Which dive spots are the best and what are the conditions there regarding the visibility, current, water temperature, sealife attractions, etc.?  Please post your response in the comments section at the bottom and we'll all learn something we can use.
Diving in Abrolhos Islands Brazil – Abrolhos National Marine Park
Background
Situated 70 kilometers (44 miles) off the coastline of Caravelas in the State of Bahia is the Abrolhos National Marine Park.  Made up of 5 volcanic islands and covering  913 square kilometers (353 square miles) the protected Marine Park was initiated in 1983.  The islands are uninhabited except Siriba, under the jurisdiction of the Brazilian Navy, which is the only island open to visitors.  The Abrolhos Lighthouse is there along with the resident lighthouse crew and park gamekeepers.
Island fauna includes lizards, spiders, invasive rats, and birds including masked and white-bellied boobies, frigates, and white atobas, birds that dive to depths of 8 meters (25 feet) to fish.  Besides seeking food and shelter, many including frigate birds nest on the steep sides of Redonda Island which is also visited in the spring by nesting loggerhead turtles.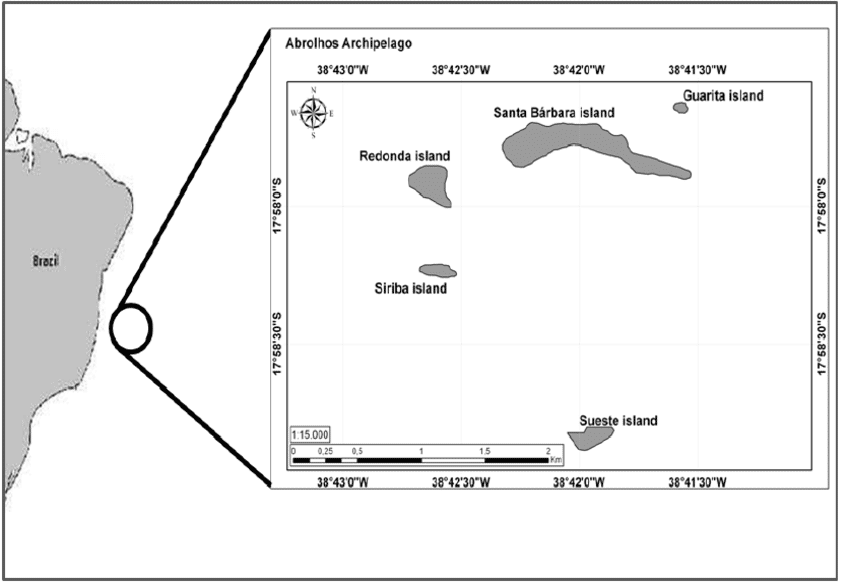 Undersea World
With its volcanic terrain, drop-offs and caverns, mangrove forests, and coral reefs, the Abrolhos Islands have abundant and diverse marine life.  In the South Atlantic, you won't be astounded by the richness or diversity of the corals like you might be in Southeast Asia or even the Caribbean, but you can look for 19 coral species including endemic brain coral, black coral, fire coral, soft corals, and large gorgonians.
The other marine life is more diverse with hundreds of fish species and a nice variety of macro critters like octopus, squid, nudibranchs, feather stars, lionfish, and crustaceans, and reef tropicals like mixed schools of porkfish, grunts, and yellow-tail snappers, parrotfish, French angelfish, tangs, dhufish, jewfish, squared groupers, stingrays, wobbegongs, sharks, green and loggerhead turtles, huge bait balls, pelagics, eagle rays, and occasional manta rays.
Dolphins stay around the islands year-round and 40-ton humpback whales come in numbers for breeding and nursing from July to November.  They are visible from the surface on the journey to the islands on whale-watching tours and fairly often underwater by divers and snorkelers at close range.
In addition, there is an intriguing shallow wreck, the Rosalinda (or Rosalina), an Italian cargo ship with a load of concrete that sunk in 1953 and is now a rich habitat for a variety of invertebrates and fish.
Seasons and Conditions
Diving is possible all year in the Abrolhos National Marine Park.
Air temperature is always warm with annual average daily highs of28°C (82°F).  August is usually the coolest month and March is the warmest.
The average water temperature annual range is 24-28°C (75-82°F) with an average of 26°C (79°F).
It rains throughout the year with slightly less in February and August.  Major tropical storms are rare.
Currents are usually mild.
Visibility averages 10 meters (33 feet) but reaches 20 meters (68 feet) from December through April.
There are sites suitable for all levels of diver.  Several dive shops from the Caravelas area and a few more from outside provide day trips and 2-4 day liveaboards to the marine park.  Access takes 2-3 hours by liveaboard yacht.
Another Brazilian Diving Hotspot
For a review of diving at another great Brazilian location, please check this:
Caribbean Diving Opportunities
For some great diving in the Caribbean and some links to liveaboards there, please check out these reviews and links: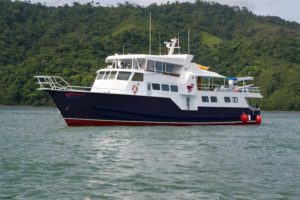 Bahamas Master, Bahamas Liveaboard Diving – Check the Price & Details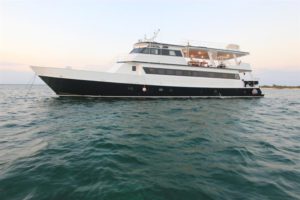 MV Avalon I, Jardines de la Reina, Cuba Liveaboard Diving – Check the Price & Details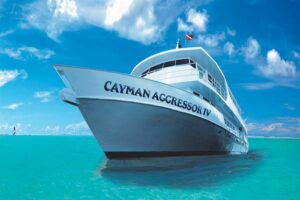 Cayman Aggressor IV, Cayman Islands Liveaboard Diving – Check the Price & Details
Things to Do in Abrolhos (aside from scuba diving)
Caravelas is a town of 20,000 that has limited tourist opportunities.  The major attraction is the Marine Reserve area and boat cruises, whale watching, snorkeling, and diving associated with it.  In addition, there are a number of beaches and parks, a natural history museum, a cathedral, a 500-year commemorative monument, a historical center, and a variety of restaurants.
Abrolhos Transportation, Hotels, and Diving Services
Transportation
To get to Caravelas, international visitors can fly to the nearest major airport in Porto Seguro (BPS) which has daily flights from São Paulo and Rio de Janeiro.  From there it is 262 kilometers (164 miles) or about a 4-hour drive.  Rental cars are available at the airport.  Buses will probably require transfers along the way.  A closer regional airport is  Teixeira de Freitas Airport (TXF) only 90 kilometers (56 miles) from Caravelas.  Rental cars are also available at this airport and direct buses can be found nearby.   There is a general aviation airport in Caravelas, but there are no scheduled flights.  When you book your hotel, which you can do online below, check with them for the best current transport method.  Many can arrange or provide pick-up at the airport.
Hotels and Diving
In the Abrolhos area around Caravelas, there are around 20 or more lodging options starting at $11 per night.    Several dive shops from the Caravelas area and a few more from outside provide day trips and 2-4 day liveaboards to the marine park.  Many of the available hotels are associated with dive shops or can help you arrange the diving.
The website linked below has the details for the lodging and can arrange a booking.  You can easily find the location on the map provided on their site.  The rates are guaranteed to be the lowest and it is free to cancel or change dates.
Photography in Caravelas and Abrolhos
With the colorful coral reefs, a variety of fish, marine life, sharks, turtles, humpback whales, shipwrecks, and beautiful onshore targets, as well, there are many excellent photo opportunities.  For information and reviews of dive cameras, check out these reviews:
Scuba Diving Trip Insurance
A cushion for emergencies provides peace of mind when on vacation.  I recommend this diving insurance as they have worldwide coverage and give scuba divers quality insurance and medical assistance service.
Feedback and Comments
I hope you found this post on Abrolhos Islands scuba diving interesting and useful. If you have any questions or ideas, please feel free to share them in the comments section.  I'd love to know of any experience you have.  If there is no comments section directly below, click here:  >>comments<<