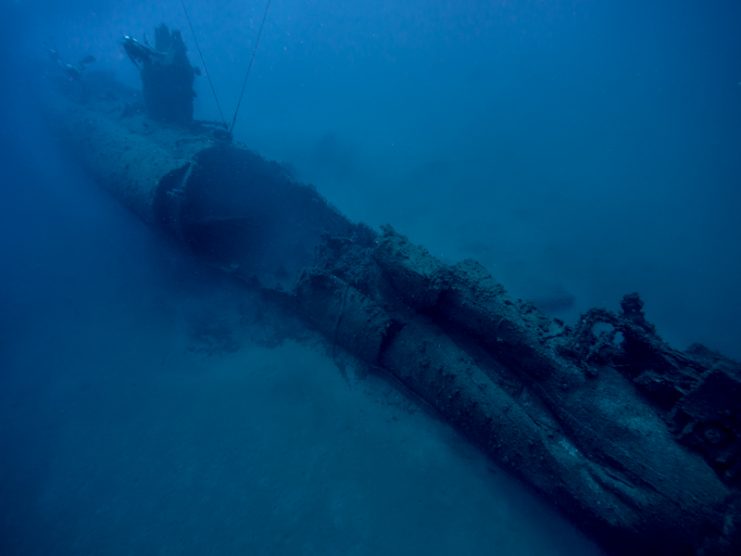 Updated April 27, 2022
This is the one hundred and seventy-forth in a series of reviews of the best diving destinations around the world.  In this post, the focus is on Israel. In addition to this series on diving destinations, the best worldwide liveaboard diving locations and services are reviewed in their own series.  To check them out, or others in this series, click on Liveaboards/Resorts on the menu at the top and choose a title from the list.
Have you been diving in Israel before?  If so, I'd love to know about your experience.  What dive shop or liveaboard did you use?  Which dive spots are the best and what are the conditions there regarding the visibility, current, water temperature, sealife attractions, etc.?  Please post your response in the comments section at the bottom and we'll all learn something we can use.
Best Scuba Diving in Israel
Most of the time when people think of diving in Israel, they contemplate the Red Sea and access it through Eilat.  This review looks at Israel's diving in the Mediterranean Sea.
For my review of diving from Eilat, please check this out:
Background
Located on a relatively small parcel of land on the eastern end of the Mediterranean Sea, Israel has a population of 9 million over half of which live in the cities along the coast.  With few natural resources and a desert climate, Israel is well-known as the most advanced country in Southwest Asia and the Middle East in economic and industrial development.
In spite of the attacks by neighbors on civilian targets, tourism has been increasing with over 3.6 million visitors in 2017.  A lot of it is related to religious, biblical, archaeological, and historical motivations but a sizable number of visitors come to take advantage of the climate, beaches, and lifestyle along the coastline.
Undersea World
Most divers who come to Israel head down to Eilat for the rich biodiverse reefs and marine life there.  Admittedly the area off the Mediterranean coastline does not have the same reputation.  However, there are several interesting wrecks, grottoes, canyons, and reefs to explore with 284 species of fish including stingrays, torpedo, and eagle rays, groupers, bream, gray triggerfish, soldierfish, cuttlefish, octopus, nudibranchs, scorpionfish, and turtles along with sponges, corals, and plants.
Seasons and Conditions
Diving is possible all year in Israel.
Air temperature daily average highs in Tel Aviv reach 31°C (88°F) in July and August and fall to 17°C (63°F) in January.
Water temperature hits lows in winter of 17°C (63°F) and highs in summer of 29°C (84°F).  A 7mm wetsuit or a drysuit with a hood and gloves may be needed when the water is at its coolest.
The dry season is from April through October.
Currents vary site to site and usually range from mild to medium.
Visibility runs at 5-40 meters (16-130 feet) with the worst in the summer months.
There are sites suitable for all levels of diver.  20 or more dive shops, some associated with hotels, offer a full range of diving coursework, equipment rental, guiding, and boat cruises.
Liveaboard Diving
There is no liveaboard yacht directly cruising Israel.  However, there are many doing dive safaris in the Red Sea and a few in the Mediterranean.  Here is my review of Red Sea liveaboards and some links to vessels: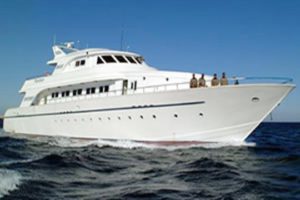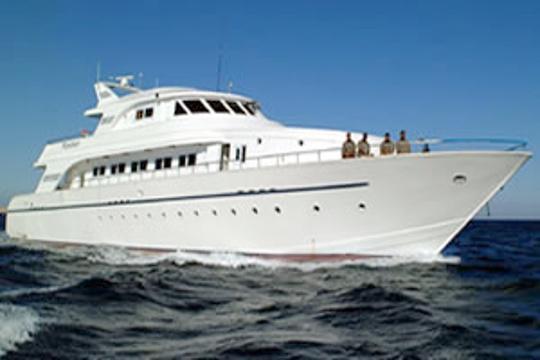 MY Excellence, Red Sea Liveaboard Diving – Check the Price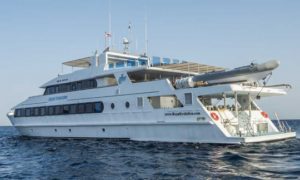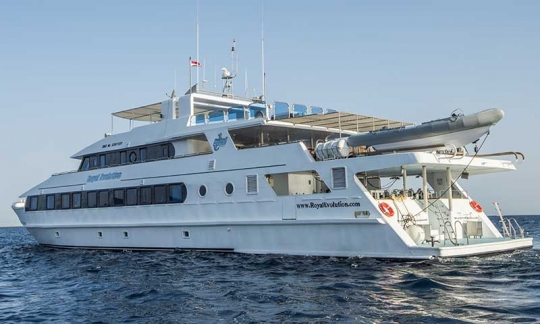 MS Royal Evolution, Red Sea Liveaboard Diving – Check the Price

MY Emperor Elite, Red Sea Liveaboard Diving – Check the Price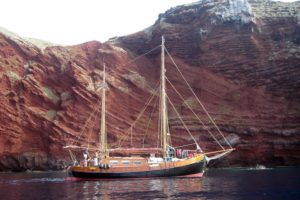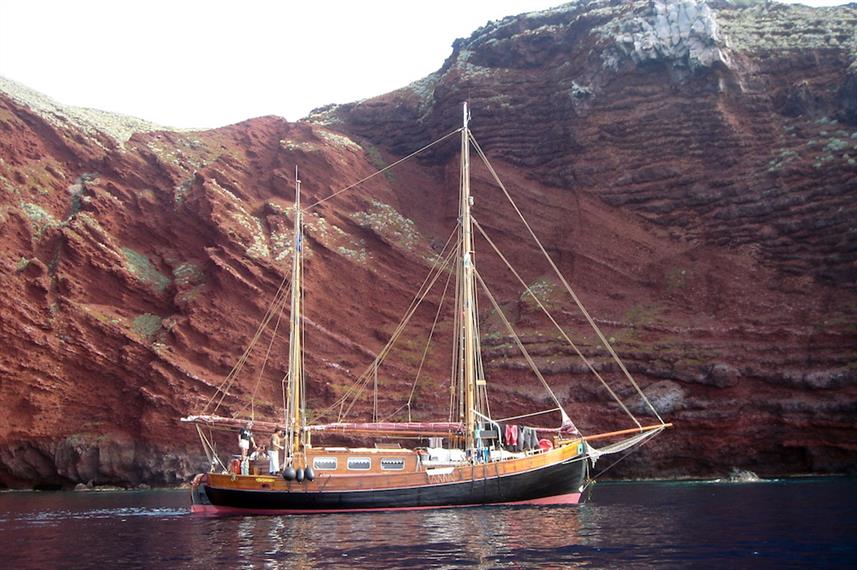 Norseman, Tuscan Archipelago Scuba Diving Liveaboard – Check the Price
For my reviews of other Mediterranean and Adriatic diving, please check out these posts:
Selected Israeli Dive Sites
Achziv Canyon: 10-24 meters (33-80 feet), near the northern border in Achziv National Park, usually accessed by boat, walls, and canyon encrusted with soft corals, sponges, and plants, marine life highlights include squid, rays, turtles, and large fish passing by, moderate current is possible, suitable for all levels
Caesarea Underwater Archaeological Park: 10 meters (33 feet), near the port city of Caesarea, shore access, underwater tour of history with a 2000-year-old breakwater, entrance guard towers, Herod's sunken harbor, anchors, and caverns, marked with guide signs, mild current at most, encrusting corals, sponges, plants, and other marine life, suitable for all levels
Rosh Hanikra Caverns:  6 meters (20 feet), near the northern border with Lebanon, shore access, caverns and grottoes carved by currents and waves from chalk cliffs and rocks in the Rosh Hanikra reserve, maze of pathways and underwater caverns, a guide is needed and permission from the Israeli Navy, moderate current is possible, most suitable for experienced divers in spite of the shallow depth
Scirè Wreck: 33 meters (108 feet), near Haifa, boat access, 60-meter (197-foot) Adua class Italian submarine sunk by depth charges from a British naval trawler in 1942 just outside Haifa harbor, marine life of invertebrates and fish, currents are usually mild, suitable for experienced levels
Sea Wolf Wreck: 32 meters (105 feet), near Haifa, 40-meter (130-foot) ship scuttled by the Israeli Diving Federation in the early 90s for navy training purposes, completely intact, lying parallel to the slope, marine life includes groupers, bream, stingrays, and gray triggerfish, suitable for experienced levels
Gordon Caves: 6-12 meters (20-40 feet), off Gordon Beach in central Tel Aviv), shore access, a reef with canyons, tunnels, passageways, and caves, marine life includes lobsters, crabs, octopus, and a variety of fish, mild current possible, suitable for all levels
Jaffa Peanut Wreck: 9 meters (30 feet), west of Jaffa, shore access, 90-meter (295-foot) Egyptian steamer launched in 1934, date of the sinking not clear, carrying a load of peanuts when it sank, rich marine life, suitable for all levels
The Pipe: 15 meters (50 feet), outside Tel Aviv port, boat access, old oil pipeline and channel now out of use, interesting marine life, suitable for all levels
Herzliya Canyon: 30 meters (100 feet), 15-20 minute boat ride from Herzliya, rock formation with canyons, passageways, and caves, rich marine life, suitable for experienced levels
Bird Head Canyon: 9-12 meters (30-40 feet), near Mezizim Beach, named for the Bird statue onshore, boat access, a canyon with marine life including cuttlefish, octopus, lobsters, parrotfish, bream, and stingrays, suitable for all levels
Electric Fish Wreck: 48 meters (160 feet), 8 kilometers (5 miles) off Tel Aviv, well preserved, suitable for technical levels
The Two Tug Boat Wrecks: 18 meters (60 feet), near Tel Aviv Marina, boat access, rich marine life, suitable for all levels
Things to Do in Israel (aside from scuba diving)
Tel Aviv is the most developed city in the region in a country steeped in a history that has influenced much of the world.  Most of the dive shops are in the Tel Aviv area and you will want to take advantage of all that the city has to offer.  The first video below gives you some pointers on the attractions and logistics for your time in Tel Aviv.  In the second you are introduced to some of the most intriguing sites around the country to consider.
Israeli Transportation, Hotels, and Diving Services
Transportation
Air – The main international airport is Ben Gurion International Airport (TLV) 12 kilometers (7.5 miles) from Tel Aviv.  International and domestic service is available to Ramon International Airport located 20 kilometers (12.5 miles) north of Eilat.
Israel has an extensive, sophisticated, modern transportation network around the country which includes trains, buses, shared taxis, and taxis.  Car rental is also available by the hour and the day.
For more complete details on transportation options and tourist information, please go to Wikitravel-Israel.
Hotels and Diving
Lodging options start at $20 per night.  There are 20 or more dive shops servicing the Mediterranean diving, some located in or associated with hotels.  On offer is a full range of services that include equipment rental, diving certification classes, dive guides, and boat tours.
The website linked below has the details and can arrange a booking for the lodging.  You can easily find the location on the map provided on this site.  Their rates are guaranteed to be the lowest and it is free to cancel or change dates.
Photography in Israel
With the interesting underwater terrain, caverns, a variety of fish, macro critters, stingrays, wrecks, and historic shoreside targets, as well, there are many excellent photo opportunities.  For information and reviews of dive cameras, click here:
Scuba Diving Trip Insurance
A cushion for emergencies provides peace of mind when on vacation.  I recommend this diving insurance as they have worldwide coverage and give scuba divers quality insurance and medical assistance service.
Feedback and Comments
I hope you found this post on scuba diving in Israel interesting and useful. If you have any questions or ideas, please feel free to share them in the comments section.  I'd love to know of any experience you have.  If there is no comments section directly below, click here:  >>comments<<