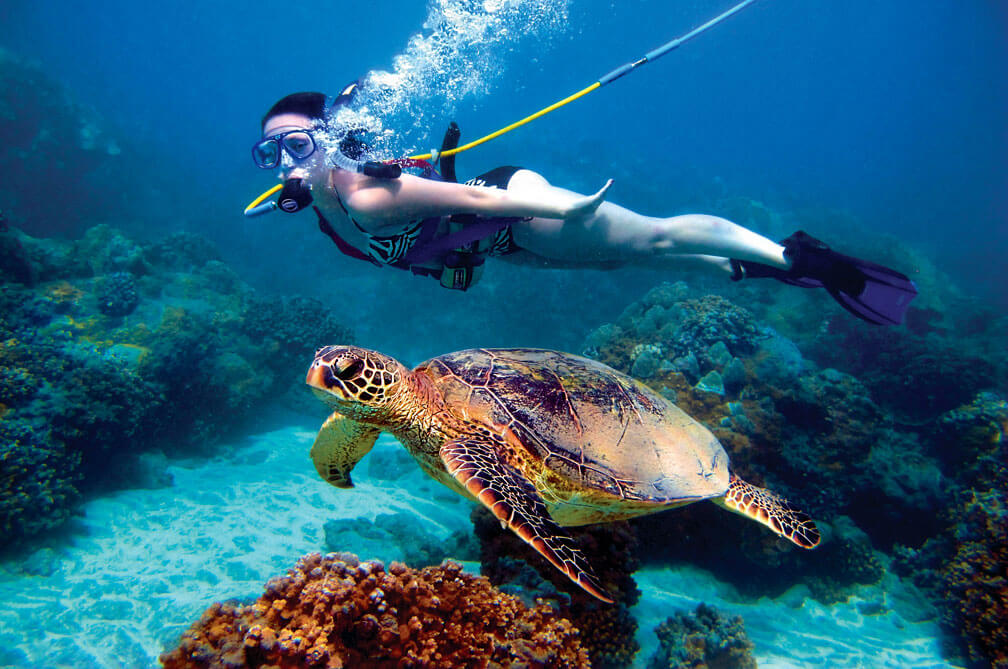 Updated October 20, 2022
For a review of top hookah diving systems click here:
Scuba diving has grown by leaps and bounds over the last 40 years.  As it has expanded as a recreation into more and more technical areas, the equipment and training needs have also increased dramatically.  Many divers are moving back into the simpler and relatively less sophisticated technology provided in hookah diving.  It is a less cumbersome way to have the fun of diving to explore and discover the underwater world, just to take care of hull scraping and other boat maintenance, or to quickly be able to jump in to retrieve a stuck anchor without spending 20 minutes to gear up.
Hookah Diving Equipment Guide
What is Hookah Diving?
Simply put, hookah diving involves the use of a low-pressure compressor on a platform feeding air down to the diver through a hose to a regulator worn by the diver.  This is a dynamic system.  It is also possible to achieve a similar result with a static system by using a tank of air to replace the compressor, but this would imply a limited supply of air.
Run Time
With a hookah system, time limits are extended to the amount of fuel available and to no-decompression limits.  With a gasoline/petrol-fueled system this could be several hours or with an electric-powered unit, it could extend to a practically infinite length of time.
In the past surface supplied gas systems were primarily used in commercial applications.  They allowed the diver to leave behind the load necessary when using scuba and move more easily through the water.  Over time prices have come down and applications for recreational and personal use have developed.  Today hookah is considered a relatively low-price way for 1 up to 4 divers to participate in the fun of diving without necessarily going through formal diver training.
Training
That being said, formal training is highly recommended.  A scuba training certificate would ensure that a person knows key skills that a hookah diver would find essential, such as mask and regulator clearing, not to mention a firm grasp of the dive tables and the risks of decompression illness.
Safety
In addition, other safety measures can be taken.  A diver down flag, which many units have built-in, can be displayed to indicate the location of the diver, and a watchman should be on the surface to monitor the system and alert the divers to any danger.  Because it is plausible that there could be problems with the system, divers can carry a compact spare air unit.  A scuba unit could also be moored at 5 meters to be used in the event of an air stoppage when a safety stop is needed.  Also, as so many scuba divers are doing, the hookah diver can carry a dive computer to help confirm that decompression limits are not exceeded.
For some additional hookah diving safety ideas from DAN, click here.
Hookah Systems
Hookah systems can be mounted out of the water on the deck of a boat, dock, pier, or shore.  Some are designed to be mounted on a flotation device with the compressor floating on the water's surface.  Under rough weather conditions, careful consideration should be given before using that type.
NARDI Esprit 3T Electric Compressor 50′ Hose Hookah System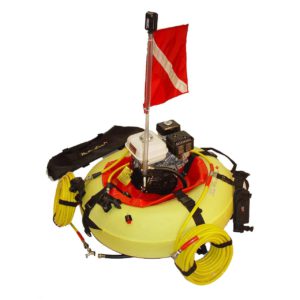 Airline R260-4 Hookah Dive System
They can be set up for one or more divers and powered by electric or gas/petrol motors.  Accessories available include kits for additional divers and spare air emergency units.
It is recommended to use hookah systems manufactured by licensed companies.  The system used needs to have components that are compatible and safe.  There are stories of dangerous malfunctions when people have put together their own systems from parts laying around in the garage.  The compressor needs to function cleanly without exhaust getting into the air supply.  A proper hose that is non-toxic and of appropriate strength and durability is essential.  Professional manufacturers understand these issues and have diver safety at the top of the list.
Another consideration is environmental friendliness.  Cleaner and quieter running systems have less impact on the surroundings.  Electrically powered models are better in both ways than gasoline/petrol-powered models.
The above video describes a new battery-powered ultra-portable hookah system still in the development phase, perhaps hitting the market soon.
Many hookah kits are available that are easy to use, safe and fun.  They offer extended bottom time without the burden of lugging a heavy bottle around.
For a review of top hookah diving systems click here:
Feedback and Comments
I hope you enjoyed this discussion of hookah diving equipment and systems.  If you have any questions or concerns, please put them in the comments section.  If there is no comments section directly below, click here: >>comments<<