We may earn money or products from the companies mentioned in this post.

This photo of Roatan is courtesy of TripAdvisor
A birthday, anniversary, or holiday is always right around the corner.  Are you running out of ideas for a thoughtful gift?  If the recipient is a scuba diver I am here to tell you that they are always hoping for some more scuba equipment or peripheral items.  Below is a range to consider with some very low priced accessories, to moderately priced equipment, and even a budget liveaboard trip that would be great to consider for couples.
Do you have any questions about the gift ideas presented?  If so, I'd love to hear from you.  Maybe I can offer some advice or come up with some additional thoughts.  Otherwise, you can go to some of the links provided to get some more information and reviews of similar gear and accessories.  Please post your response in the comments section at the bottom and we'll see what we can do.
Best Gifts For a Scuba Diver – List of Gifts to Consider
Best Gifts For a Scuba Diver
Oceanways Superview Scuba/Freediving Mask
Suitable for scuba diving and freediving
Single-lens with a special coating to resist UV rays and glare
Comes with a black skirt, and orange or blue-tinted lens to enhance contrast and depth perception
Extra-soft silicone skirt, a wide field of vision, rigid tear-drop frame
Single-lens frame can be more comfortable across the nose for some
For further information and reviews concerning masks, please check out these two posts:
Cressi Neoprene Mask Strap Cover
Comfortable, wide, reinforced neoprene cover
Velcro tabs ensure non-slip
Choice of black, blue, or pink
Easy on and off
Great for long hair
Z Clear Anti Fog Spray for Glasses & Masks
Anti-fog for glasses and diving masks
Doubles as cleaner
Long-lasting using only a small amount, easy to apply spray
Made in the USA
Good for snorkeling, freediving, and scuba diving
Open heel, open toe, comfortable barefoot design
24-inch blades
Exceptionally durable self-adjusting bungee strap
Ultra-durable 100% monprene construction
Comes in a range of sizes and black or white
Compact and lightweight for travel
For further information and reviews concerning fins, please check out these three posts:
Mares Bungee Fin Straps (Pair) 
Sturdy easy stretch donning and doffing
2 extensions for a better fit
Ergonomic heel cover
Comes in 5 colors and 3 sizes
NeoSport 2mm Neoprene Water Socks
Protects feet from scrapes and abrasions regardless of fin-type
Can be worn inside boots or with barefoot style fins
2mm neoprene, 4-way stretch
Comes in hi or low-top
Lightweight, compact design
Small technopolymer thumb tab
4.33-inch corrosion-resistant tempered AISI 304 stainless steel blade, 5.08-inch handle
Smooth edge and serrated edge with wire cutter
Blunt and sharp tip option
Easy one-hand release sheath with two straps
Hammer on handle bottom
Comes in several color combinations
Lanyard hole
For further information and a review concerning dive knives, please check out this post:
Suunto Zoop Novo Dive Computer
Great for recreational diving
Can use with air or nitrox
Easy four-button navigation, gauge mode, altitude, and personal conservatism adjustments, integrated apnea timer
Can be used on wrist or in modular console, large easy to read display, great performance considering the low price
PC integration is a separate purchase, the battery is dealer changeable
Very affordable
For further information and reviews concerning dive computers, please check out these posts: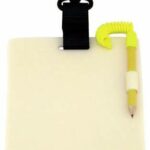 Promate Underwater Writing Slate
Great for emergencies, communication, note-taking, and dive plans

Glow-in-dark color

Pencil with a safety leash

Clip to secure it

Handy 6-inch x 5-inch size
Underwater Kinetics SL4 eLED L1 Dive Light 
Compact, durable, versatile spotlight suitable for underwater use as well as industrial, fire or other utility purposes
Comes in black, blue, or safety yellow
Wrist lanyard included
10 hour burn time
Depth rated to 500 feet/152 meters
For further information and a review concerning underwater diving lights, please check out this post:
Promate Scuba Diving Inflatable Safety Tube
Great safety implement, especially on drift dives or in boat traffic
Sturdy 210 Denier polyurethane coated nylon
48 and 72-inch length options
Neon yellow or orange
Binding taped trim
Oral inflation with overpressure relief valve
Finger reel available to pair with
Very affordable
For further information and a review concerning surface marker buoys (SMBs), please check out this post:
Aqua Lung Core Scuba Diving Regulator
Mid-range regulator with many high-level features
Balanced diaphragm first stage, easy breathing
Environmentally sealed to be great in cold water, highly resistant to freezing in water temperatures lower than 50 degrees F
Auto-Closure Device (ACD) keeps unwanted water and other contaminants out of the first stage when removed from the tank.
Large Venturi Switch to control free flows
Ergonomic Comfo-Bite mouthpiece
For further information and reviews of a range of great regulators, please check out these posts:
Scuba Choice Adjustable Wrist Lanyard
Frees your hands

Available in black, blue, green, orange, and yellow

Flexible design which allows you to connect either side to your wrist or accessories like cameras, knives, slates, and flashlights

Connects most accessories to your wrist or BCD.
Can rinse gear in the bag
Durable, quick-drying

Easily foldable, c

ompact to store

Large size, long fins fit inside

Wrap-around carry handles

600 Denier, PVC
37.5" x 14.25" x 14.5"
2 pounds (.91 kg)
Very affordable
For further information and a review of a range of great gear bags, please check out this post:
Underwater Kinetics Extendable Floating Camera Pole
High-quality selfie stick that collapses into a very portable size

Includes the standard attachment point for GoPro cameras

Lightweight, durable, aluminum and steel construction with flotation in fresh or saltwater

Highly visible

orange grip
For further information about underwater photography and GoPro cameras, please check out these posts:
Dorsal Changing Robe Surf Poncho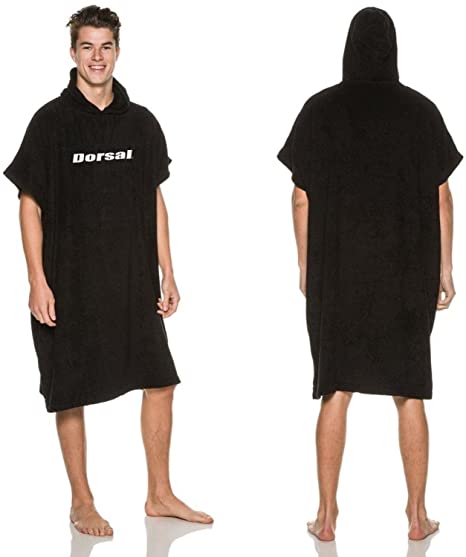 Comfortable surf changing poncho
Get in and out of your wetsuit in it
Large size fits all
Made of soft, thick, absorbent microfiber, doubles as a towel
Machine washable
Scuba Diver First Aid Kit
Entry-level kit with supplies for minor injuries and illness including care for wounds from bleeding control, cleaning and disinfecting, to covering the wound, topical medications to care for stings, burns, and minor allergic skin reactions, medications to handle electrolyte loss, minor aches and pains, allergic reactions, and motion sickness
Innovative Scuba Concepts Deluxe Diver Tool & Repair Kit
Basic tool kit for emergency repairs on scuba gear

Tools fit most scuba regulator first stage attachments

Contains crescent wrench, needle-nose pliers, s

pare O-rings, O-ring removal tools, s

ilicone grease, t

ie wraps and more
Silent World by Jacques Cousteau 
This is the international bestseller by the engineer and inventor of scuba originally published in 1954 that chronicles the early days of underwater exploration.  National Geographic presents the 50th-anniversary edition of the book allowing readers to follow Jacques Cousteau under the sea during the tumultuous times of World War II.
For a range of books related to scuba diving, please check out this review: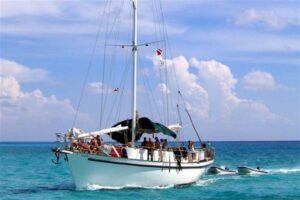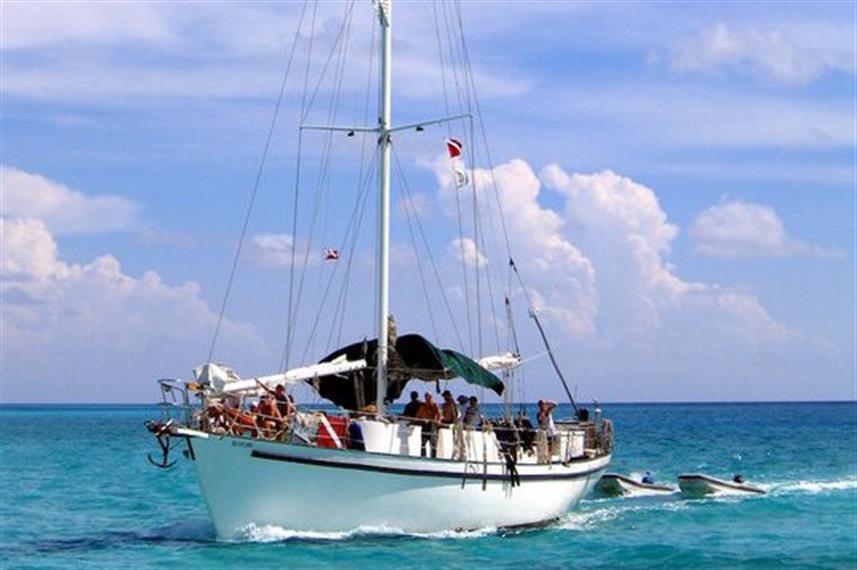 Bahamas Liveaboard Dive Safari on Blackbeard's Sea Explorer
Reasonably priced year-round 7 day trips from Nassau to the Exuma Cays
24 guests maximum
3 dorm-style aircon cabins
3 shared bathrooms
Non-diver (snorkeler) friendly
For information about other great liveaboard cruises for less than $175 per day, please check out this post:
Feedback and Comments
I hope you found this post on scuba diving gifts interesting and useful.  If you have any questions or ideas, please feel free to share them in the comments section.  I'd love to know what you think.  If there is no comments section directly below, click here:  >>comments<<