We may earn money or products from the companies mentioned in this post.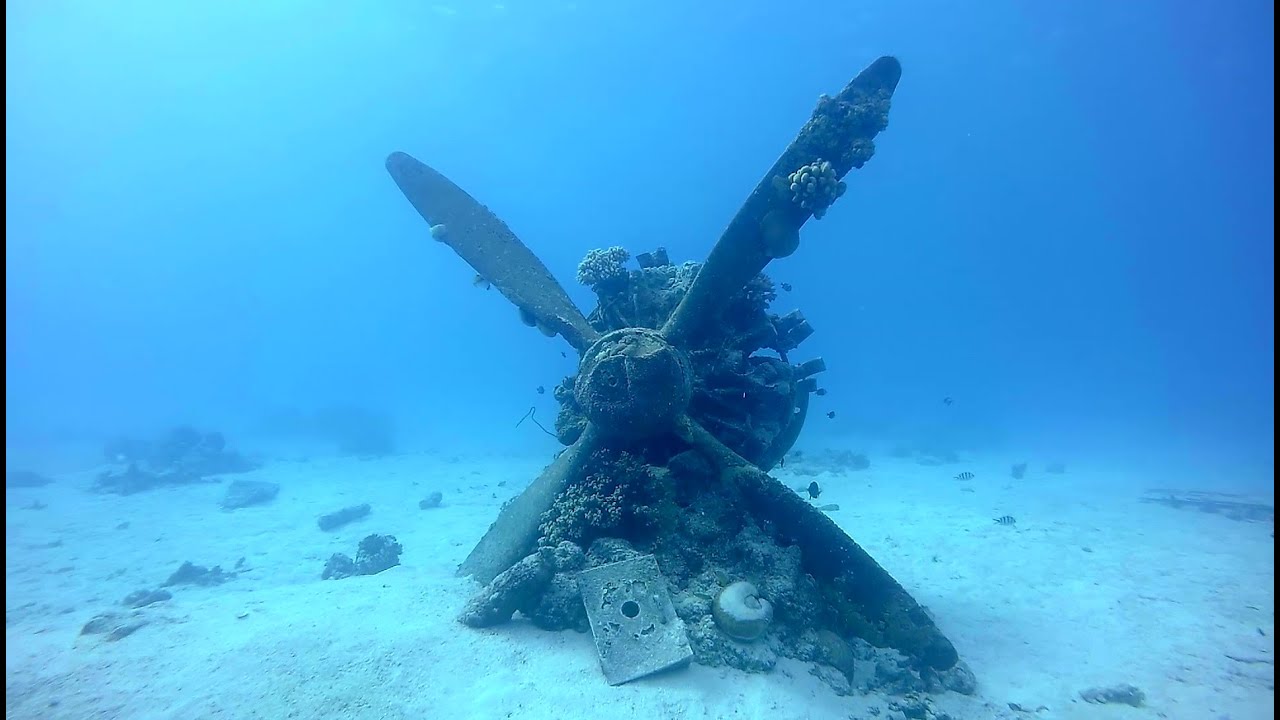 This is the eighty-first in a series of reviews of the best dive resort locations around the world.  In this post, the focus is Saipan. In addition to this series on dive resort locations, the best worldwide liveaboard diving locations and services are reviewed in their own series.  To check them out, or others in this series, click on Liveaboards/Resorts on the menu at the top and choose a title from the list.
Have you ever been diving in Saipan before?  If so, I'd love to know about your experience.  What dive shop or liveaboard did you use?  Which dive spots are the best and what are the conditions there regarding the visibility, current, water temperature, sealife attractions, etc.?  Please post your response in the comments section at the bottom and we'll all learn something we can use.
Scuba Diving Saipan
Background – Saipan is the largest island of the Northern Mariana Islands and is a commonwealth of the U.S.  With a population of 52,000, it is 23 kilometers (14 miles) long and 8 kilometers (5 miles) wide and located 190 kilometers (120 miles) north of Guam.  The west side of the island has sandy beaches with the east side characterized by rocky cliffs.  The highest point is Mount Tapochao at 480 meters (1,560 feet), which is a limestone mountain.  The forests have coconuts, Thai style hot peppers and papayas growing wild with farmers cultivating bananas, mangos, taro, and breadfruit.  The Spanish first set foot on Saipan in 1522.  Disease wreaked havoc on the local people over the years and they were all removed to Guam in 1720.  The Spanish were followed by German colonizers then Japanese in WWII and the Americans after the defeat of the Japanese.  Tourism has long been an economic driver.  Then in the 1980s garment production became important.  Minimizing the details, there were many international and local shenanigans and imported foreign workers.  After the GATT agreement expired eliminating quotas to the U.S. for garments, all the factories closed by 2009.  Recently casino gambling has become more important.  Today 50% of the residents are Asians from a variety of countries and 35% are Chamorro, Carolinian or another Micronesian ethnicity.  The local people can practically all speak English, but probably speak their own languages at home.  Most are Catholic.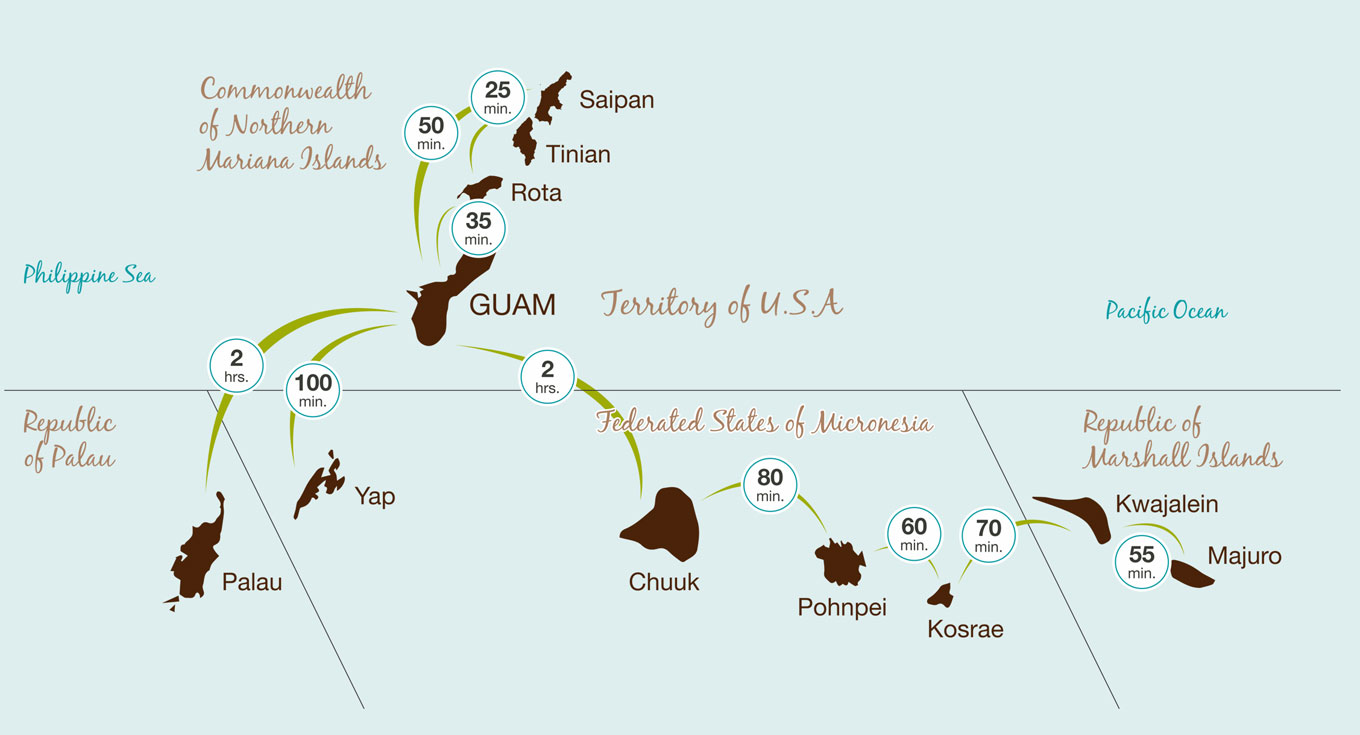 Undersea World – Saipan has a long extinct volcanic foundation that is covered by coral based fossils of limestone.  Today it has a fairly rich healthy fringing reef with caves, rocky outcrops, and ledges.  There is a large lagoon that has a trail of World War II wrecks on a sandy bottom with intermittent coral heads and also several smaller lagoons and bays.  In addition, offshore are several coral shoals rising from the deep.  The reefs have a lot of hard corals, encrusting sponges, and sea fans, but not a lot of soft coral cover.  Marine highlights include sandy sections with garden eels and coral areas with octopus, nudibranchs, moray eels, butterflyfish, five line snappers, pufferfish, and schools of tangs, parrotfish, and anemones with their partner clownfish.  Green and hawksbill turtles, blue-spotted and a larger species of stingray, Napoleon wrasse, schools of barracuda and jacks, and huge schools of other smaller pelagics are frequently sighted with whitetip reef sharks and large squadrons of eagle rays quite common.
Seasons and Conditions – Air and water temperatures are in a fairly narrow warm range year round.  Average daily high air temperatures are from 28-31°C (82-88°F).   Water temperatures run from 27-29°C (81-84°F) requiring minimal thermal insulation.  Perhaps a 3mm full or shorty is the most you would need.  Rain is significantly greater between July and October with the chance of a typhoon or tropical storm greatest from August through November.  It is possible to lose a few days of diving and have some difficulty flying in and out during a storm.  Visibility is typically excellent at 20-50 meters (68-168 feet).  Many sites only have mild current at the most with a few occasionally having a strong current.  Waves and surface chop is not very significant except during storms.  There are many dive sites suitable for beginners and others for more advanced levels.  At least 20 dive operations are set to provide a full range of diving coursework, equipment rental, guiding and boat cruises.
There is not a liveaboard that directly cruises the Saipan dive sites, but there are boats that go to Palau and Chuuk (Truk).  Here are my reviews and links to those liveaboards: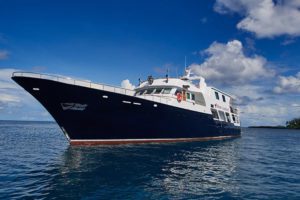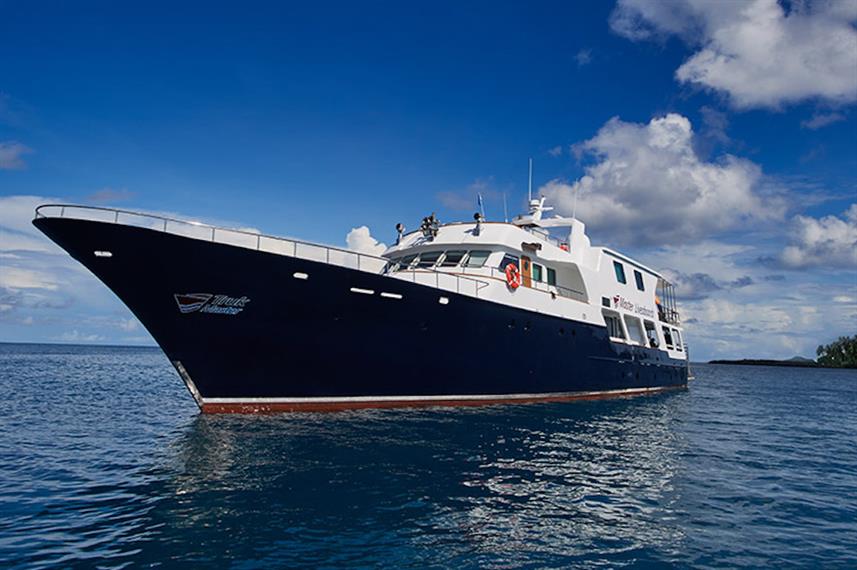 Truk Master, Truk Lagoon Liveaboard – Check the Price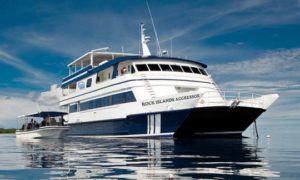 Rock Islands Aggressor, Palau Liveaboard – Check the Price
Here are my reviews of other Pacific island liveaboards and resort diving: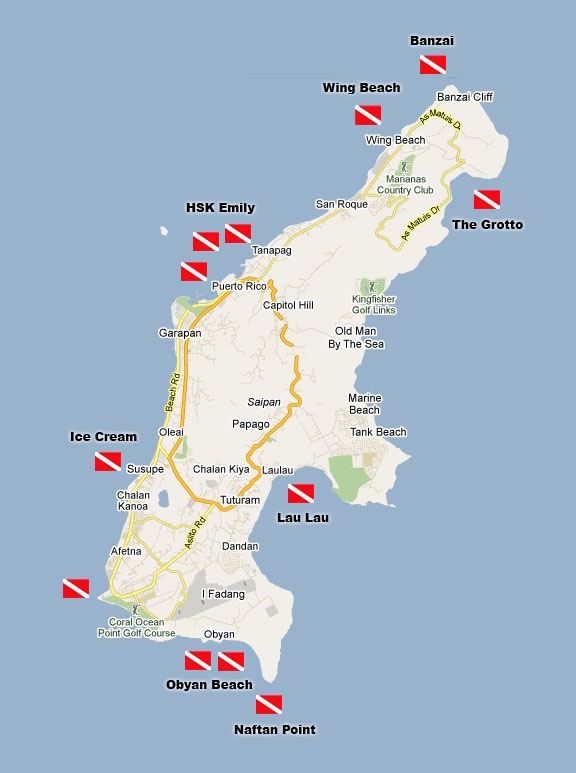 Selected Saipan Dive Sites
The Grotto: 22 meters (73 feet), shore entry from a steep staircase, sinkhole, central cavern with three holes opening to the sea, walls, swim-throughs, nudibranchs, flame scallops, clown triggerfish, whitetip reef sharks, green turtles, schooling jacks and barracuda, Napoleon wrasse, experienced level
Lau Lau: 21 meters (70 feet), large colorful reef, shore entry, lots of reef tropicals, butterflyfish, surgeonfish, lobster, crabs, shrimp, octopus, scorpion fish, trumpetfish, gobies, pufferfish, snappers, big eye skad, schools of jacks, good night dive, all levels
Ice Cream: 12-15 meters (40-50 feet), outside the lagoon, several boat moorings, large coral shoal rising from the bottom at 15 meters (50 feet) topping at 12 meters (40 feet), covered in staghorn coral, Moorish idols, butterflyfish, octopus, moray eels, eagle rays, all levels
Naftan Point:  40 meters (130 feet) to the base of the wall, drop off starts at 12 meters (40 feet), beautiful corals, big clams, lots of reef tropicals, Napoleon wrasse, grouper, sharks, experienced level
Obyan Beach: 5-18 meters (16-60 feet), shore or boat entry, two reefs, one shallower, lots of smaller reef tropicals, macro critters and colorful corals on the first reef, second reef begins at 15 meters (50 feet), there are good hard corals and a large section of soft coral, barracuda, sharks and garden eels in the sand, green turtles, some WWII armaments are still found, all levels
H8K Emily: 9 meters (30 feet), Japanese H8K Type 2 Flying Boat, many recognizable components like the 7.7 mm machine gun on the nose, 4 large props, most of a wing, many reef tropicals like jewel damselfish, whitetip reef sharks, all levels
Banzai: 40 meters (130 feet), a steep wall at the Banzai Cliff, nice corals, anemones, tuna, Napoleon wrasse, sharks rays, dolphins, strong current possible, experienced level
Shoan Maru: 10 meters (35 feet), 122 meter (407 foot) Japanese Navy Freighter sunk in 1944 in the Battle for Saipan while carrying Korean conscripts, part breaks the surface, lots of reef tropicals, octopus, yellowtail, rabbitfish, big jacks, 5 line snappers, whitetip reef sharks, all levels
Saipan Photos
With the interesting undersea terrain, caverns, wrecks, lots of turtles, a variety of fish, moray eels, reef sharks, eagle rays and barracuda, scenic beach and mountain vistas, and historical and cultural site shots as well, there are many excellent photo opportunities.  For information and reviews of dive cameras, click here:
Saipan International Airport has direct flights from Seoul, Busan, Hong Kong, Beijing, Chengdu, Guangzhou, Shanghai, Hangzhou, and Manila.  Seasonally there are also flights from Tinian, Guam, and Rota.  There is no public transport system, but there are shuttles, often free, from hotels to the duty-free shopping area in Garapan.  Taxis are plentiful but expensive and are only allowed to pick up at hotels, the airport, and the duty-free shopping area.  Illegal taxis operated by Chinese nationals exist that will take you anywhere for a healthy fee.  Rental cars and mopeds are also available to rent.  Night use of bicycles and mopeds is not advised as car drivers are not reputed to watch out for their safety very well.
There are around 56 resorts, hotels, and lodges ranging from $20-$459 per night.  A few have an in-house dive center or are associated with one.  In all there are at least 20 dive shops offering services including equipment rental, dive courses, guiding and boat dive cruises.  The website linked below is a good source for the available options and can arrange a booking.  You can easily find the locations on the map provided on this site.  Their rates are the lowest and it is free to cancel or change dates.
Things to Do on Saipan (aside from scuba diving)
There a number of interesting natural, historical and cultural things to do and see on this small island.  Here are a few:  Bird Island, Forbidden Island, Garapan Street Market, International Festival of Cultures, Last Japanese Command Post, Banzai Cliff, Mount Tapochau, Managaha Island, ATV off-road tours, Saipan WWII Pilgrimage Tour, Dinner Cruise, Go Karting, American Memorial Park, Puntan Sabaneta.  This video gives a nice aerial introduction to the island.
A cushion for emergencies provides peace of mind when on vacation.  I recommend this diving insurance as they have worldwide coverage and provide scuba divers a quality insurance and medical assistance service.
Feedback and Comments
I hope you found this post on Saipan scuba diving interesting and useful. If you have any questions or ideas, please feel free to share them in the comments section.  I'd love to know of any experience you have diving in Saipan.  If there is no comments section directly below, click here:  >>comments<<