We may earn money or products from the companies mentioned in this post.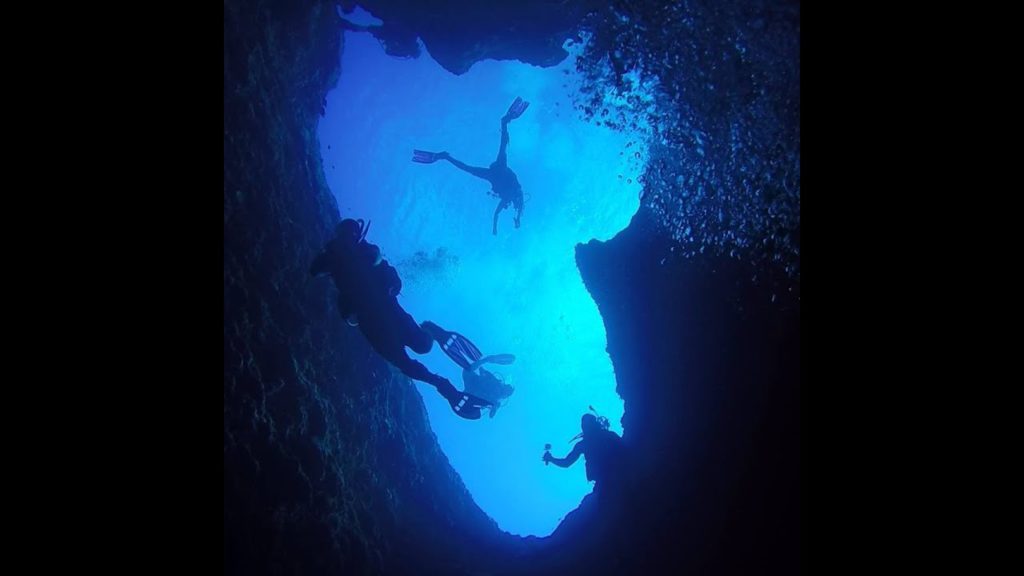 This is the eighty-second in a series of reviews of the best dive resort locations around the world.  In this post, the focus is Guam. In addition to this series on dive resort locations, the best worldwide liveaboard diving locations and services are reviewed in their own series.  To check them out, or others in this series, click on Liveaboards/Resorts on the menu at the top and choose a title from the list.
Have you ever been diving in Guam before?  If so, I'd love to know about your experience.  What dive shop or liveaboard did you use?  Which dive spots are the best and what are the conditions there regarding the visibility, current, water temperature, sealife attractions, etc.?  Please post your response in the comments section at the bottom and we'll all learn something we can use.
Guam Scuba Diving 
Background – Guam is the largest and southernmost of the Mariana Islands and the largest island in Micronesia at 549 square kilometers (342 square miles).  It has been inhabited since 4,000 B.C. and first came into contact with the west when Magellan got there in 1521.  Over the centuries it served as a major port of call between Mexico and the Philippines.  When the U.S. won the Spanish-American War in 1898 it was ceded to them.  Japan pushed the Americans out for 3 years in 1941, but with their defeat in Guam in 1944, America was back.  In 1950 Guam became a territory of the U.S.  Since that time the U.S. has maintained a large military base there that became more important after the closing of the bases in the Philippines.  Aside from the military, tourism is a major economic driver along with fish and handicrafts export.  The population of 162,000 is 37% Chamorro, 26% Filipino, 7% White American and 7% Chuukese.  English and Chamorro are the official languages with Filipino and several other Asian languages largely in use, and some Spanish, as well.  85% of the population is Roman Catholic.  Guam is not volcanic, but does occasionally have earthquakes.  It is the closest land mass to Challenger Deep in the Mariana Trench that is 18,911 meters (35,797 feet) deep.  The highest point on the island is Mount Lamlam at 407 meters (1,334 feet).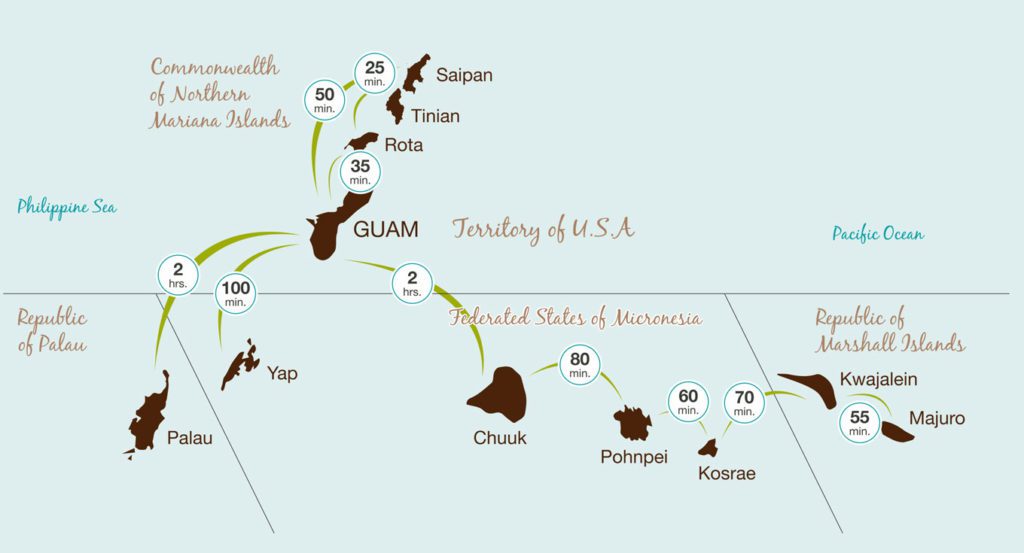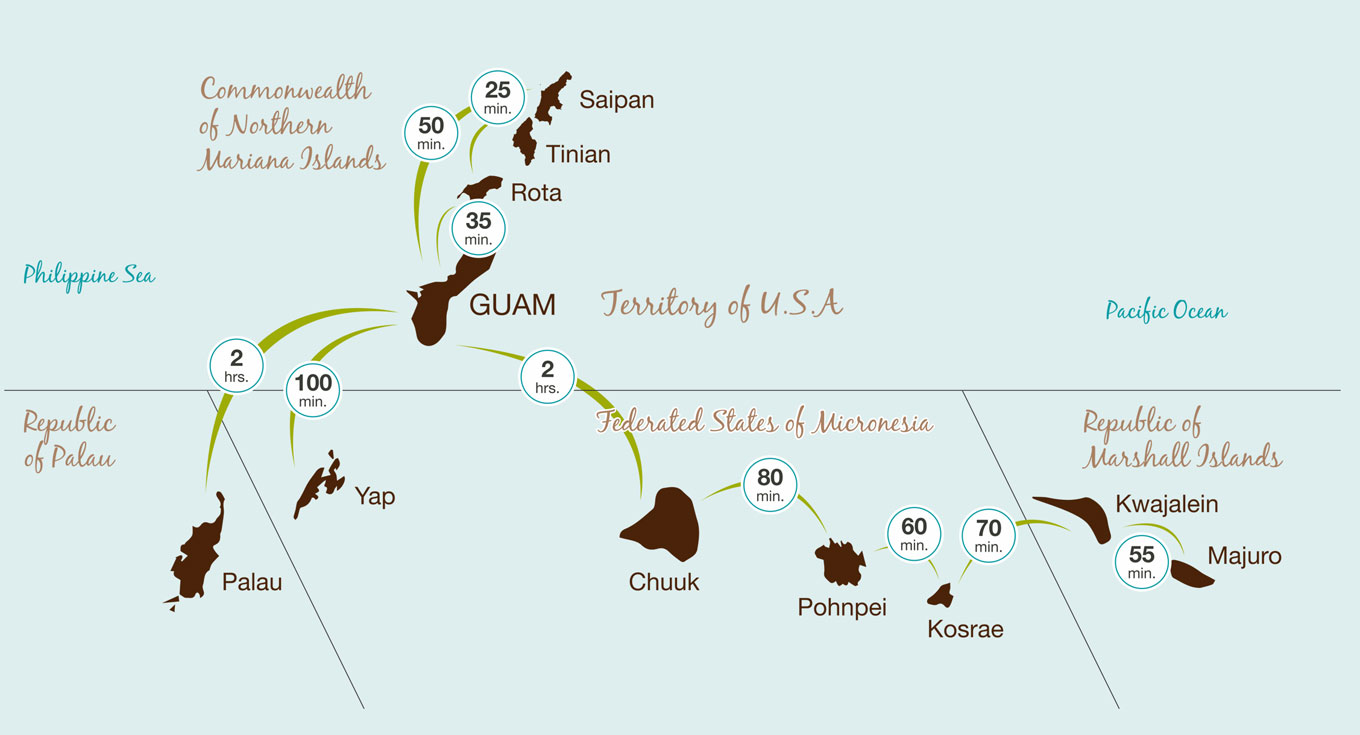 Undersea World – With 400 species of coral and 1,000 species of fish, Guam offers excellent biodiversity on a relatively pristine reef.  True, historically pollution, silt and run-off, and overfishing have impinged on the full potential, but today marine preserves have been set-up and the general population increasingly understands the value of environmental protection.  Most of the diving is done on the west coast in Agat Bay, Apra Harbor, and the south and northwest coastal zones.  Wrecks are what most people think of first with a number of WWII era remnants of the battles between the Allies and the Japanese.  There are shallow wrecks like the American tanker in Apra Bay that are suitable for beginners.  For the more advanced diver, at 30 meters (100 feet), the WWII Japanese Tokai Maru and German ship Cormoran from WWI are coincidentally resting bow to stern even though sunk decades apart.  The most famous site is the Blue Hole, a deep cavern that starts at 18 meters (60 feet) and descends to 70 meters (230 feet) with reef sharks and pelagics.  Besides these attractions, the other sites are on coral reefs with a variety of terrain including rocks, ledges, and walls some of which have a nice current for a drift dive that in some cases can be fast.  Marine life highlights include green turtles, whose eggs and nesting sites are now protected, spinner dolphins, pilot whales, reef sharks, eagle and manta rays, jacks, barracuda, and pelagics like tuna.  In addition, inhabiting in and around the reef with 400 species of hard and soft corals, gorgonians, sponges and other encrusting life, you can find octopus, moray eels, crabs, shrimp, anemones, tube worms, sea cucumbers, nudibranchs, lionfish, scorpion fish, triggerfish, surgeonfish, soldier fish, Moorish idols, wrasses, goatfish, rabbitfish, cuttlefish, blennies, and gobies to name but a few.
Seasons and Conditions – Air and water are both nice and warm all year.  Air temperature average daily highs are from 29-31°C (84-88°F).   Water temperature runs from 28-29.5°C (82-85°F) requiring minimal to no thermal insulation.  Some divers may opt for a 3mm full or shorty or Lycra suit for skin protection.  Rain is significantly greater between July and November with the chance of a tropical storm or typhoon greatest from August through November.  It is possible to lose a few days of diving and have some difficulty flying in and out when there is a storm.  Visibility is typically quite good at 10-50 meters (35-168 feet).  Many sites only have mild to moderate current with a few occasionally having a strong current.  Waves and surface chop is not very significant except during storms.  There are 40 or more dive sites known with many sites suitable for beginners and others for more advanced levels.  At least 20 dive operations are set to provide a full range of diving coursework, equipment rental, guiding and boat cruises.
There is not a liveaboard that directly cruises the Guam dive sites, but there are boats that go to Palau and Chuuk (Truk).  Here are my reviews and links to those liveaboards: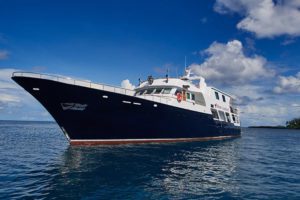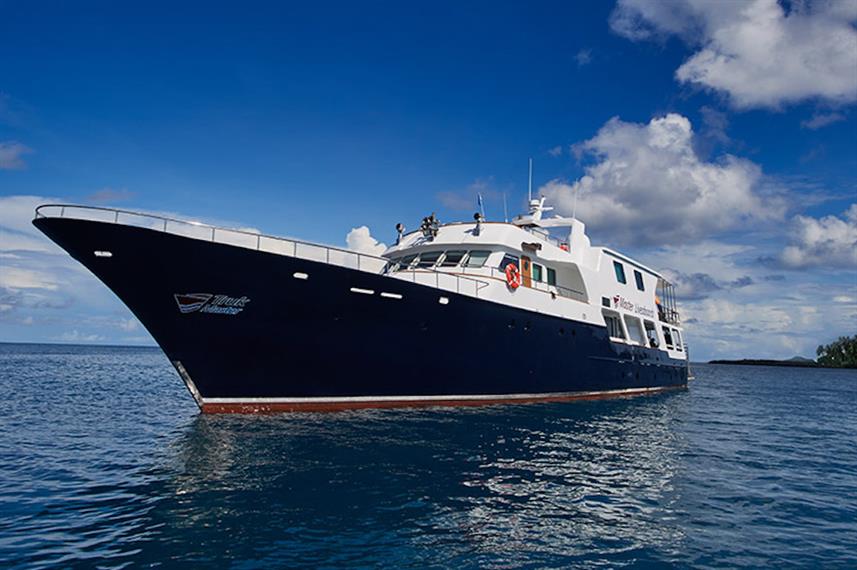 Truk Master, Truk Lagoon Liveaboard – Check the Price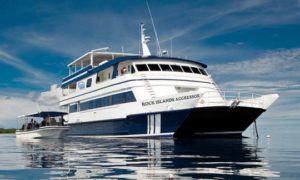 Rock Islands Aggressor, Palau Liveaboard – Check the Price
Here are my reviews of other Pacific island liveaboards and resort diving:

Selected Guam Diving Sites
Double Reef: 60 meters (200 feet) maximum depth, shore entry, healthy reef of corals with sea whips and white sand, two drop-offs, the first descends to 30 meters (100 feet) and the second to 60 meters (200 feet), interesting marine life with jacks, barracuda and turtles as highlights, experienced level
American Tanker: 5-25 meters (16-83 feet), 100 meter (335 foot), concrete barge sunk by the Americans at the end of WWII to serve as part of a breakwater, lots of fish life in and around it, little current, all levels
Kitsugawa Maru: 42 meters (140 feet), torpedoed, towed to harbor and then sunk by bombs and rockets, WWII freighter resting upright, bow mostly intact, gun at the bow with boxes of ammo on the turret, penetration into living quarters through narrow entries, engine room and holds also penetrable, lots of twisted metal and silt, colorful anemones and coral, experienced level
Tokai Maru: 35 meters (115 feet), 135 meter (450 foot) Japanese freighter torpedoed and seven months later torpedoed again and sunk, holds contain truck frames and beds, big engine room with catwalks and two engines intact, stern deckhouse still contains depth charges, rests next to the SMS Cormoran, a German merchant raider scuttled in 1917, 90 meters (300 feet) long, hull is intact, penetration into the engine room is possible through the skylights, little current, experienced level
Gab Gab 2: 12-40 meters (40-130 feet), one of several Apra Harbor sites, boat access or 20-minute swim through the military base, the reef is in pretty good shape, octopus, batfish, jacks, turtles, whitetip reef sharks, grouper, all levels
Blue Hole: 17-100+ meters (58-335 feet), huge opening at 17 meters (58 feet), passage drops to 100+ meters (335+ feet), exit holes along the way, first exit is at 40 meters (130 feet), lots of hard and soft coral, small reef fish, moray eels inside, upon exit can ascend and explore along the wall, at 17 meters (58 feet) the reef flattens and there are lots of schooling fish, moderate to strong current, experienced level
The Crevice: 10-45 meters (35-155 feet), large triangular crevice at the coastline from 23-45 meters (78-155 feet), 20 meters (68 feet) across running down to the bottom, nice corals, sea fans and whips, many reef tropicals and a chance for barracuda, sharks, tuna and dolphins, experienced level
Shark's Pit: 20-35 meters (68-115 feet), shallower area was used as a junkyard dump during the war for trucks, tanks and trailers pushed off the cliff and still resting only partially intact covered in coral and marine life, huge boulder at 6-20 meters (20-68 feet), lots of fish, reef starts at 20 meters (68 feet) and runs down to the maximum depth, experienced level
Hap's Reef: 5-15 meters (16-50 feet), shallow rich coral garden, lots of reef tropicals, trumpetfish, butterflyfish, soldierfish, squirrelfish, mild current, all levels
11 Mile Reef: 25-40 meters (83-130 feet), 11 miles (17.6 kilometers) off the southern tip, excellent corals, strong current, will often need a reef hook to hang on and watch for barracuda, reef sharks, rays and turtles, experienced level
Cocos Island: 5-25 meters (16-83 feet), a small island 2 kilometers (1.25 miles) off the southern tip, Spanish galleon sank on the reef there in 1690, great drift dive along the wall with lots of reef tropicals and bigger pelagics, moderate to strong current, all levels
Guam Photos
With the interesting undersea terrain, walls, the Blue Hole, wrecks, turtles, a variety of fish, moray eels, sharks, rays, dolphins and whales, scenic beach and mountain vistas, and historical and cultural site shots as well, there are many excellent photo opportunities.  For information and reviews of dive cameras, click here:
Air – The civilian airport not far from Tumon is Antonio B. Won Pat International Airport.  Several airlines make direct international connections:  United Airlines to Honolulu, most major cities in Japan, Hong Kong, Shanghai, Palau, Manila and several of the Federated States of Micronesia, Delta to Tokyo, Osaka and Nagoya, JAL to Tokyo, Korean Air to Seoul, Busan and Osaka, China and Eva Airlines to Taipei, and Philippines Airlines to Manila.
Ship – A number of cruise ships stop at Guam, but there is no regular ferry service from Guam.
Ground – Public buses are available, but service is unpredictable.  There are tourist shopping buses in Tumon that stop at most hotels.  Many hotels also run an airport transit service.  Taxis are readily available as are rental cars.
Lodging and Dive Shops – There are several dozen resorts, hotels and lodges ranging from $50-$322 per night.  A few have an in-house dive center or are associated with one.  In all there are at least 20 dive shops offering services including equipment rental, dive courses, guiding and boat dive cruises.  The website linked below is a good source for the available options and can arrange a booking.  You can easily find the locations on the map provided on this site.  Their rates are the lowest and it is free to cancel or change dates.
Guam Things to Do (aside from scuba diving)
Cultural, natural and historical sites and activities abound on Guam.  Here is a short list of some of them: Picnic on Alupang Island, Guam Island Fiesta Tour, Latte of Freedom Monument, Pet a Coconut Crab, Hiking, Climb Mount Lamlam, Ride a Carabao, Lina'la' Chamorro Cultural Park, South Pacific Memorial Peace Park, Latte Stone Park, Guam Pacific War Museum, Coco Palm Garden Beach, Tarzan Falls, Sigua Falls, Tarza Water Park, Micronesia Mall, Ritidian Point, Chamorro Village, Magellan Monument, Encore! Magic Show, Dolphin and Whale Watching, Dulce Nombre de Maria Cathedral-Basilica, Golf, Nightlife.  These videos are a brief introduction to what Guam has to offer.
A cushion for emergencies provides peace of mind when on vacation.  I recommend this diving insurance as they have worldwide coverage and provide scuba divers a quality insurance and medical assistance service.
Feedback and Comments
I hope you found this post on Guam scuba diving interesting and useful. If you have any questions or ideas, please feel free to share them in the comments section.  I'd love to know of any experience you have diving in Guam.  If there is no comments section directly below, click here:  >>comments<<