We may earn money or products from the companies mentioned in this post.

This is the one hundred and forty-fifth in a series of reviews of the best dive resort locations around the world.  In this post, the focus is on Nha Trang, Vietnam.  In addition to this series on dive resort locations, the best worldwide liveaboard diving locations and services are reviewed in their own series.  To check them out, or others in this series, click on Liveaboards/Resorts on the menu at the top and choose a title from the list.
Have you been diving in Nha Trang before?  If so, I'd love to know about your experience.  What dive shop or liveaboard did you use?  Which dive spots are the best and what are the conditions there regarding the visibility, current, water temperature, sealife attractions, etc.?  Please post your response in the comments section at the bottom and we'll all learn something we can use.
Scuba Diving in Nha Trang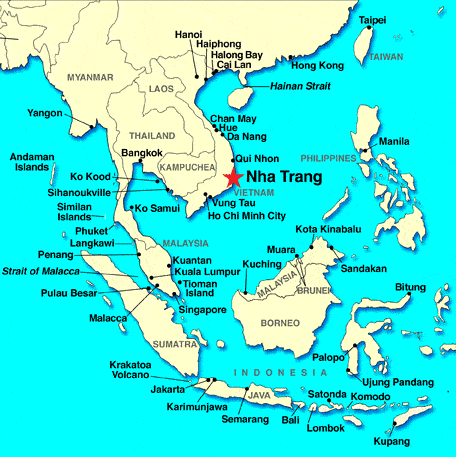 Background – The southern coastal city of Nha Trang is the capital of Khanh Hoa Province, just north of Cam Ranh, with a population of 535,000.  It has mountains on three sides and a large attractive bay on the fourth which has a big island and four smaller ones, including Hon Mun, a marine protected area, just outside it.  With clean sand on its beautiful beaches and great scuba diving opportunities, Nha Trang attracts a mix of international backpackers, more affluent travelers, and local Vietnamese tourists, as well.  It hosts a bi-annual Sea Festival, has received acclaim from Travel + Leisure Magazine as having one of the most beautiful beaches in the world,  and has hosted Miss Universe and Miss Earth pageants, and the Asian Beach Games.  In addition, the nightlife is considered superior to that of other coastal towns like Vung Tao and Mui Ne.  Tourism is very important to the economy followed by fishing, shipbuilding, and lobster farming in much lesser supporting roles.  As a tourist area, many people dealing with foreigners can speak English but many people don't speak a word.  If you bring a few basic Vietnamese greetings to use, it will go a long way toward breaking the ice.  For additional cultural, historic, and demographic information, check here:  Wikipedia-Nha Trang
Undersea World – Nha Trang is the most popular dive spot in Vietnam.  It has 350 species of coral and many attractive reef tropicals and macro critters.  Unfortunately, on most sites, there are not a lot of large animals like sharks, rays, and turtles.  That's not to say they don't make an appearance, it's just that they aren't abundant.  Previously there was more active fishing and storms have caused some reef damage.  On the bright side, the Hon Mun Marine Park 8 kilometers (5 miles) to the east is a preserve and that is where most of the best diving is.  Whale Island 80 kilometers (50 miles) and a 90-minute drive away to the north does more commonly offer up stingrays, eagle rays, and reef sharks.  The subsea topography around Nha Trang is diverse with sandy and rocky bottoms, pinnacles, walls, caves, and tunnels that provide excellent habitat for macro critters and reef tropical highlights like ghost pipefish, nudibranchs, mantis shrimp, frogfish, scorpionfish, moray eels, lionfish, cuttlefish, octopus, parrotfish, trumpetfish, butterflyfish, sweetlips, angelfish, snappers, surgeonfish, and fusiliers.  Bigger fauna that is possible includes turtles, jacks, barracudas, groupers, tuna, and occasionally rays and the very infrequent whale shark.  Lots of sites are 18 meters (60 feet) or less deep with minimal current and thus make excellent areas for training and less experienced divers.
Seasons and Conditions – Diving is possible all year in Nha Trang.  The best time is from April to August when the water is warmer, and rain and surface interference is lowest.
Air temperature average daily highs reach 32°C (90°F) or above from May to September and dip to 27°C (81°F) in December and January.
The range for water temperature is 24-29°C (75-84°F) with highs in September and lows in January and February.  During the warmest times, a 3mm wetsuit will be the maximum thermal protection needed for most.  When the water is at its coolest, perhaps a 5mm wetsuit is enough.
Currents are generally mild but strong at times in some locations.
Rainfall during the northeast monsoon reaches 150-330mm (6-13 inches) per month from September through December. During that time it rains from 14 to 17 days out of the month.  It is usually only a matter of a few hours in a day so that it doesn't often interfere much with diving.  Fortunately, the Nha Trang area is shielded from a lot of the monsoon wind at that time.
Visibility is usually in the 10-25 meter (33-82 feet) range.  However, it gets as poor as 5 meters (16 feet) on occasion in some locations.
There are sites suitable for all levels of diver from beginner to advanced levels.  A dozen or more dive shops are available that can provide a full range of diving coursework, equipment rental, guiding, and boat cruises.
None of the major liveaboard yachts travel to Nha Trang.  However, there are quite a few that cruise sites in the Andaman Sea on the west side of Thailand.  Here are several with links for booking and details: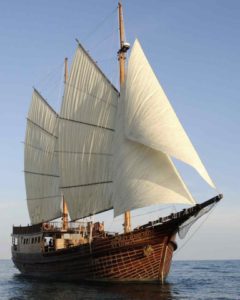 SY Diva Andaman, Similans and Mergei Archipelago Liveaboards – Check the Price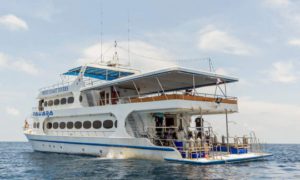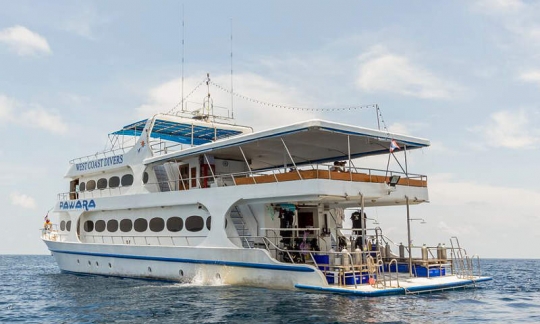 MV Pawara, Similans and Andaman Sea Liveaboards – Check the Price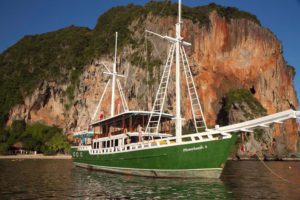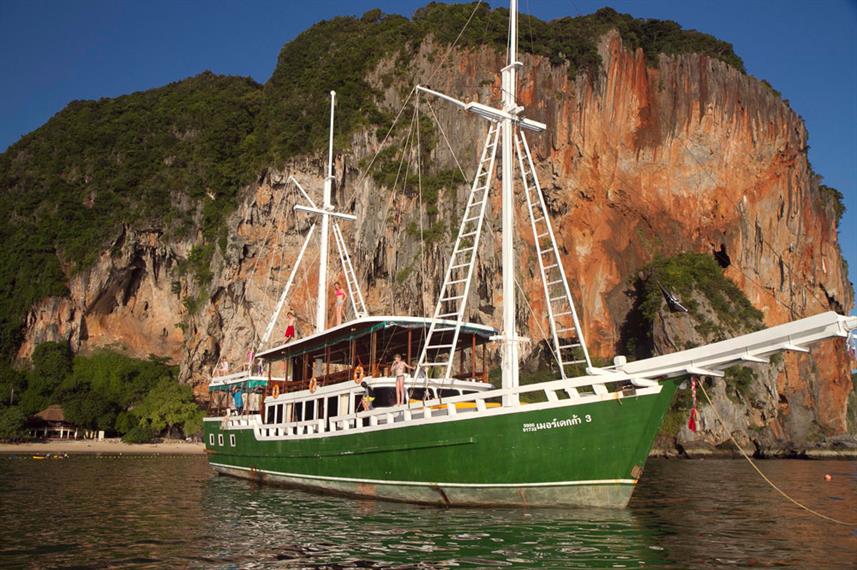 Merdeka 3, Southern Andaman Sea Liveaboards – Check the Price
Here are my reviews for dive sites in nearby Cambodia and Koh Chang, other Gulf of Thailand sites, and sites in the Andaman Sea to the west:
Selected Nha Trang Dive Sites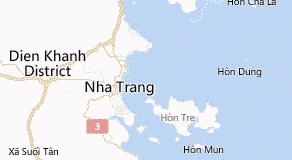 Moray Beach: 21 meters (70 feet), Hon Mun Island north end, sandy sloping terrain with coral heads of hard and soft corals, moray eels commonly poke their heads out of nooks and crannies, other macro critters to look for include leaf fish, stonefish, ribbon eels, and frogfish, suitable for all levels of diver
Fisherman Bay: 18 meters (60 feet), Hon Mun Island middle of the south side, lots of hard and soft corals, a macro site with urchins, anemones and clownfish, ghost pipefish, and frogfish, suitable for all levels of diver
Small Hill: 45 meters (148 feet) maximum depth, Hon Mun Island southeast tip, steep drop-off to the maximum depth, highlights include octopus, lionfish, scorpionfish, frogfish, and reef tropicals, suitable for all levels of diver depending on the depth
Small Wall: 30 meters (100 feet) maximum depth, Hon Mun Island east of Fisherman Bay, sloping reef to the maximum depth, several caverns with octopus, nudibranchs, and lionfish, suitable  for experienced level divers
South Reef: 27 meters (90 feet) maximum depth, Hon Mun Island west of Fisherman Bay, rich variety of multicolored corals, macro critters include nudibranchs and stonefish, reef tropicals like Moorish idols, damselfish, and butterflyfish, possible barracuda, suitable for all levels of diver
Lobster Beach: 15 meters (50 feet), Hon Mun Island northeast side, coral heads with many lobsters in the nooks along with mantis shrimp, and dragonets, many smaller reef tropicals, parrotfish. and trumpetfish, historically the beach was a breeding area for turtles which have started to return under the marine protected area program, suitable for all levels of diver
Madonna Rock:  25 meters (82 feet) maximum depth, small islet just off Hon Mun Island to the north, two peaks protruding above the surface, slopes to the maximum depth with caves and swim-throughs and many overhangs and crevices, schools of glassfish in the openings, lots of macro critters and large groupers, suitable for all levels of diver
Mamahanh Beach: 15 meters (50 feet), Hon Tre Island in the southern bay, varied underwater terrain, cuttlefish, scorpionfish, and lionfish are highlights, suitable for all levels of diver
Electric Nose: 50 meters (164 feet) maximum depth, rock pinnacles just east of the tip of Hon Tre Island, a wall extending to the maximum depth, lots of hard and soft corals and macro life, occasional sightings of sharks and pelagics, strong current possible, suitable for experienced level divers
Three Kings (Hon Trau Nam): 30 meters (100 feet) maximum depth, Whale Island, named for 3 pinnacles, richly encrusted with colorful soft corals in the deeper section, nooks and crannies provide habitat for macro critters like stonefish, possibility of eagle rays cruising by and stingrays at the base, suitable for experienced level divers
Things to Do in Nha Trang (aside from scuba diving)
With rich mountain and seaside scenery, Nha Trang also has a multitude of cultural and historical sites and activities to offer.  Here is a shortlist of some of the highlights to check out:  Nha Trang Cathedral, Blind Massage, Hon Chong Promontory, Po Nagar Cham Towers, Golf, Street Food, Long Son Pagoda, Monkey Island, Do Dien Khanh Gallery, Cooking Class, Fisherman's Village, Ba Ho Waterfalls, Hot Air Balloon Ride, Thanh Citadel, Nha Trang Beach, Waterfalls, Yang Bay, Long Thanh Gallery, Statue of the Buddha, Alexandre Yersin Museum, Paintballing, National Oceanographic Museum, Shopping, Sailing, Tha Ba Hot Springs & Mud Baths.
The first video provides a glimpse of Nha Trang and the second focuses briefly on 35 great sites and activities.
Air – For domestic and international service Cam Ranh International Airport is located around 30 kilometers (18.7 miles from Nha Trang city.  The new international terminal just opened this year.  The old terminal is now for domestic service.  Taxis and shuttles are available into Nha Trang.  Many hotels also have their own service.  Public bus service operates from the domestic terminal only.  For pricing, routes, and usage tips, check here.
Train – The main railway line for the country from Hanoi to Ho Chi Minh City makes a stop at the Nha Trang railway station in the northern part of town near the cathedral.  The Ho Chi Minh City to Nha Trang trip takes 6-9 hours.  There are various levels of comfort with hard and soft seats, aircon or no aircon, hard and soft sleepers, cleaner and dirtier, etc.  For more details on scheduling, services, booking, etc., check here.
Bus – Open tour buses are available for the 10 to 12 hour trip from Ho Chi Minh City in the south and 16 hour trip from Hoi An in the north.  For routes, services, and details, check here.
Car rental is possible with and without a driver.  Check this website for car rental and some other transfer options.
The public bus system for travel within Nha Trang is fairly easy to navigate and reliable.  There are 6 lines with aircon buses operating from 5:30 am to 6:30 pm.
Taxis, cyclos (3-wheel bicycle taxis), and Xe Oms (motorcycle taxis) are all available.  The taxis run on meters.  The other two require you to clarify the price carefully.
Bicycles are for rent on a daily basis.
*Traffic laws don't seem to be followed in Nha Trang. Use extreme care when walking or driving at least until you get the swing of it.
For additional transportation and tourist details, go to Wikitravel-Nha Trang.
Hotels and Diving – In Nha Trang there are more than 1,200 lodging options starting at $2 per night and at least a dozen dive shops in operation, some located within or associated with hotels.  They offer a full range of services that include equipment rental, diving certification classes, dive guides, and boat tours.  The website linked below has the details and can arrange a booking for the lodging.  You can easily find the location on the map provided on their site.  The rates are guaranteed to be the lowest and it is free to cancel or change dates.
Photography in Nha Trang
With the colorful coral reefs, a variety of fish, barracuda, macro critters, eagle rays, and intriguing onshore targets, as well, there are many excellent photo opportunities.  For information and reviews of dive cameras, click here:
A cushion for emergencies provides peace of mind when on vacation.  I recommend this diving insurance as they have worldwide coverage and give scuba divers a quality insurance and medical assistance service.
Feedback and Comments
I hope you found this post on Nha Trang scuba diving interesting and useful. If you have any questions or ideas, please feel free to share them in the comments section.  I'd love to know of any experience you have.  If there is no comments section directly below, click here:  >>comments<<