We may earn money or products from the companies mentioned in this post.
This photo of Ushuaia Divers is courtesy of TripAdvisor
This is the one hundred and eighty-ninth in a series of reviews of the best diving destinations around the world.  In this post, the focus is on Ushuaia, Argentina. In addition to this series on diving destinations, the best worldwide liveaboard diving locations and services are reviewed in their own series.  To check them out, or others in this series, click on Liveaboards/Resorts on the menu at the top and choose a title from the list.
Have you ever been scuba diving in Ushuaia before?  If so, I'd love to know about your experience.  What dive shop or liveaboard did you use?  Which dive spots are the best and what are the conditions there regarding the visibility, current, water temperature, sealife attractions, etc.?  Please post your response in the comments section at the bottom and we'll all learn something we can use.
Scuba Diving in Argentina Ushuaia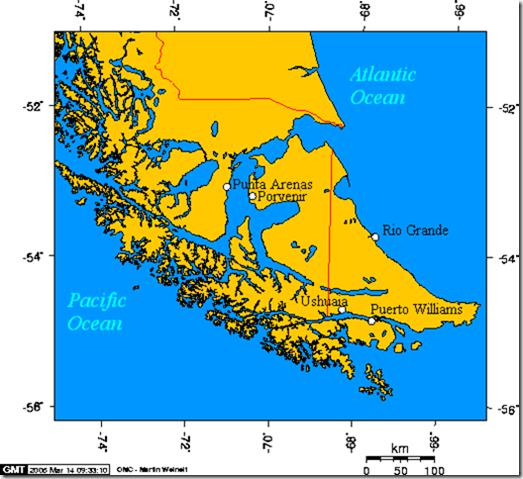 Background – Often called the southernmost city in the world, Ushuaia is the capital and largest city in Argentine Tierra del Fuego.  Situated with the Martial Mountains to the north and a bay in Beagle Channel to the south, Ushuaia means Deep Bay in the language spoken by the Yaghan (or Yamana) people who were there when westerners arrived in the 19th century.  Established as a town in 1884, it has served as a missionary outpost, penal colony, camp for 1880s gold prospectors, and as an Argentine naval base.  With a population of around 60,000 today, the economy is driven by fishing, natural gas and oil, electronics, and eco-tourism.  It caters to cruise liners and attracts skiers, outdoorsmen, and water sports aficionados.  There are bars, restaurants, and casinos, and the most popular sports are ice hockey and football.
For further demographic, cultural, and historical information, please check Wikipedia-Ushuaia.
Undersea World – The scuba diving from Ushuaia is typically reached within an hour by boat or from shore using trucks for access.  The subsea terrain is a mixed one of rocks, slopes, walls, tunnels, and caverns with an array of sponges, tunicates, and other encrusting invertebrates to go with many plant varieties and massive kelp forests.  Crustaceans in the form of arrow crabs, King crabs, decorator crabs, small crayfish, and many others are the dominant attractions that will delight macro photographers.  There are also several octopus and nudibranch species, mussels, a variety of small fish, and sea lions frolicking in several locations.  Most sites are at less than 23 meters (75 feet), the visibility is pretty good, and there are a number of wrecks to explore.
Seasons and Conditions – Diving is possible all year in the Ushuaia/Beagle Channel area.
Air temperature average daily highs range from 14°C (58°F) in January and February to 4°C (40°F) in July and August.
The water temperature hits highs of 8-10°C (46-50°F) in summer and lows of 2-4°C (36-39°F) in winter.  Divers should plan on using a drysuit with hood and gloves all year.
Precipitation happens on 14-17 days a month but it only totals 537 mm (21.14 inches) per year in Ushuaia, so it is not a major factor in Beagle Channel.  On the outer islands southwest winds can make surface conditions very rough and the precipitation there can be nearly triple that amount.
Currents are often minimal inside in Beagle Channel but can be strong based on wind and weather.  Winds are generally stronger in summer increasing surface chop.
Visibility is considered pretty good generally ranging from 7-20 meters (23-68 feet), with the worst during plankton blooms and increased winds in summer.
There are sites suitable for all levels of diver if they are squared away in drysuit use.  There is one primary dive shop in Ushuaia that has been in operation for years, Ushuaia Divers, that can arrange refresher training for drysuits and has the necessary equipment for rent.  They do shore diving based on travel by 4×4 truck and guided cruises on a 28-foot dive boat within Beagle Channel.
For information on cold water scuba gear, please check my post:
Argentina Liveaboards
No liveaboard yachts currently cruise Tierra del Fuego.  There are two excellent vessels doing scuba diving safaris to relatively nearby Antarctica.  Please check out my review and links to the boats below: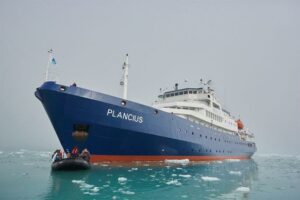 MV Plancius, Antarctica Liveaboard Diving – Check the Price & Details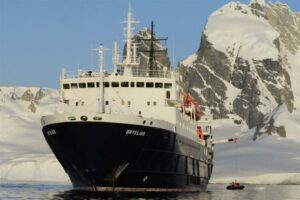 Ortelius, Antarctica Liveaboard Diving – Check the Price & Details
Selected Ushuaia Dive Sites
Estancia Tunel: 23 meters (75 feet), 30-minute boat ride to the east to an old farm, site has a small wall running off a pebble beach to 10 meters (33 feet), plateaus and then drops-off again to the maximum depth, highlights are a colorful kelp forest, macro critters in the nooks and crannies, and sea lions which are often there, suitable for all levels
Isla de Los Lobos: 23 meters (75 feet), one-hour boat ride to the popular seal colony next to Les Eclaireurs Lighthouse, surrounded by a large kelp forest with frolicking juveniles mixing it up with the divers, suitable for all levels
Bahia Ensenada: shallow, shore entry from the roads of Tierra del Fuego National Park, lots of macro critters including octopus, good night dive, suitable for all levels
Puerto Cucharita: 35 meters (115 feet), a 20-minute boat ride from Bahia Ensenada, near the National Park, a stair-stepped wall covered in dense kelp growth, rich marine life, suitable for experienced levels
Islas Bridges: 18 meters (60 feet), 20 minutes away by boat, two small islands connected by an isthmus, a wall covered in kelp with many macro critters that are a big attraction on night dives, suitable for all levels
Isla Estorbo: 12 meters (40 feet), a short boat trip from Bahia Ensenada, sloping wall on the northeast side, lots of small fish, kelp, and octopus, good night dive, suitable for all levels
Mañana Wreck: 12 meters (40 feet) maximum depth, near the airport at the tip of the peninsula, wooden boat that went aground, cockpit, masts, and stern are visible, encrusted with tunicates, sponges, and kelp, small fish and crabs are in the nooks and crannies, suitable for all levels
Sarmiento Wreck: near Almanza on the eastern side of Beagle Channel, requires an early morning start, steel steamer that ran aground, much remains above the surface, shore access, penetration possible into many chambers, lots of kelp all around, suitable for all levels
Ushuaia Lodging, Transportation, and Dive Shops
Air – Ushuaia-Malvinas Argentinas International Airport (USH) located 4 kilometers (2.5 miles) from Ushuaia city center has daily connections to Buenos Aires and Santiago.  A reasonably priced taxi service is available for the 10-minute ride to town.
Cruise Ships often stop in Ushuaia.
Bus service and driving are both options for getting in but involve long journeys from all departure points.
City Buses are available for trips around town at very reasonable rates but do not travel to most of the popular tourist destinations.
Tours to many of the main attractions can be booked through the Tourist Office on San Martin or through many of the hotels.
Minivans to a number of popular sites can be arranged.  Ask for details at your hotel.
Metered Taxis are considered trustworthy and high priced by local standards but reasonably priced by international standards.
Cars and bicycles are both available to rent from several agencies.
For further details on transportation and tourist information, please check Wikivoyage-Ushuaia.
Lodging and Dive Shops – There is one reliable established dive shop in Ushuaia, Ushuaia Divers, that can arrange diving services, equipment rental, and guiding.  The dozen or more lodging options in Ushuaia range from $18 to $148 per night.  The website linked below has the details and can arrange the booking for accommodations.  You can easily find the location on the map provided on this site.  Their rates are guaranteed to be the lowest and it is free to cancel or change dates.
Things to do in Ushuaia (aside from scuba diving)
The "last city in the world" is surrounded by scenic beauty with numerous historic and cultural sights and activities to go along with outdoor attractions.  Here are a few to consider:
Parc Nacional Tierra del Fuego, Beagle Channel Cruises, Dog Sledding, Canoeing or Kayaking, Estancia Harburton, Cerro Caster Ski Resort, End of the World Lighthouse, Bus Tours, 4×4 Tours, Museo Maritimo, Isla Martillo, Craft Beer, Seafood, Lamb, & Local Cuisine, Laguna Esmeralda Trekking, Tren del Fin del Mundo, Glacier Martial, Lago Escondido, Lago Fagnano, Bahia Lapataia, Galeria Tematica Historia Fuegina, Paseo de Los Artesanos, Museo Mundo Yamana, Mastil de General Belgrano, Ushuaia Golf Club, Casinos.
This short video is a nice taste of what is on offer in Ushuaia/Tierra del Fuego.
Photography in Ushuaia, Argentina
With the interesting undersea terrain, giant kelp, plants, variety of crabs, fish, octopus, sea lions, scenic shoreline, and city sights, there are many excellent photo opportunities.  For information and reviews of dive cameras, click here:
Scuba Diving Trip Insurance
A cushion for emergencies provides peace of mind when on vacation.  I recommend this diving insurance as they have worldwide coverage and provide scuba divers a quality insurance and medical assistance service.
Feedback and Comments
I hope you found this post on scuba diving in Ushuaia, Argentina interesting and useful. If you have any questions or ideas, please feel free to share them in the comments section.  I'd love to know of any experience you have.  If there is no comments section directly below, click here:  >>comments<<