We may earn money or products from the companies mentioned in this post.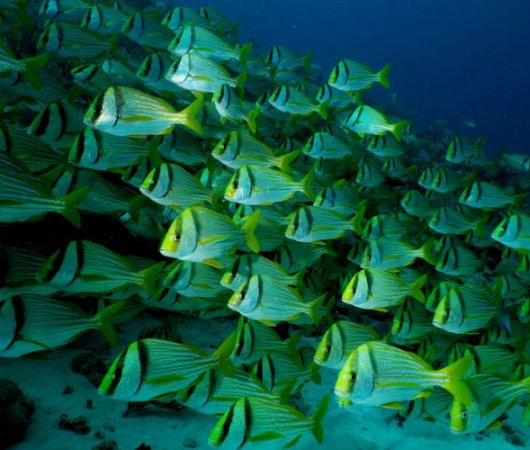 This is the one hundred and eleventh in a series of reviews of the best dive resort locations around the world.  In this post, the focus is on Puerto Vallarta. In addition to this series on dive resort locations, the best worldwide liveaboard diving locations and services are reviewed in their own series.  To check them out, or others in this series, click on Liveaboards/Resorts on the menu at the top and choose a title from the list.
Have you been diving in Puerto Vallarta before?  If so, I'd love to know about your experience.  What dive shop or liveaboard did you use?  Which dive spots are the best and what are the conditions there regarding the visibility, current, water temperature, sealife attractions, etc.?  Please post your response in the comments section at the bottom and we'll all learn something we can use.
Puerto Vallarta Scuba Diving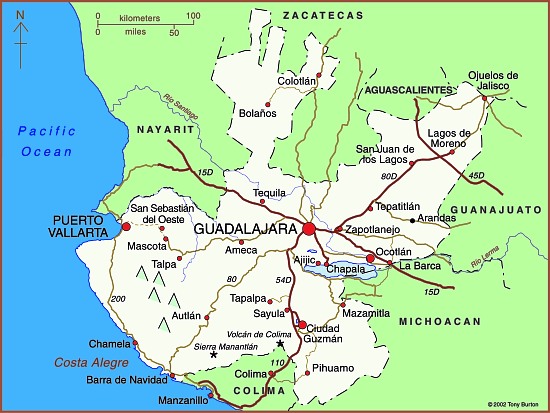 Background – Situated in the State of Jalisco, west of Guadalajara on the Bay of Banderas, Puerto Vallarta is one of the premier tourist destinations for snowbirds from afar and domestic visitors, as well.  On a narrow coastal strip, the area is prone to earthquakes but no major damage has happened in Puerto Vallarta save the crown getting shaken off the top of a Roman Catholic Church in 1995.  In the 1960s and 70s, it really started to take off as a travel destination and today 50% of the workforce of the metro population of 380,000 works in tourism.  That's not all that is happening economically, however, with the agricultural, industrial, and commercial sectors also playing a prominent role.  Many cruise ships stop in this party town which is known to be very welcoming to the LBGTQ community.  For more details of the culture, history, and demographics of Puerto Vallarta, please go here:  Wikipedia – Puerto Vallarta
Undersea World – With sites set in the Bay of Banderas and just outside around offshore islands, like El Morro and Las Marietas, Puerto Vallarta is the primary diving location on the west coast of Mexico.  A variety of underwater terrain provides habitat for the fairly rich marine life.  There are areas with stony structures, swim-throughs, arches, caves, crevices, and walls adorned with an array of sponges, hard and soft corals, gorgonians, tunicates, plants, and other encrusting life forms.  Macro life includes shellfish, shrimps, crabs, and octopus, accompanied by reef tropicals, schooling jacks, barracuda, snappers, and baitfish, sea turtles, manta and eagle rays, nurse sharks, and whales and whale sharks in season.  On top of that several wrecks are well within the recreational diving range.
Seasons and Conditions – Diving is possible all year in Puerto Vallarta.  Sea Conditions offshore from November through May are calmer making that the best time for diving there. Manta rays are seen throughout the year, while whale sharks are more likely to be sighted in winter and whales from December through March.  The season for pelagics is November through May.  Sea turtles nest on the beaches of the bay from May to October.
Air temperature daily averages reach 28°C (83°F) from July through September and fall to 23°C (73°F) from January through March.
Water temperature hits lows in winter of 25.5°C (78°F) and highs in summer of 27°C (81°F).  A 3mm wetsuit is probably the most thermal protection needed when the water is at its coolest.
The wettest months are June through September.  Showers are usually brief and most often occur in the afternoon.
Current – Generally the currents are pretty mild inside the bay and sometimes strong on the sites outside.
Visibility runs from 5-12 meters (15-40 feet) from January through April and 9-30 meters (30-100 feet) from May through December.
There are sites suitable for all levels of diver. The currents and surface conditions at the offshore sites may not be suitable for beginners, particularly from June through October.  A number of dive shops, some in hotels, offer a full range of diving coursework, equipment rental, guiding, and boat cruises.
There is not currently a liveaboard yacht diving the Puerto Vallarta dive sites.  There are cruises to Baja California areas in the Soccoro Islands, Guadalupe Island, and the Sea of Cortes, and to Cocos Island off Costa Rica.  Here are my reviews of the diving and links to some liveaboard yachts cruising those places: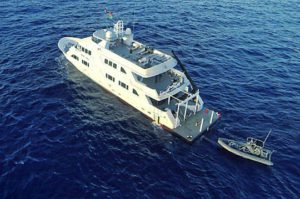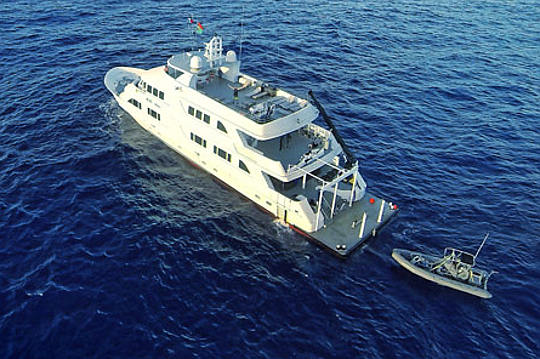 Nautilus Belle Ami, Soccoro Islands & Guadalupe Island Liveaboard Diving – Check the Price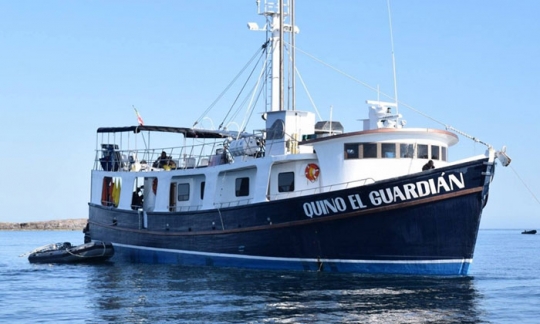 Quino el Guardian, Soccoro Islands & Sea of Cortez Liveaboard Diving – Check the Price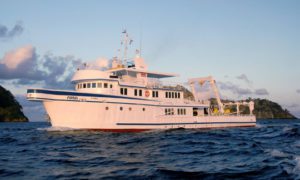 MV Argo, Cocos Island Liveaboard Diving – Check the Price
For reviews of diving in other Central American locations, please check out these reviews:

Selected Puerto Vallarta Dive Sites
Las Marietas Islands:  wildlife sanctuary with endangered birds on shore like the blue-footed booby, undersea are volcanic formations, tunnels, arches, caves, and pinnacles, lots of fish, octopus, manta rays often sighted, dolphins are frequently seen on the boat ride along with humpback whales between December and March, suitable for all levels of diver
Los Anegados: located between El Morro and Las Marietas Islands, underwater formation topping at 9 meters (30 feet), rocky outcrops, caverns, an archway, and the remnant of a wreck, covered in corals and gorgonians, sandy bottom, gobies and their partner shrimps, nudibranchs, octopus, moray eels,  soldierfish, and squirrelfish, nurse sharks and eagle rays are usually there, possibility of manta rays, suitable for experienced level divers
El Morro: situated outside the bay on the Pacific's edge, with caves and pinnacles, has a famous 60-meter (200-foot) long cave, depths from 27-40 meters (90-130 feet), caverns on each side, walls with corals, and sponges, gorgonians, rich macro life of shrimps, crabs, nudibranchs, octopus,  moray eels, and urchins, schools of batfish and jacks, Moorish idols, leather bass, schools of pelagics, sailfish, dolphins, big loggerhead turtles, manta rays are possible and whale sharks in season, strong currents and rough surface conditions make this site suitable for experienced and advanced level divers
Los Arcos: part of the Mexican National Underwater Marine Preserve, multiple sites, huge granite formations on the descent from 8-18 meters (25-60 feet), big drop off from the platform to great depths, huge population of resident reef fish, moray eels, lobster, angelfish, butterflyfish, pufferfish, green and loggerhead turtles, stingrays, eagle and manta rays, something suitable for all levels of diver
Colomitos:  sheltered cove down the shore from Los Arcos, from 10-40 meters (35-130 feet) in depth, steep slope of boulders and rocks, soft corals, lots of fish and macro life, dives suitable for all levels of diver
Majahuitas: located on the south of the bay just beyond Colomitos, a calm dive site off a sandy beach, garden eels on the sandy bottom, manta rays are often sighted, suitable for all levels of diver and snorkelers
El Chimo: offshore from a fishing village in the south of the bay, rock formations, sandy slopes, and impressive drop-offs, rich corals, big resident green and loggerhead turtles, occasional dolphins, large mantas and pelagics, strong current possible, good diving down deep, suitable for experienced and technical divers
La Corbeteña: located 2 hours offshore in the northwest from Puerto Vallarta, strong currents are common, an excellent site for pelagics, suitable for experienced level divers
Things to Do in Puerto Vallarta (aside from scuba diving)
The following video is a nice introduction to the history, culture, sites, and activities of this top Mexican tourist Mecca:
Air – Licenciado Gustavo Diaz Ordaz International Airport (PVR) is 7.5 km (4.7 mi) north of downtown.  Connections to airports around the country, the US, Canada, and the UK operate year round.  Taxis and buses are available at the airport to take you to town, but you can have a more comfortable trip by prearranging pick-up through your travel agency or your hotel.  The hotel pricing will probably be expensive.
Cruise ships dock in the city's main port bringing tourists by the thousands usually staying for a day.
Bus – Comfortable bus service from around the country is available on several lines.  Local city buses and out of town services are reasonably priced.
Taxi service around town is available with some variation in pricing depending on where you are and want to go.  Your hotel can probably give you a price list or some idea on the charges.  Tips aren't necessary unless you receive a special service like a long wait.
Car Rental – Check your car carefully to see that everything works.  Police are eager to stop tourists for something minor and may try to squeeze bribes out of you to get your license back from them.
For more complete details on tourist information, please go here:  Wikivoyage – Puerto Vallarta
Hotels and Diving – Lodging options around Anguilla start at $8 and run to over $1,800 per night.  There are a lot of dive shops in operation, some located in or associated with hotels.  On offer is a full range of services that include equipment rental, diving certification classes, dive guides, and boat tours.  The website linked below has the details and can arrange a booking for the lodging.  You can easily find the location on the map provided on this site.  Their rates are guaranteed to be the lowest and it is free to cancel or change dates.
Photography in Puerto Vallarta
With the beautiful coral reefs, a variety of fish, macro critters, whale sharks, and scenic shoreside targets, as well, there are many excellent photo opportunities.  For information and reviews of dive cameras, click here:
A cushion for emergencies provides peace of mind when on vacation.  I recommend this diving insurance as they have worldwide coverage and give scuba divers a quality insurance and medical assistance service.
Feedback and Comments
I hope you found this post on Puerto Vallarta scuba diving interesting and useful. If you have any questions or ideas, please feel free to share them in the comments section.  I'd love to know of any experience you have.  If there is no comments section directly below, click here:  >>comments<<