We may earn money or products from the companies mentioned in this post.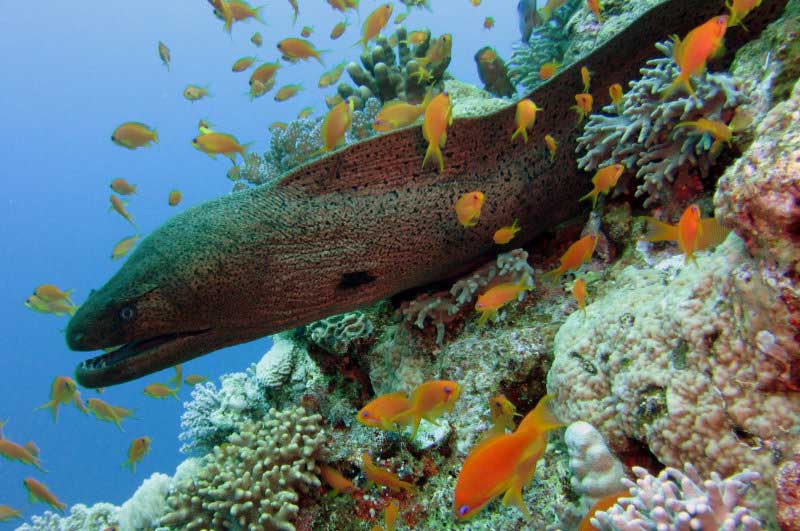 This is the one hundred and seventeenth in a series of reviews of the best dive resort locations around the world.  In this post, the focus is on Jeddah and Yanbu, Saudi Arabia. In addition to this series on dive resort locations, the best worldwide liveaboard diving locations and services are reviewed in their own series.  To check them out, or others in this series, click on Liveaboards/Resorts on the menu at the top and choose a title from the list.
Have you been diving in Jeddah or Yanbu before?  If so, I'd love to know about your experience.  What dive shop or liveaboard did you use?  Which dive spots are the best and what are the conditions there regarding the visibility, current, water temperature, sealife attractions, etc.?  Please post your response in the comments section at the bottom and we'll all learn something we can use.
Scuba Diving Jeddah & Yanbu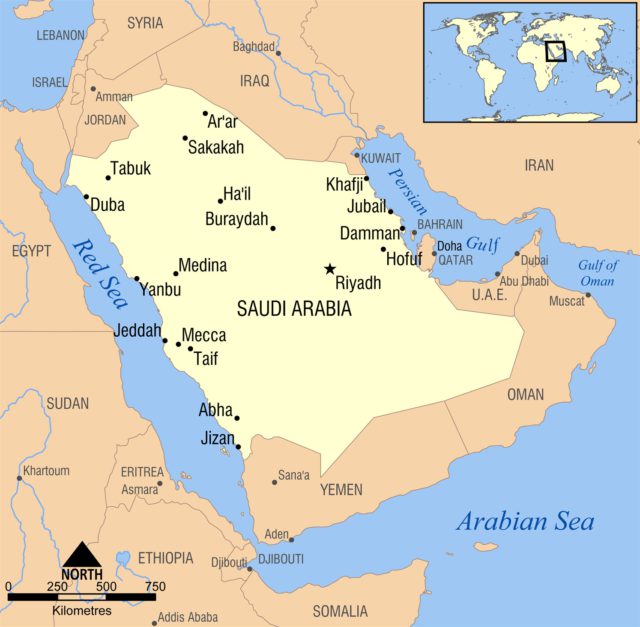 Background – Jeddah is the largest seaport on the Red Sea and the major urban center in western Saudi Arabia with a population of 3.5 million.  Excavations indicate its founding as a fishing village in 522 BC by Yemenis.  Today it is the fourth largest industrial city in the country with a focus on trade, capital investment, and tourism.  Considered the "most open city" in Saudi it is best known as the gateway to the holy cities of Mecca and Medina.
Undersea World – Most of the diving of the Red Sea in Saudi Arabia is done in the region around Jeddah and south of there and to Yanbu 300 kilometers (187.5 miles) to the north.  Historically the Saudis haven't had much interest in scuba diving and most divers came from the expatriate community.  With tourist visas becoming easier to obtain in the last few years and the increasing fascination by the local population diving is becoming more and more popular.  Some of the shore sites have suffered from pollution and spearfishing, but increasingly environmental protection and eco-tourism are having a positive effect.  There are still a number of pristine, virgin reefs where you can see over 200 species of coral, a great variety of the famous Red Sea marine life including moray eels, turtles, stingrays, manta rays, hammerhead sharks, whale sharks, dolphins, and whales.  The shallow continental shelf offers diverse undersea terrain including deep and shallow reefs, walls, canyons, caves, and numerous World War II and more recent wrecks.  Dozens of dive sites are accessible from shore and many more within an hour or two by boat.  Local operators arrange day trips and there are a couple of Saudi companies running liveaboards lasting several days around Jeddah and Yanbu.
Seasons and Conditions – Diving is a great all year around Jeddah and Yanbu.
Air temperature varies significantly throughout the year with daily average highs of 38°C (100°F) or more from June through August which fall to 29°C (84°F) in January and February.
The water temperature stays in a range of 26-31°C (79-88°F).  A 3mm wetsuit will likely suffice when the water is at its coolest.
This is a desert area that is dry all year with a total rainfall of 61mm (2.4 inches) annually.
Currents are variable depending on the tides and location.  They are often mild but can be strong on some sites.
Visibility is usually in the 21-30 meter (70-100 foot) range all year.  It is possible to find it as good as 60 meters (200 feet) at times.
There is diving suitable for all levels of diver. There are a couple of dozen or more dive shops in Jeddah, some in or associated with hotels, that offer a full range of diving coursework, equipment rental, guiding, and boat cruises.  Day trips are often arranged to sites more than an hour away.  Some shops offer liveaboard service, as well, and can organize diving to Yanbu.
None of the major liveaboard yachts directly cruise the Jeddah area.  A large number of them do travel to top sites in the northern and southern sections of the Red Sea.  Here is my review of them and some links to top vessels: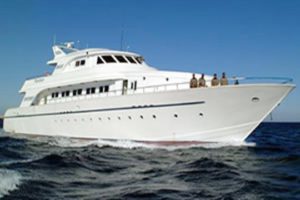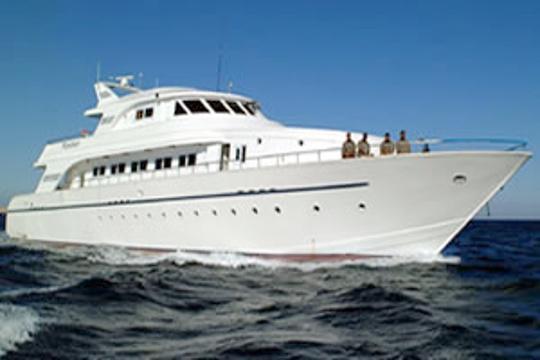 MY Excellence, Red Sea Liveaboard Diving – Check the Price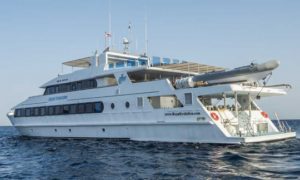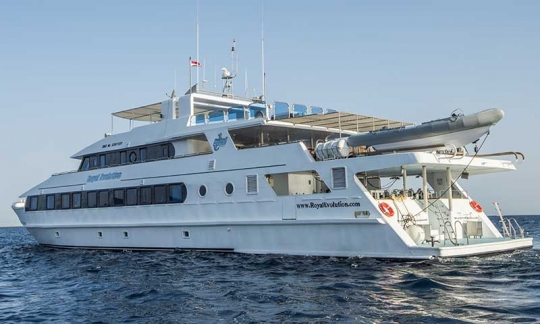 MS Royal Evolution, Red Sea Liveaboard Diving – Check the Price

MY Emperor Elite, Red Sea Liveaboard Diving – Check the Price
Selected Jeddah and Yanbu Dive Sites
Ann Ann Wreck, Jeddah: 32 meters (105 feet) maximum depth, two hours drive from Jeddah, sunk in 1977, the bow is at 5 meters (16 feet), resting upright, well encrusted with corals, cargo holds are empty, rudder and propeller are in place and covered in soft coral, the electric room galley and a captain's room can be penetrated, beware the weather and waves still shift the ship around, look for snappers, bluespotted stingrays, tuna and other pelagics, and the occasional whitetip reef shark, suitable for experienced level divers
Boiler Wreck, Jeddah: 18 meters (60 feet), located on Abu Madafi Reef, coal-fired ship that sunk more than 100 years ago, the bow is at less than 3 meters (10 feet), well encrusted with corals, sponges, and invertebrates, much deterioration of the structure, two boilers remain, rich marine life including moray eels, the reef below the wreck extends to 45 meters (148 feet), on further descent from the wreck that area has big sea fans and black coral, chance to see bonito, kingfish, bluefin jacks, sharks, and manta rays, in the shallow water at the bow are caverns, gullies, and boulders with a sandy bottom and a tunnel to an open pool in 5 meters (16 feet) of water,  suitable for experienced level divers
Miss Marie Wreck, Jeddah: located outside the port area of Jeddah in the shipping lanes, Miss Marie is accompanied by two other wrecks, sunk by colliding with the reef more than 30 years ago, relatively intact with their bows breaking the surface, rich encrustation, and marine life, highlights include silky, lemon, reef, hammerhead, and tiger sharks, provides entertainment for several dives on the site, suitable for all levels of diver
Cable Wreck, Jeddah: 24 meters (80 feet), the Staphanos carrying construction materials, steel beams, cables, asbestos sheets, etc., sunk in 1978, materials spread around, lots of areas to explore, rich marine life with goatfish, snappers, a resident guitar shark, and occasional whitetip reef sharks, suitable for all levels of diver
Farasan Banks, Al Lith: from 10 meters (35 feet) to great depths, 200 kilometers (125 miles) south of Jeddah, rich marine life and corals, huge gorgonians and black coral, morays, snappers, ghost pipefish in the nooks and crannies, passing jacks, barracuda, and pelagics, green turtles, whitetip and grey reef sharks, silky sharks, hammerhead sharks, some current is possible, suitable for experienced level and technical divers depending on the depth
Abu Galawa, Yanbu: 20-400 meters (66-1,312 feet), rich corals on a grotto that has a drop off to the abyss, big grouper, schools of barracuda, and sharks are the highlights, suitable for experienced level divers
Seven Sisters, Yanbu: chain of sites, typically pristine coral reefs, with rich marine life, highlights include schooling red and black snappers, large squirrelfish, hammerheads year-round, whitetip and grey reef sharks, frequent tiger sharks, yellowfin, dogtooth, and bonito tuna, bigeye jacks, and barracuda, there are sites suitable for all level of divers
Things to Do in Jeddah (aside from scuba diving)
When you are not diving or preparing for the Hajj, Jeddah offers great options for play, shopping, eating, and sight-seeing.  Here is a list of highlights to investigate:  Water Park at Sail Island, Atallah Happy Land Park, Al-Shalal Theme Park, Jungle Land Theme Park, 19 major shopping malls, King Fahd's Fountain, Al Shafee Mosque, Matbouli House Museum, 6 major coffee chains, Al-Balad (Old Town), Jeddah Corniche, Souq Al Alawi (Market), Al Tayibat City Museum, Jarir Bookstore, Al Rahma Mosque, Naseef House, Bab Makkah, Sharbatly House, Fish Market, North City Gate, Little India, Makka Restaurant, Wong Solo, Spears, Al Nakheel Restaurant, Balad Food Street, Reem Al Bawadi, Yildizlar, Kayyam Al Rabie Est, and Turkouise, to name but a few.
The first video below is one person's tour and impressions of Jeddah.  The second is a quick run-through of some of the most intriguing locations to visit.
Air – King Abdulaziz International Airport (JED) is the largest airport in the country with connections around the world.  The north terminal handles international flights with domestic flights using the south terminal.   These two are 8 kilometers (5 miles) apart with taxi the only public service connecting them.  There is an additional terminal strictly for Hajj visitors.
Buses are available for long-distance domestic service and with Jordan.  Make sure you have a visa which allows a non-air entrance to the country.  Around town, there are small private buses that are usually cleaner and nicer and larger public buses.  Pricing is cheap.
Ferries are likewise available for domestic and international voyages.
Taxis – Yellow taxis are the cheapest, oldest, least comfortable, and becoming obsolete.  Most taxis are new, air-conditioned and comfortable.  A third class of limousine taxi is more expensive and better outfitted.  There is also a fourth class of taxis that are normal looking cars and the cheapest, but illegal.  Hotels frequently provide a minivan service for airport and transit around town for shopping and sight-seeing.
Rental cars by major chains are an option and reasonably priced.  Gas (petrol) is extremely cheap.
For more complete details on tourist information, please go to Wikivoyage – Jeddah.
Hotels and Diving – Many hundreds of lodging options are available in Jeddah starting at $27 per night.  There are at least a couple dozen dive shops in operation, some within or associated with hotels, offering a full range of services that include equipment rental, diving certification classes, dive guides, and boat tours.  The website linked below has the details and can arrange a booking for the lodging.  You can easily find the location on the map provided on this site.  Their rates are guaranteed to be the lowest and it is free to cancel or change dates.
Visas – The government typically requires a sponsor for you to receive a tourist visa.  With a couple month's notice, some of the dive operators, like Desert Sea Divers, can help you organize sponsorship.
Photography in Jeddah
With the attractive coral reefs, a variety of fish, macro critters, wrecks, sharks, and scenic shoreside targets, as well, there are many excellent photo opportunities.  For information and reviews of dive cameras, click here:
A cushion for emergencies provides peace of mind when on vacation.  I recommend this diving insurance as they have worldwide coverage and give scuba divers a quality insurance and medical assistance service.
Feedback and Comments
I hope you found this post on Jeddah & Yanbu scuba diving interesting and useful. If you have any questions or ideas, please feel free to share them in the comments section.  I'd love to know of any experience you have.  If there is no comments section directly below, click here:  >>comments<<