We may earn money or products from the companies mentioned in this post.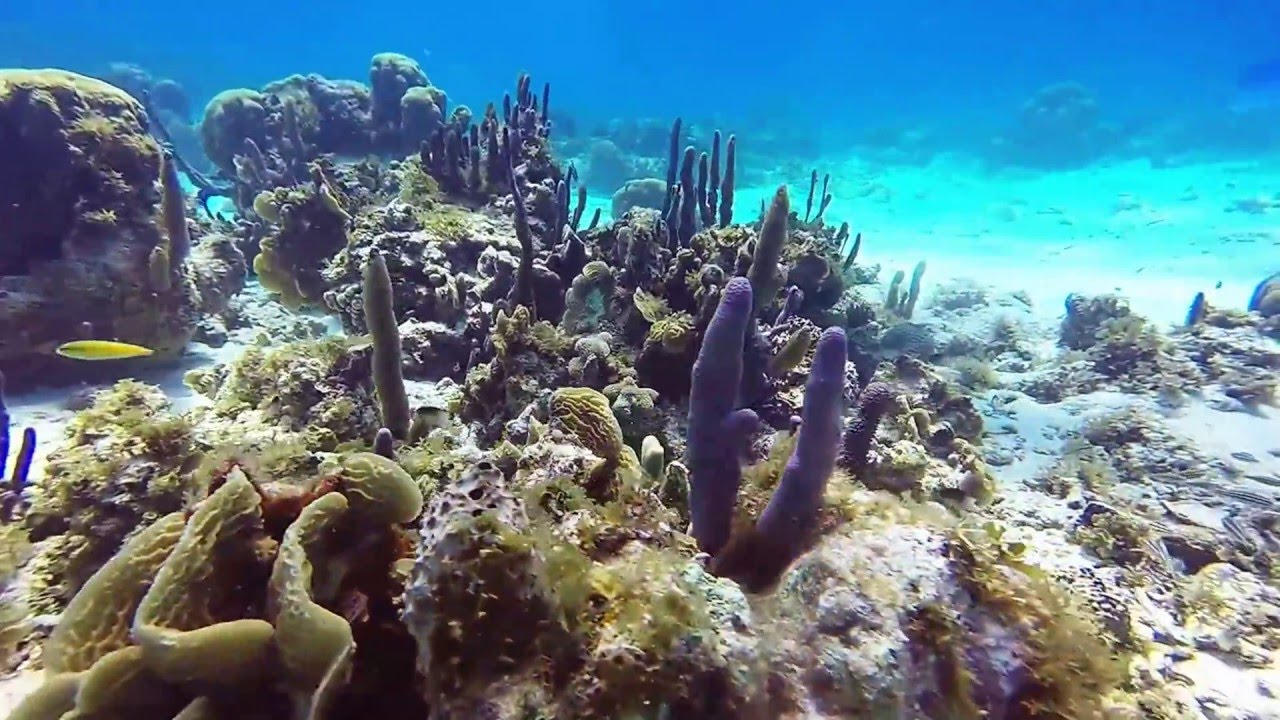 This is the one hundred and twenty-second in a series of reviews of the best scuba diving destinations around the world.  In this post, the focus is on San Andrés, Colombia. In addition to this series on dive resort locations, the best worldwide liveaboard diving locations and services are reviewed in their own series.  To check them out, or others in this series, click on Liveaboards/Resorts on the menu at the top and choose a title from the list.
Have you been diving in San Andrés, Colombia before?  If so, I'd love to know about your experience.  What dive shop or liveaboard did you use?  Which dive spots are the best and what are the conditions there regarding the visibility, current, water temperature, sealife attractions, etc.?  Please post your response in the comments section at the bottom and we'll all learn something we can use.
Scuba Diving San Andres Colombia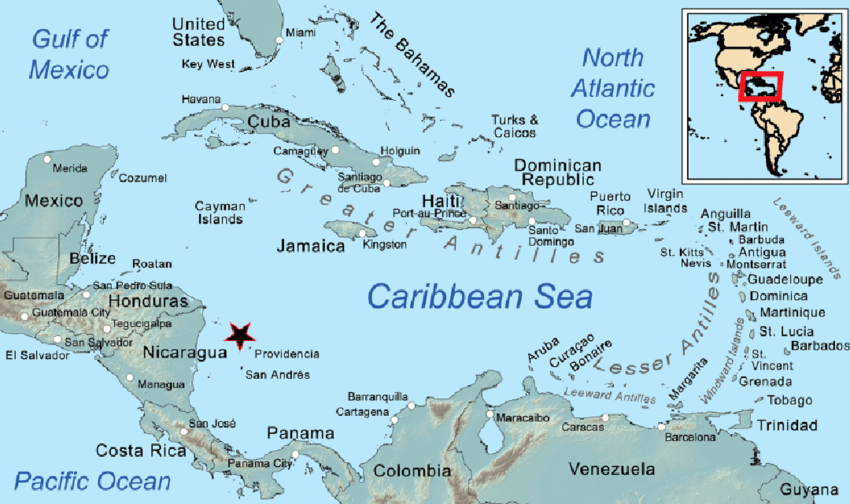 Background – San Andrés is the largest of three islands in the San Andrés Archipelago, which make up a department governed by Colombia.  Situated only 200 kilometers (125 miles) east of Nicaragua and 750 kilometers (470 miles) off the coast of Colombia San Andrés has a population of around 70,000.  It is a flat coral island with an altitude peaking at 55 meters (180 feet) and an area of 26 square kilometers (10 square miles).  It is most famous as an all-inclusive budget vacation destination for clientele from Colombia.  The official languages are Spanish, English, and San Andrés-Providencia Creole.
Undersea World – Like its neighbor to the north, Providencia, San Andrés is part of the UNESCO Seaflower Biosphere Reserve.  More than 270 species of fish and 85 species of coral live on a diverse undersea terrain of walls, caves, shelves, and shoals around a system of outer cays, reefs, atolls, and sand bars.  While not quite as richly endowed as Providencia with its barrier reef, the more than 30 San Andrés sites have a similar colorful variety of sponges, gorgonians, and hard and soft corals.  Macro photographers will delight in the variety of shrimps, lobsters, octopus, squid, seahorses, and other critters lurking in the nooks and crannies.  There are big mixed schools of grunts, snappers, and squirrelfish, as well as a nice variety of other reef tropicals including grey angelfish, several species of butterflyfish, parrotfish, wrasses, and trumpetfish.  Larger highlights that are commonly seen are schools of jacks, barracuda, and other pelagics, southern stingrays, eagle rays, nurse and Caribbean reef sharks, and several species of turtle.  In addition, there are wrecks and special geological features like the Blue Wall.
Providencia, a part of the San Andrés Archipelago mentioned above, has excellent diving and is only a twenty-minute flight away from San Andrés.  Two airlines go there twice daily.  If you make it to San Andrés a side trip would be a nice option to consider,  Here is my review of the diving there:
Seasons and Conditions – Diving is possible all year in San Andrés.
Air temperature average daily highs are in a range of 28-30°C (82-86°F) all year.
The water temperature is likewise warm year-round in a range of 27-29°C (81-84°F).  A 3mm wetsuit will likely be the most thermal protection needed.
The rainy season runs from June through November. Diving isn't normally interrupted for long.  Hurricanes are also possible at this time.
Currents are variable depending on the tides and location.  They are often mild but can be strong on some sites. Surface chop can also be a factor at times.
Visibility is usually in the 15-30 meter (50-100 foot) range.
There are sites suitable for all levels of diver.  More than a couple of dozen dive shops operate in San Andrés, some in or associated with hotels, that offer a full range of diving coursework, equipment rental, guiding, and boat cruises.  Some of the operations are using old equipment.  You would be best advised to survey a few before deciding on who to employ.
None of the major liveaboard yachts travel to San Andrés.  However, there are quite a few that cruise relatively nearby Belize and Honduras and other Caribbean dive sites.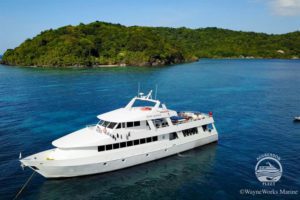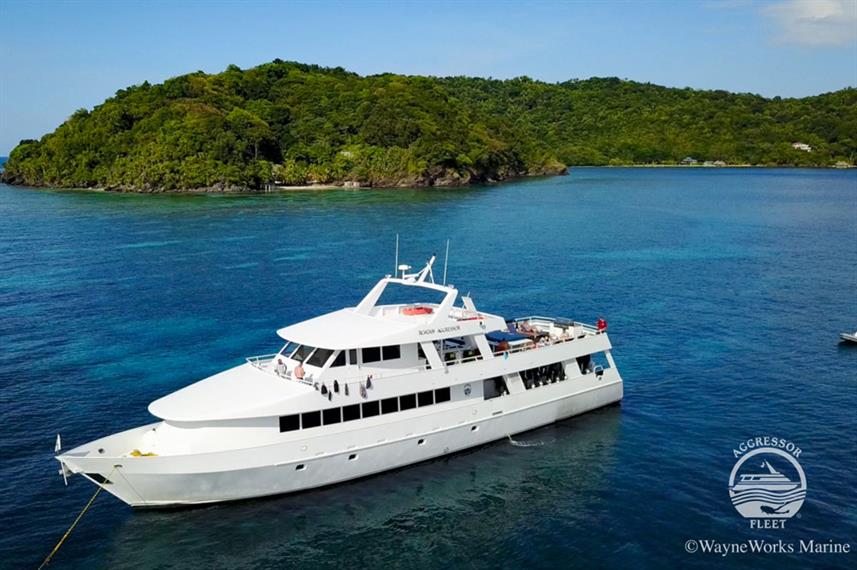 Roatan Aggressor, Roatan, Honduras Liveaboard Diving – Check the Price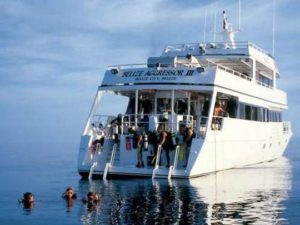 Belize Aggressor III, Belize Liveaboard Diving – Check the Price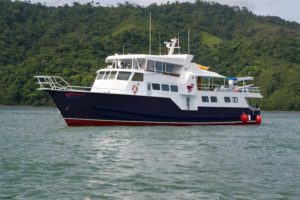 Bahamas Master, Bahamas Liveaboard Diving – Check the Price
For reviews of diving in eastern Florida and Caribbean locations, please check out these posts: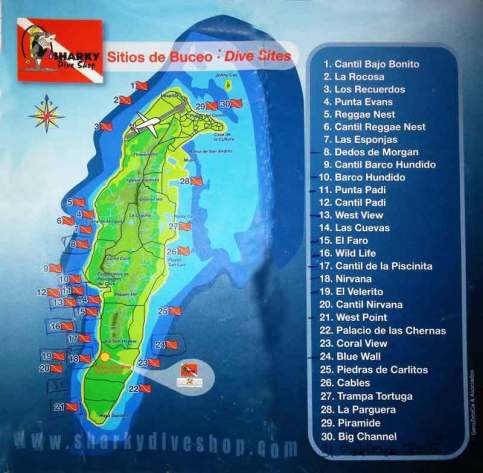 Selected San Andrés Dive Sites
1) Bajo Bonito: 15 meters (50 feet), gradual drop off to a sandy bottom at 15 meters (50 feet), a lot more hard corals on this site than most with the normal tube sponges and gorgonians, reef tropicals including butterflyfish, lizardfish, and blennies, sharptail eels, suitable for all levels of diver
5) Reggae Nest: 18 meters (60 feet), gradual slope of corals, tube sponges, and gorgonians to a sandy bottom, an arch to swim through, damselfish, Queen angelfish, pufferfish, trunkfish, squirrelfish, moray eels, drums, south to north current is possible, suitable for all levels of diver
10) Barco Hundido: 13 meters (42 feet), mangled and deteriorated wreck rich in marine life, variety of encrusting sponges and corals, cleaner shrimp, moray eels, schools of snappers and grunts, lots of nooks and crannies to explore, suitable for all levels of diver
16) Wild Life: 12-27 meters (40-90 feet), the usual array of sponges, gorgonians, and corals, not too many fish deep, toward the reef top at 12 meters (40 feet) are lionfish, angelfish, and other reef tropicals, suitable for experienced level divers
18) Nirvana: 15 meters (50 feet), full range of corals, sponges, macro life, and reef fish including crustaceans, octopus, pipefish, reef tropicals, reef sharks, stingrays, and turtles, excellent for night dives, suitable for all levels of diver
24) Blue Wall: 7-40+ meters (23-130+ feet), steep wall with large colorful tube sponges, coral, and gorgonians, lots of marine life at every depth, big Caribbean reef sharks, turtles, massive cave at 40 meters (130 feet) called Grouper Palace, actually with durgon rather than groupers, gorgonians, and black coral all around, suitable for experienced level and technical divers
27) Trampa Tortuga: 15-90 meters (50-295 feet), gentle slope on the inner reef to 15 meters (50 feet) with lots of gorgonians, sponges, moray eels and reef tropicals, the outer reef extends to great depths, big sharks and grouper to be found on the outer reef, suitable for all levels of diver depending on the depth
29) La Piramide: 27 meters (90 feet) maximum depth, one of the best sites for marine life, rich corals and sponges, anemones, nudibranchs, ghost pipefish, gobies, shrimp, crabs, schooling snappers and grunts, eels, stingrays, and sharks,  moderate to strong current possible, suitable for experienced level divers
Things to Do in San Andrés (aside from scuba diving)
Most of the activities on this small island revolve around enjoying the upbeat tourist lifestyle, food and drink, and the outdoors.  Here is a list of major sights and activities:  Johnny Cay National Regional Park, El Acuario and Haynes Cay, Kayak through the Mangroves, Snorkeling, Local Cuisine, Day Trip to Cayo Bolivar, Tour by Bike or Golf Cart, San Luis and Loma Villages, La Piscinita, Island House Museum, La Cueva de Morgan, Jardin Botanico de San Andrés, Fishing Tours, Stroll the Waterfront Promenade, the Beach Scene, Nightlife, Parasailing, El Hoyo Suplidor (blowhole), and Duty-Free Shopping.
This video provides a short look at a few of the sights and activities and a feel for the life of a scuba diving tourist on San Andrés.
Air – There are daily flights to Gustavo Rojas Pinilla International Airport in San Andrés from Medellín, Cali, Bogotá, and Barranquilla, Colombia, San Jose, Costa Rica, and Panama City, Panama.
Busses are the most common form of transportation connecting the main city of San Andrés with most other destinations around the island.  They are cheap and safe.
Taxis are readily available and low priced.
Rentals – Cars, bicycles, motorbikes, and golf buggies are all for rent.
For more complete details on transportation and other tourist tips, please go to Wikitravel – San Andrés
Hotels and Diving – More than 450 lodging options are available on San Andrés ranging from $9 to $457 per night.  There are a couple of dozen dive shops in operation, some within or associated with hotels, offering a full range of services that include equipment rental, diving certification classes, dive guides, and boat tours.  The website linked below has the details and can arrange a booking for the lodging.  You can easily find the location on the map provided on this site.  Their rates are guaranteed to be the lowest and it is free to cancel or change dates.
Photography in San Andrés
With the attractive coral reefs, a variety of fish, macro critters, sharks, rays, wrecks, and scenic shoreside targets, as well, there are many excellent photo opportunities.  For information and reviews of dive cameras, click here:
A cushion for emergencies provides peace of mind when on vacation.  I recommend this diving insurance as they have worldwide coverage and give scuba divers a quality insurance and medical assistance service.
Feedback and Comments
I hope you found this post on San Andrés, Colombia scuba diving interesting and useful. If you have any questions or ideas, please feel free to share them in the comments section.  I'd love to know of any experience you have.  If there is no comments section directly below, click here:  >>comments<<