We may earn money or products from the companies mentioned in this post.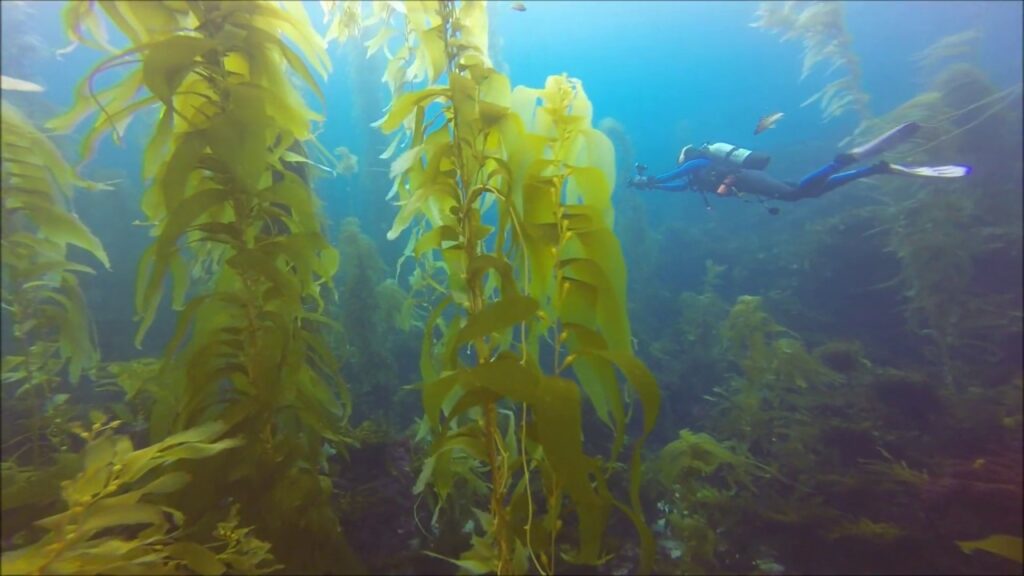 This is the one hundred and seventy-seventh in a series of reviews of the best diving destinations around the world.  In this post, the focus is on San Clemente Island, California.  In addition to this series on diving destinations, the best worldwide liveaboard diving locations and services are reviewed in their own series.  To check them out, or others in this series, click on Liveaboards/Resorts on the menu at the top and choose a title from the list.
Have you been diving at San Clemente Island before?  If so, I'd love to know about your experience.  What dive shop or liveaboard did you use?  Which dive spots are the best and what are the conditions there regarding the visibility, current, water temperature, sealife attractions, etc.?  Please post your response in the comments section at the bottom and we'll all learn something we can use.
Scuba Diving San Clemente Island
Background – The most southerly of California's Channel Islands, San Clemente Island is 21 miles (34 kilometers) long and 4 miles (6 kilometers) wide.  Volcanic in origin it is situated 41 miles (75 kilometers) west of the mainland and 25 miles (40 kilometers) south of Catalina Island.  Archeological remains indicate human inhabitation 10,000 years ago.  Since that time in the age when westerners first viewed the island in the 16th century which native groups actually lived there is unclear.  Today it is owned, operated and administered by the US Navy with only 300 civilian and military personnel on the island.  The plant life consists of low-lying shrubs and flowers with few animals and birds.  There are 4,000 feral goats, reduced from 11,000 in 1972, and DDT that have had a major impact on the few endemic and native species.  Bald eagles and peregrine falcons have come back to a degree with one breeding pair for each species there today.   For more details on the history, topography, and ecology go to Wikipedia-San Clemente Island.
Undersea World – About a six-hour boat ride from the mainland, San Clemente has variety in its undersea terrain and rich marine life that makes the journey well worth it.  Due to generally calmer conditions on the surface, less current, and better visibility, more diving takes place on the leeward north side of the island, not to say there isn't excellent diving and a lot to see on the windward side.  There are sunlit shallows, steep walls, canyons, archways, caverns, and big rocky outcrops with kelp forests, short palm-frond kelp, red and brown algae, orange and yellow sponges, and a variety of colorful gorgonians and hydrocorals that provide excellent habitat for other marine life.  With the warm California countercurrent coming north from Baja California there are a number of creatures common in more tropical sites like moray eels and spiny lobsters.  Other highlights include Spanish shawl nudibranchs, octopuses, sea stars, blacksmiths, calico and giant black bass, kelpfish, sheepsheads, sardines, bat rays, tope and leopard sharks, harbor seals, California sea lions, and pods of dolphins.  In addition, there are a number of wrecks both shallow and deep like the USS John C. Butler, a destroyer escort,  reachable at 80 feet (24 meters) in the northwest harbor, and the USS Burns, a Fletcher Class Destroyer, at 270 feet (82 meters).
Seasons and Conditions
Diving is possible all year on San Clemente Island.  Conditions are considered best in the summer and fall.
The islands have a Mediterranean climate characterized by cool, wet winters and hot, dry summers with average air temperature highs of 64-75°F (18-24°C).  The warmest months are August and September and the coolest is February.
The water temperature annual range is 52-76°F (11-24.5°C) on the surface.  The warmest time is from July through October and the coolest from February through June.  A 5mm wetsuit will be adequate for some divers when the water is at its warmest.  At its coolest, a 7mm wetsuit or drysuit with hood and gloves is advised.
Currents are variable and can be strong at times on some sites.  Surge and swell can also be significant.
Visibility is usually 40-60 feet (12-18 meters) in winter and spring and 60-90 feet (18-27 meters) in summer and fall.  Visibility on the windward side tends to be less than on the leeward side.
There are sites suitable for all levels of diver from beginner to advanced levels.  Several dive operations are in operation in the Los Angeles area and San Diego that conduct several-day diving tours to go exclusively to San Clemente Island or combine it with other of the Channel Islands.  Some dive shops on Catalina Island also offer trips to San Clemente.
One great liveaboard yacht based in San Diego that does periodic charters to San Clemente Island as well as great white shark cage diving to Guadalupe Island is the MV Horizon.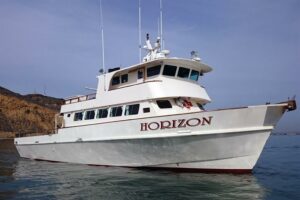 MV Horizon – Check the Price & Details
For my reviews and information about cold water gear please click on the following post:
Other California Dive Sites
There is great diving at some other nearby California areas.  Here are my reviews:
Selected San Clemente Island Sites
Northeast Side Sites
Northwest Harbor:  20-50 feet (6-15 meters), rocky terrain, lots of kelp, eelgrass, and macro critters, highlights include calico and kelp bass, rockfish, and sheepshead, suitable for all levels
USS John C Butler: 75-100 feet (23-30 meters), 306-foot (93-meter) US Navy Destroyer Escort commissioned in 1943, retired in 1957 and used for target practice, scuttled in 1971, has continued in naval exercises on the bottom, the stern is in place and largely deconstructed, the bow was towed to another area, the remains lie on a sandy bottom, interesting to explore what is left, suitable for experienced levels
Little Flower: 20-80 feet (6-24 meters), rocky area with sand channels in a protected cove sloping to 40 feet (12 meters) with kelp, eelgrass, and colorful sea fans, look for macro critters like moray eels and lobsters in the nooks and crannies, with schooling blacksmith darts, big calico bass, bat rays, sea lions, and possibly leopard and tope sharks, from 40 feet (12 meters) there is a wall descending to 80 feet (24 meters) and a sandy bottom, suitable for all levels
Fish Hook:  10-120 feet (3-37 meters), small cove shaped like a fish hook, thus the name, rocky shallow section with macro critters in the cracks and crevices, similar marine life to that of Little Flower with anemones, colorful sponges, gorgonians, and hydrocorals, possibility of leopard sharks, at 40 feet (12 meters) a wall starts near the fish hook area that descends past the maximum depth, suitable for all levels depending on the depth
Southwest Side Sites
Pyramid Cove:  20-100 feet (6-30 meters), large area that can be divided into several dives, rocky terrain with areas of sand separation and dense kelp, highlights are macro critters like big sea stars, spiny lobsters, moray eels, and many other invertebrates, other attractions are rockfish, kelp bass, sheepshead, bat rays, and sea lions, suitable for all levels
China Point:  30-60 feet (9-18 meters), a terrain of rocks, ledges, and crevices with sand channels, dense kelp, lots of macro critters and invertebrates, highlights are sheepshead, rockfish, kelp bass, and big calico bass with the possibility of halibut disguised in the sand, suitable for all levels
Seal Cove: 80 feet (24 meters) maximum depth, cove with a kelp forest and seal and sea lion rookery, plan for lots of playful juveniles, suitable for all levels
The Caverns:  30-50 feet (9-15 meters), terrain of rocks and walls with a small shallow cavern system that has a few big chambers, colorful gorgonians and encrusting invertebrate life, kelp, and the common fish like moray eels, rockfish, sheepshead, calico bass, and perhaps a bat ray, suitable for all levels
Nine Fathoms: 50-100 feet (15-30 meters), one mile offshore, a pinnacle with surrounding rocks, walls, ledges, and crevices, purple hydrocoral and some kelp, rich invertebrate marine life along with kelp bass, rockfish, sheepshead, lobster and moray eels, currents can be strong, suitable for experienced levels
Things to Do in San Diego (aside from the scuba diving trip to San Clemente Island)
There is no landing on San Clemente Island, so as the primary embarkation point and land base, it is worth considering what you can do in San Diego.  First of all, there is great diving there.  Why not combine the two locations into a week or two of diving?  My review of San Diego scuba diving is one place to start.  You can check out the dive site descriptions, reviews, and videos there.  Otherwise, the sights and activities for your free time in San Diego are bountiful, to say the least.  Here is a shortlist to consider:
beaches, seaside activities, site-seeing tours and cruises, whale watching, aquariums, sport fishing, trekking and hill-climbing, rock climbing, pro sports events, nightlife, shopping, beer tasting, Balboa Park, Belmont Amusement Park, Old Town, San Diego Zoo, various historical sites reflecting the Spanish and Mexican influence, Mission San Diego de Alcala, San Diego State Historic Park, Sea World, USS Midway tours.
This video is a nice introduction to what awaits.
San Clemente Island Transportation, Hotels, and Diving Services
Air – The closest mainland access point to San Clemente Island is San Diego served by San Diego International Airport.  The secondary mainland location that has services to San Clemente Island is the Los Angeles metro area served by Los Angeles International Airport.  Both connect to a large range of domestic and international airports. There are many transportation options in both places that include taxis, town cars, limos, shuttles, buses, car rental, and trains connecting to other regions.
Hotels and Diving – More than a thousand lodging options in the two main access areas of San Diego and Los Angeles start at $13 per night.  Both cities have many dive centers offering equipment sales, rental, and a range of scuba diving courses.  There are only a few that conduct boat tours and liveaboards to San Clemente Island.  The schedule is irregular and often requires a charter.  The dive shops are your best choice to find out the most current options.  The website linked below has the details and can arrange a booking for the lodging.  You can easily find the location on the map provided on this site.  Their rates are guaranteed to be the lowest and it is free to cancel or change dates.
Photography in San Clemente Island
With the interesting underwater terrain, encrusting reef life, a variety of fish, macro critters, seals, sea lions, dolphins, and interesting shoreside targets, as well, there are many excellent photo opportunities.  For information and reviews of dive cameras, click here:
A cushion for emergencies provides peace of mind when on vacation.  I recommend this diving insurance as they have worldwide coverage and give scuba divers a quality insurance and medical assistance service.
Feedback and Comments
I hope you found this post on scuba diving in the San Clemente Island interesting and useful. If you have any questions or ideas, please feel free to share them in the comments section.  I'd love to know of any experience you have.  If there is no comments section directly below, click here:  >>comments<<