We may earn money or products from the companies mentioned in this post.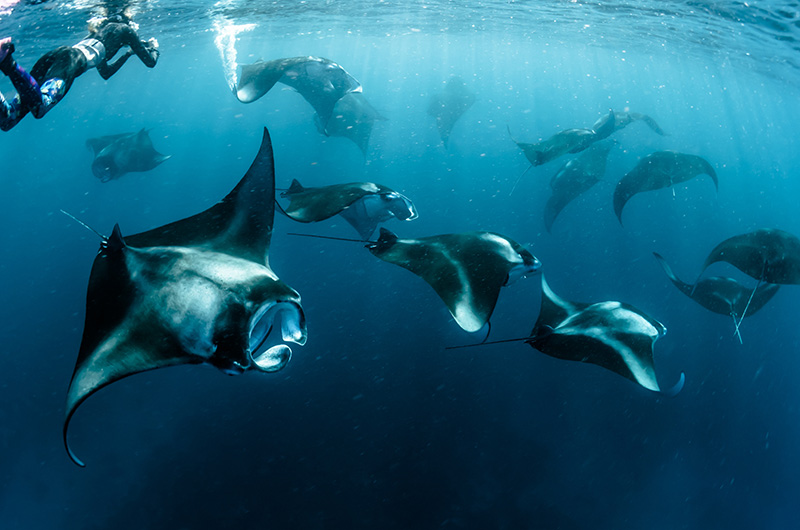 This is the one hundred and eighty-first in a series of reviews of the best diving destinations around the world.  In this post, the focus is on Pohnpei. In addition to this series on dive resort locations, the best worldwide liveaboard diving locations and services are reviewed in their own series.  To check them out, or others in this series, click on Liveaboards/Resorts on the menu at the top and choose a title from the list.
Have you ever been diving in Pohnpei before?  If so, I'd love to know about your experience.  What dive shop or liveaboard did you use?  Which dive spots are the best and what are the conditions there regarding the visibility, current, water temperature, sealife attractions, etc.?  Please post your response in the comments section at the bottom and we'll all learn something we can use.
Scuba Diving Pohnpei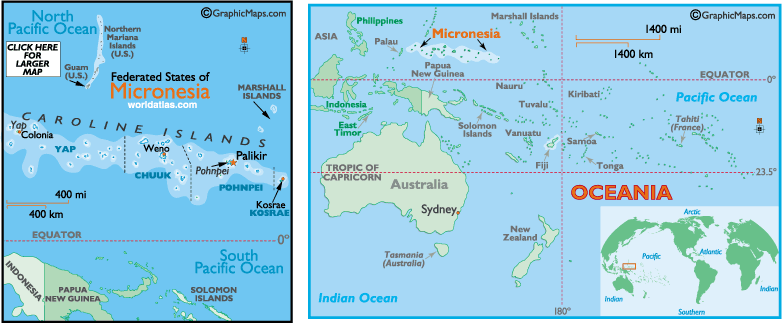 Background – Pohnpei (known as Ponape or Ascension in the past) is one of four island states in the Federated States of Micronesia.  It is the largest at around 60 miles (96 kilometers) in circumference with a population of 34,000 and is the most developed of the group.  8 atolls, 25 small islands, and an additional 137 other scattered atolls are also part of the state.  Most of the people live in the northern area where the two major cities, Palikir, the administrative capital of the Federated States of Micronesia, and Kolonia are located, or on the ring road around the outside of the island.
Pohnpei has a tropical rain forest climate with 10-20 inches (254-508 mm) of rain per month.  With no natural beaches, the island is surrounded by mangrove forests with the highest point on Mount Nanland at 772 meters (892 feet).
The island was first populated by people of the Lapita culture from the Solomon Islands or the Vanuatu Archipelago with no western contact until the arrival of Spanish explorers in 1825.  Several early arrivals by the Spanish, Australians, and Russians were met by resistance which permitted no landings to be made.  However, by the mid-19th-century missionaries had established a presence.  In 1854 a major smallpox epidemic wiped out a major portion of the population and by the end of 1886, the Spanish had laid claim to the four Caroline Islands.  Purchased by Germany in 1899, they held sway until the Treaty of Versailles at the end of WWI stipulated that the Japanese would take over the German colonies.  At the end of WWII, the U.S.A. assumed responsibility for administration until the Federation was formed in 1977 and full independence granted in 1986.
Subsistence farming and fishing are the main economic drivers with slowly increasing tourism becoming a factor.  Pohnpei is more ethnically diverse than the other three states due to its position as the capital of the Federation with people from each in residence for government positions and historic influences from the multiple foreign colonizers and the peoples they brought with them including Filipinos and Chamorros.  Pohnpeian is the official language with many people especially in the cities capable in English.
For more details on the history, geography, culture, and demographics of Pohnpei, check Wikipedia-Pohnpei.
Undersea World – Pohnpei has a diverse and rich coral reef on an interesting subsea terrain.  The island is surrounded by a mangrove shoreline and lagoons enclosed by barrier reefs and islands.  Channels into the lagoon bring lots of nutrients to nourish marine life with significant current possible especially related to tidal flow.  Inside and outside the barrier these conditions have encouraged rich invertebrate life, and a large variety of reef tropicals and pelagics.  Many species of colorful hard and soft corals, sponges, sea whips, gorgonians, and tree corals provide a backdrop for big schools of jacks, snapper, fusiliers, and barracuda, groupers, Napoleon wrasses, turtles, reef sharks, eagle rays, dogtooth tuna, dolphins, and manta rays which are seen regularly and in great numbers.  The health of the reefs is enhanced by government enforcement of 11 Marine Protected Areas (MPAs).
Seasons and Conditions – Diving is possible year-round in Pohnpei.
Average daily air temperature highs are 30-31°C (86-87°F) all year.
The water temperature is likewise always warm at 29-30°C (84-85°F).
It rains pretty heavily all year with 258-492 mm (10-19 inches) per month but it doesn't often affect the diving.
Visibility is usually excellent at 30 meters (100 feet) or greater and can range out to 60 meters (200 feet). When it is raining visibility can be affected.
Currents can be mild but there are times and locations where they can be strong due to tidal flow. From November through June the easterly trade winds can increase currents and surface chop especially on the north and west sides of the island.
Pohnpei has sites suitable for all levels of diver.  There are several dive shops in the north and one in west offering the full range of diving coursework, equipment rental, guiding, and boat cruises.
There is not a liveaboard that directly cruises the Pohnpei dive sites, but there are boats that go to Palau and Chuuk (Truk).  Here are my reviews and links to those liveaboards: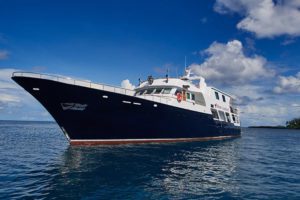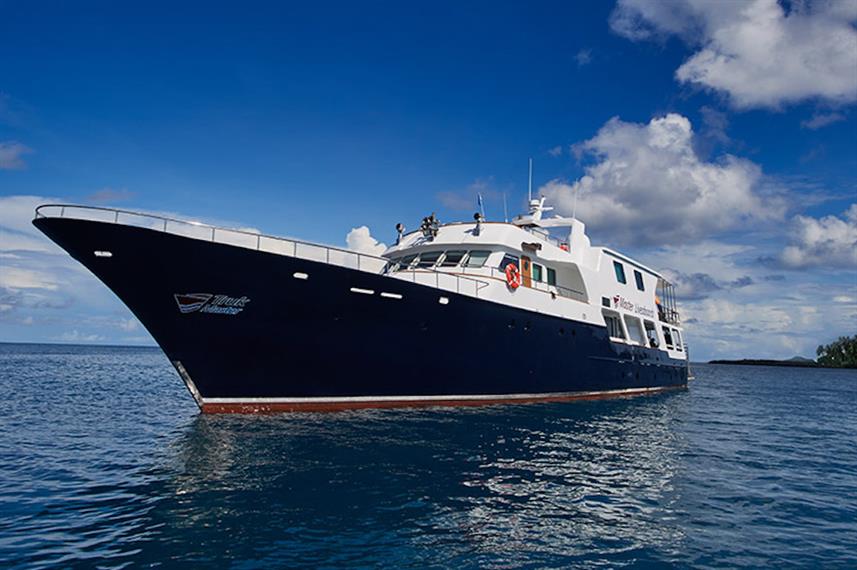 Truk Master, Truk Lagoon Liveaboard – Check the Price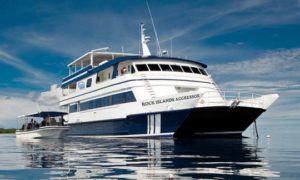 Rock Islands Aggressor, Palau Liveaboard – Check the Price
Here are my reviews of other Pacific island liveaboards and resort diving:
Selected Pohnpei Dive Sites
Manta Pass (north): 3-24 meters (10-80 feet), located between the fringing reef in a channel before getting to a reef further out, very strong currents possible which increases the possibility of mantas including black mantas, other highlights are large schools of fusiliers and jacks, turtles, and whitetip and blacktip reef sharks, suitable for advanced levels
Mwahnd Pass (north):  3-30 meters (10-100 feet), dive the west side of the pass, a catamaran wreck is on the edge of the channel, crinoids, tree corals, and lots of sea whips and fans deep, rich macro life,  look for reef sharks, eagle rays, and Napoleon wrasses, current possible on the flood tide, suitable for advanced levels
Areu Wall (east):  34 meters (112 feet) maximum depth, located along the wall of the inner reef, good site for macro critters, sponges, sea squirts, anemones, soft corals, and reef tropicals, sea whips and fans at middle depths, possible whitetip reef sharks and barracuda, strong currents possible at times, suitable for all levels
Joy (east): 37 meters (121 feet) maximum depth, in the bay channel south of Joy Island (Nahnningi Island) on the outside of the barrier reef, possible barracuda, turtles, and big manta rays, suitable for experienced levels
Ros (south): 5-40 meters (16-130 feet), east of Ros Island in the narrow pass, big schools of snappers, jacks and barracuda are often there, green turtles and mantas up to 40 at a time are also possible, suitable for experienced levels
Laiap Bridge (south):  34 meters (111 feet) maximum depth, a good spot for turtles, sharks, and pelagics especially on flood tides, suitable for experienced levels
Kehpara Wall (west):  6-37 meters (20-121 feet), located along the outer reef wall inside the Kehpara Marine Protected Area, highlights are sponges, gorgonians, tridacna clams, lobsters, jacks, groupers, wrasses, barracudas, blacktip and whitetip reef sharks, and silvertip sharks, suitable for experienced levels
Dauahk Bridge (west): 36 meters (118 feet) maximum depth, highlights are huge schools of red and black snappers, and barracuda, eagle rays, and shoals of grey reef sharks, suitable for advanced levels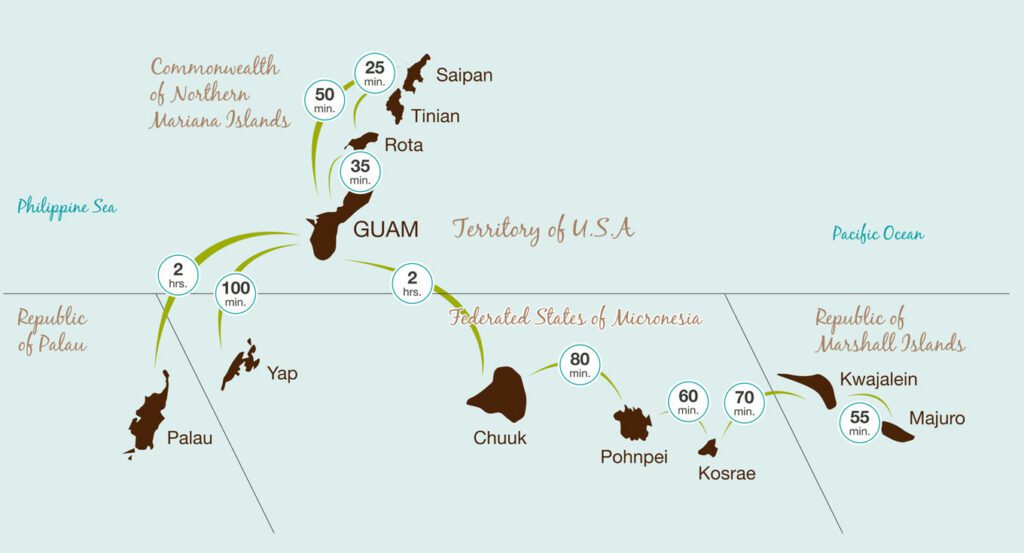 Pohnpei Resorts, Transportation, and Dive Shops
Air – Pohnpei International Airport (PNI) near Kolonia is serviced by United Airlines which offers island hopper connections in each direction three days a week.  Nauru Airlines has weekly connections from Majuro which further connects to a number of destinations.  Air Niugini has flights from Port Moresby through Chuuk to Pohnpei.
Getting Around – There are no street names or addresses but there is only the one main road going around the island so directions are not difficult.  Taxis are available and cheap.  Rental cars are also available.  Ask for details at the airport or through your hotel.  Roads are not always in great shape with many potholes and at night more than a few drivers are enjoying the narcotic effects of sakau, so caution is advised.  In Kolonia, the distances are all less than 3 kilometers (2 miles) so walking is often feasible.
For further transportation and tourist information, please check Wikitravel-Pohnpei.
Lodging and Dive Shops – There are only a few dive shops in Pohnpei but they do offer full services including equipment rental, dive courses, guiding and boat dive cruises.  There are lodging options in the north starting at $38 per night.  The website linked below has the details and can arrange the booking.  You can easily find the location on the map provided on this site.  Their rates are guaranteed to be the lowest and it is free to cancel or change dates.
Things to do in Pohnpei (aside from scuba diving)
Cultural and historic sites along with the natural beauty of the sea and rain forests are truly intriguing.  Here are some activities and attractions to  check out:
Nan Madol (ancient city), Spanish Wall, hike to Sokeh's Ridge and Sokeh's Rock, Kepirohi Waterfall, Ant Atoll, Sokeh's Rock, Mt. Pwesehn Malek, Liduduhniap Falls, Pilen Seleur Eel Pools, Pohnpaid Petroglyphs, surfing, kayaking, mangrove forests, Japanese relics, Peppermill (restaurant), Sei Restaurant, Jungle Bar, South Park Restaurant, Sakau en Pohnpei (kava, a narcotic beverage), Club Flamingo (only nightclub).
These two short videos are a nice introduction to what you have in store in Pohnpei.
Photography in Pohnpei
With the interesting undersea terrain, beautiful hard and soft corals, sea fans, a variety of fish, turtles, rays, sharks, scenic beaches, forests, waterfalls, and historical and cultural sites as well, there are many excellent photo opportunities.  For information and reviews of dive cameras, click here:
Scuba Diving Trip Insurance
A cushion for emergencies provides peace of mind when on vacation.  I recommend this diving insurance as they have worldwide coverage and provide scuba divers a quality insurance and medical assistance service.
Feedback and Comments
I hope you found this post on Pohnpei scuba diving interesting and useful. If you have any questions or ideas, please feel free to share them in the comments section.  I'd love to know of any experience you have.  If there is no comments section directly below, click here:   >>comments<<